The internet is about as clean as a public toilet, and election season is like the end of the night in a busy bar. Web pages are littered with misleading election ads and deceptive social media screeds authored by who knows.

To combat this onslaught, Mozilla, the nonprofit behind the privacy-focused Firefox web browser, is offering a free packet of tools—called the Firefox Election Bundle—to help users navigate the coming mayhem. Starting today, the Mozilla home page will provide information on electoral deception through articles, documentaries, relevant episodes of Mozilla's IRL podcast, and hand-selected political articles from its bookmarking service, Pocket. It also has a tool for checking whether you are registered to vote.
"We want to make it even easier than going out and searching by packaging that [information] together," says Mozilla CMO Jascha Kaykas-Wolff.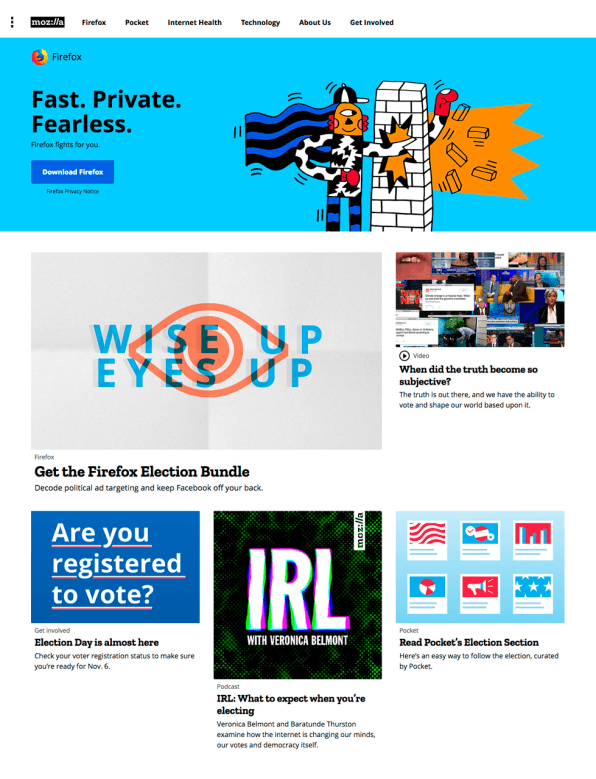 Current and new users who opt in will also get two ad-ons (browser plug-ins) aimed at the biggest social network. Facebook Container isolates Facebook activity from the rest of your browsing in other tabs or windows. That, for instance, prevents Facebook from using information from other sites, like cookies, to better track you. With all the election-related exploits on the social network over the years, this privacy shield is a welcome tool. (I've been using it since the Cambridge Analytica scandal.)
The second ad-on, ProPublica's Political Ad Collector, scarfs these adverts from Facebook and sends them to a coalition of groups and volunteers that monitor deception in political messaging. Available as a Chrome plug-in as well, Ad Collector also reveals the full range of political ads that aren't targeted to your social media bubble.
"What we are doing more and more with Firefox," says Kaykas-Wolfe, "is that we're bringing together all of the tools, preselected to help individuals have more control over very discrete problems they're trying to solve."
This article has been updated.