The worst thing any brand can be is invisible.
Actually, the very worst thing any brand can be is racist. Or poisonous. Also, fatally toxic.
But besides those, invisible is as bad as it gets.
In today's fragmented, always-on media hellscape, it's incredibly easy to go largely unnoticed, despite churning through your marketing budget at a record pace. There's only so much we can pay attention to. It's why the mantra of so many brands revolves around "becoming part of culture," "creating culture," "bathing naked and neck-deep in the bottomless swamp of culture . . . ."
Last June, IHOP ruffled a lot of feathers when it announced that the 60-year-old restaurant chain was changing its name to IHOB and shifting its focus from pancakes to burgers. There was plenty of sneering, but ultimately the campaign increased burger sales and, even more miraculously, had people actually talking about IHOP. Thanks to flipping that p into a b, "over 20,000 media stories were generated and we had over 36 billion earned media impressions," Darren Rebelez, president of IHOP told investors in August. "Social media mentions of IHOP generated a potential reach of over 4 billion people. Assisted by the viral impact, we saw burger sales grow by 4x and have remained constant since."
This past week, the brand unveiled its latest stunt, a partnership with Keegan Ales on IHOPS, a pumpkin pancake stout beer. The beer is available at select bars and festivals throughout New York State in October. "After IHOB, the world was more interested in what we were saying and doing," says IHOP's chief marketing officer Brad Haley. "We couldn't fall back on the old way of advertising our products, which would probably end up actually disappointing people."
Behold, the pumpkin pancake beer you never knew you wanted. Find it at https://t.co/sUtZutdehT pic.twitter.com/8U71915ZB3

— IHOP (@IHOP) September 28, 2018
Surprisingly, the beer is not available at IHOP.
IHOPS is a promotional tool for actual IHOP products, Haley says, specifically the annual arrival of its fall-themed Cinn-a-stack pancakes. "We all knew this wasn't going to be very newsworthy because it's something we've already done for the past several years," Haley says. "We're just bringing it back. But in this sea of pumpkin-flavored items in the marketplace, we knew we had to do something a little bit different."
Droga5, the brand's agency, came up with tying the seasonal pancakes into beer and Octoberfest, seeing pancake flavors lending themselves to a really great beer. "And we completely agreed," says Haley.
"We learned a lot from the IHOB campaign," Haley says. "When you flip people's expectations about something they feel like they know, and something they don't expect to be surprised by, it creates a lot of interest. In our case, it reinforced the love that people have for [IHOP]."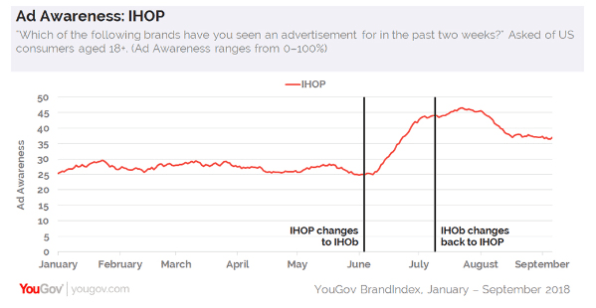 An unsolicited study done by YouGov tracked unaided ad awareness for IHOP, finding it doubled at the peak of the IHOB campaign, then settled down to a level that was still 50% higher than it had been before the campaign. Haley says the IHOB campaign boosted the brand's metrics in how people viewed it, ratcheting up its scores in innovation and cool.
Beloved legacy food brands have the luxury of taking risks, getting weird, and pushing people's expectations. If it's good, great! If it goes sideways, the audience isn't completely alienated and is typically willing to give these brands the benefit of the doubt. Look no further than the successes over the past few years of Denny's social media, or KFC's cascade of goofy comedy (and multiple Colonels).
"Everything we do, including this partnership with Keegan Ales, there's just a fun approach to it all," says Haley. "The beer cap looks like a pancake, and the beer taps look like a stack of pancakes with an IHOP logo at the top."
IHOP may look like yet another brand that's messing with us. But it just wants to remind us how much we like it. It may be syrupy, but the results so far have been pretty sweet.