Imagine a world where you didn't hide away your carpet stain remover or insect killing spray because they're just too ugly.
Society, a new marketplace for green home cleaning products that launches today, is designing bottles that its founders hope customers won't want to hide under the kitchen sink. While most non-toxic cleaning brands on the market opt for nature-inspired branding (like Seventh Generation) or bottles that look like they were pulled out of the 1950s (like Mrs. Meyers or Aunt Fannie's), Society's branding and packaging features pops of color and patterns inspired by modern artists.
"We live in a culture where we put our art on the walls, but then we hide all our products under the kitchen sink," says Society cofounder Nandeet Mehta. (Mehta is an investor and CEO of Pyur Solutions, the parent company launching the Society brand.) "We wanted to create products that we were proud to display in our daily life, but that were also affordable, good for you, and effective."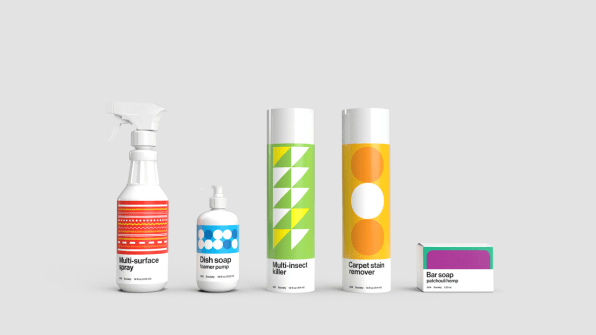 Society will operate through a membership model: Customers will pay a yearly fee of $99, enabling them to purchase a range of personal care and cleaning products that Society has formulated and designed. Today, Society launched a monthlong Indiegogo campaign to drum up awareness about the brand, and is offering special perks, like lifetime membership, with prices as low as $45.
Once you're a member, you can begin purchasing items in the Society marketplace, which will be sold at cost. Society products will cost about half as much as other green products on the market; the average nontoxic counter spray on the market costs between $6.99 and $8.99; S0ciety's version will cost $4.99. Like many other marketplaces that have launched in recent years–from Brandless to Grove–Society's products will only include natural microbes and enzymes, rather than synthetic chemicals.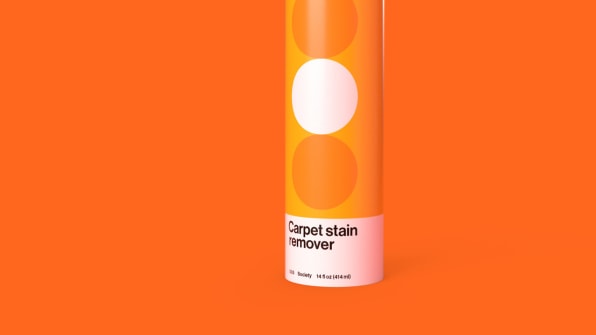 [Photo: Society]
But Society wants its focus on design to set it apart from competitors. "When we went down the cleaning aisle of the supermarket, all the products looked like they had popped out of the '70s and '80s," says Mehta. "That's beginning to change slowly, but really hasn't been significant improvement to their design for the most part. As a brand targeting millennials and generation Z, our bottles are inspired by art."
To design the packaging, Society worked with Fay Design, the firm founded by Aron Fay, best known for his work on rebranding the MIT Media Lab. Mehta says each bottle within the collection is inspired by a very specific modern impressionist artist, like Ellsworth Kelly and Josef Albers, who are known for their distinct graphic style.
Some successful nontoxic home brands, like Mrs. Meyers, have focused on creating a vintage look that reminds you of your aunt or your grandma to suggest that the brand's long history means that the products are trustworthy. While Mehta believes this is very effective for an older demographic, he believes that the modern art "look" will resonate with younger consumers. Society's approach is much more akin to Method, the safe cleaning brand, whose bottles were designed by well-known designer Karim Rashid. "We're targeting younger individuals who are having their first child, or are at an even earlier life stage, like getting their first jobs and moving into their first apartments," says Mehta.
But ultimately, Mehta realizes that design is only one factor that will allow Society to win over customers. The brand will also offer convenience, by selling products online that will be delivered on a regular basis, allowing the customer to skip running out to the store to get new dish soap. And Society's direct-to-consumer approach means that it will be able to offer better value than its counterparts.  "We think of ourselves as a mashup of Trader Joe's and Costco, but online," Mehta says.