The way you're advertised to says a lot about how the world sees you. In Netflix's brain-bending new series, Maniac, the way ads reach characters says a lot about how we're supposed to see the world of the show—and our world.
Sure, the subway ads promoting a tourist frolic on the moon convey some sense that we're not in Kansas anymore. But the real tip-off is the existence of Ad Buddy, a form of payment whereby users can obtain goods and services by letting an actor recite ads directly into their faces in the physical dimension. It sounds a little terrifying at first, for everyone involved, and then it sounds a lot terrifying the moment you realize Ad Buddy is not exactly farfetched.
Maniac, which stars the Oscar-friendly duo Emma Stone and Jonah Hill as addled participants in a pharmaceutical trial, does not take place in the future; it merely looks that way. Instead, series creator Patrick Somerville insists it takes place in a parallel 2018 New York City.
"It's just a different now," he says. "It's our same zeitgeist but maybe a different history of technology. There was a split in the timeline somewhere, although I can't say exactly where."
Wherever the break was, this version of the future contains Ad Buddys, although Somerville and his collaborator, director Cary Fukunaga, intentionally left the nuances of how they work a little murky. We find out right away that citizens can use them to pay for a trip on the subway, during which a man dressed like Peter Falk's Columbo will recite ads the entire time, but you cannot use them to pay for cigarettes at a bodega. ("Those assholes record client conversations," the bodega owner says of Ad Buddy, an echo of Google Home and, er, Amazon Echo. "They know you better than you know yourself.") Eagle-eyed viewers might even notice Annie (Emma Stone) walking by a fleet of about 10 similarly dressed Ad Buddies waiting to be deployed like a bike-share dock.
We never learn exactly why some businesses offer Ad Buddy and others don't. Perhaps some customers had bad experiences with them but we can only guess at what those might be. A scene that would have elaborated further ended up on the cutting room floor. The scene was set in a bodega where six strangers were each attempting to use Ad Buddy at the same time to shop and the bodega was entirely filled with Ad Buddies, customers, and chaotic noise. This scene would have clarified some of the hazards of the service, but perhaps it's more fun to imagine them.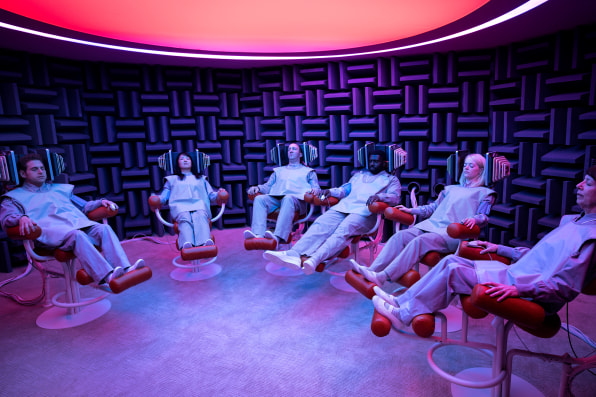 Somerville wrote the Ad Buddy subway scene on his first day on the show. He was initially attracted to the project, after Jonah Hill and series director Fukunaga came to him with the property, partly because he had the creative freedom to make a world far different from the original Norwegian series Maniac is based on. Having once worked as a copywriter in Chicago, he had some thoughts on how advertising within the show could be reflective of its themes.
"There were a lot of feelings I wanted people to relate to that I wanted to find new ways to represent on the show," he says. "The show was always going to be about loneliness and we needed to find examples of that within our heightened reality. I liked the rhetorical idea, with Ad Buddy, that if you just sprinkle a little bit of intimacy into an act of communication, it makes it a more effective pitch. Everyone is looking for intimacy and wants it but it's strange when it gets combined with an app or a sales pitch."
When he worked on the State Farm account during his copywriting days, Somerville was fascinated that the requested tone was that of a friendly neighbor. (If I've ruined your day by lodging the old State Farm jingle in your head, please know the company officially retired it in 2016.) The brand wanted its ads to sound like they were being told to you by a friend, despite the fact that everything about advertising runs counter to friendship. In Maniac, though, the same gig economy that gives users friend-like brand ambassadors also offers a simulacrum of friendship.
Friend Proxy is one of two silly business ideas Somerville entertained in his college days. It involved a storefront where people could come and hang out while he pretended to be friends with them. This service becomes a reality in Maniac, except instead of a storefront, the Friend Proxy meets users at a museum or a brunch and improvises synthetic intimacy. (The other idea he had in college was toilet paper with advertisements printed on it, and he managed to work that into the show as well.)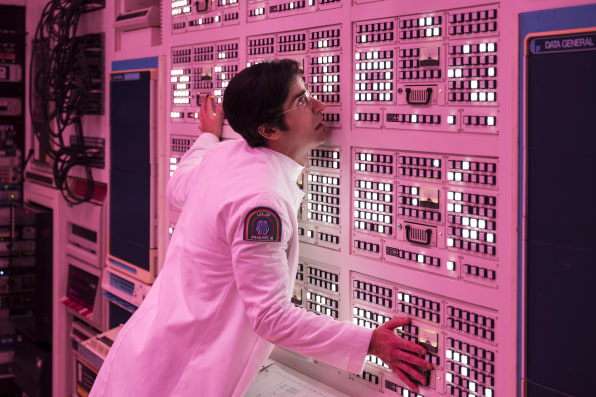 "Friend Proxy is just what so many products and services are, which is intimacy that has that strange tint of non-intimacy to it," Somerville says. "And what I loved about the Ad Buddy, after we shot it, is that you can really see the loneliness on their faces. Both of those actors did an amazing job sort of dramatizing the idea that they are suffering—that doing that job is very difficult in the gig economy, in our gig economy—in the same way that you can use Instacart and have these personal interactions with people at the door of your house that feel difficult sometimes, that feel a little uncomfortable, both human and not human at the same time."
You probably have your own Friend Proxy, whether you realize it or not. The NFL announcers who crack jokes all the time to duplicate for lone viewers the experience of a group hang? They're providing a service beyond just translating the action of the game. In the world of Maniac, Friend Proxy would be there for that lone viewer to turn to after clicking off the game and suddenly finding himself alone. You probably also have something like your own Ad Buddy, if you follow enough people on Instagram beholden to #sponcon.
If the services Somerville dreamed up for his series don't exist as such just yet, they're closer than you think.
"There will be more products or services designed around intimacy," he says. "Whether or not they are actually more intimate, I don't know. I don't know how you make a product that achieves authentic intimacy and I don't know that it would be good if you figured it out."