ClassPass revolutionized access to boutique fitness classes with its flat-rate monthly subscription billing service. Now the company that let you purchase a $35 spin class from your phone wants to help attract and retain talent in corporate America.
On Monday, the company announced a partnership with its latest corporate partner, Justworks, a fast growing HR technology company that counts more than 35,000 employees. In the coming year, the two intend to bring studio fitness classes to growing businesses across the country, or more specifically, to millennials averse to corporate "wellness programs." As millennials grow into one third of the total U.S. workforce, companies now look for more targeted ways to get them healthy. Younger generations want something familiar, flexible, and, well, trendy. And what better way than a barre class?
Through the new partnership, Justworks will provide employees access to ClassPass's flexible fitness packages, alongside supporting their benefits, payroll, HR, and compliance needs. It's one more piece in the employee package. Companies that sign up for ClassPass through Justworks can then decide how much they contribute to their employees' membership each month.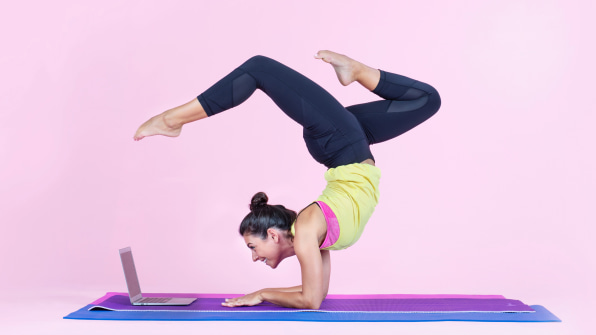 According to a Nielsen report, 81% of millennials say they exercise regularly, compared to only 61% of baby boomers. They're also more prone to do it n a gym or social setting, rather than, say, relying on an at-home treadmill: 45% of millennials exercise in a fitness class (like yoga, HIIT, or boxing), far more than 27% of people aged 55 or older. As millennials come to expect more personalized and customized experiences, it makes sense to meet them where they already are.
"We believe people deserve high-quality, highly-personalized options for pursuing their physical, mental, and financial health," said Camilla Velasquez, SVP of product and marketing strategy at Justworks, in a press statement. "People look to their employers for this already–in accessing health coverage and investing for retirement–and their employers rely on us to curate the best of the best for their teams."
Currently, ClassPass offers over one million classes in over 50 markets, and boasts more than 45 million reservations to date. The latest announcement is one of several in the last year: The platform expanded into beauty and wellness services, launched an at-home streaming fitness product, and more recently, got into wellness getaways.
In July, ClassPass announced that it has raised $85 million in series D financing led by Temasek, an investment firm in Singapore, along with L Catterton, the largest consumer-focused private equity firm in the world. This puts ClassPass at a significant marker, with a total of $255 million raised.