The day after Andrea Learned, a transportation and urban design consultant based in Seattle, flew down to San Francisco for the Global Climate Action Summit (GCAS), cyclist Russell Franklin was struck and killed by a car while trying to navigate around an illegally parked truck on a street near event. It was the same day, and on the same street, that a group of local activists with the San Francisco Bicycle Coalition had organized a protest calling for better bike infrastructure as a sustainability measure. "Protected lanes are climate action," their signs read, and the death of Franklin demonstrated the human consequence of failing to take that action.
That was the first day of the GCAS. Throughout the rest of the event, Learned and other active transportation leaders looked out for more discussion of walking and biking, how cities could better support it, and the benefits of doing so. "What cycling advocates and bike share companies are doing supports cities for climate," Learned says. "What if we had more safe streets people on the Global Climate Action Summit Stage?"
It would make sense: Research has found that if, globally, cycling rates can rise from their current level of 6% (around 1% in the U.S.) to around 14%, urban carbon emissions will drop 11%. Boosting walking would have similar benefits. But there was little evidence of these more human-scale endeavors on the main stage at GCAS. In the summit's list of key challenges, sustainable transportation appeared as something of a footnote; discussion of cycling and walking was often drowned out by talk of the admittedly more futuristic and startup-friendly electric vehicles.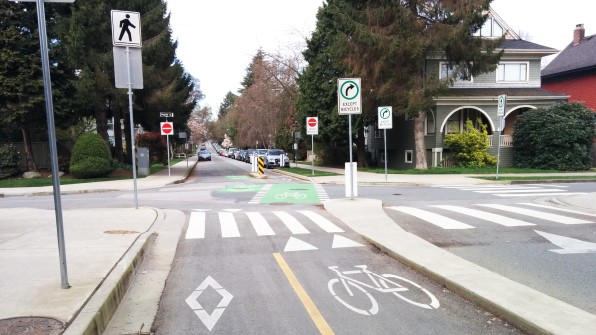 Writing in Curbed, Alissa Walker picked up the same sense. "At times," she wrote, "the summit felt more like an auto show. The event concluded with a cross-country electric vehicle road trip. There was the hashtag #CitiesDriveElectric. The only main stage session completely dedicated to transportation was like a series of car-centric infomercials: Hydrogen fuel-cell SUVs! Charging stations! Batteries!"
To be clear: The shift to electric vehicles could not come soon enough. Investing in the development and deployment of EV infrastructure is critical–the transportation sector, after all, emits the most carbon out of all categories in the U.S. Setting goals for zero emissions from transportation–as cities like Los Angeles and Paris have done–will require a large-scale effort on the part of manufacturers and cities to make EVs both affordable and viable enough for consumers to widely adopt. But both Learned and Walker are concerned that the focus on electrifying transportation will grant a pass to cities, particularly those in the U.S., that have failed to create streets that actively encourage walking and biking.
The consequence of that failure became clear the morning of the summit's first day, when Franklin was killed on his bike, and later that week, when a pedestrian was killed on the same street. Shifting to electric vehicles won't make streets safer for people that choose to get around cities by foot or by bike, and missing the opportunity to draw the link between safe, multi-modal streets and climate action will set cities unnecessarily behind on climate goals.
For many leaders in the U.S., making the case for electric vehicles comes more naturally than advocating for bike and pedestrian projects. As a relatively young country, the bulk of the U.S.'s urban development, especially compared with that of, say, the Netherlands, happened contemporaneously with the rise of the automobile. And there's a pull, in U.S. culture, toward the new and the innovative, and often, toward the flashy. That was certainly reflected in the commitments that arose out of the summit: California made good on Governor Jerry Brown's pledge to launch a data-collecting satellite; 38 leaders at the country and city level pledged to adopt cutting-edge building technologies to get to net-zero emissions; battery storage and electric vehicle companies pledged to roll out significant new capacity in the next decade.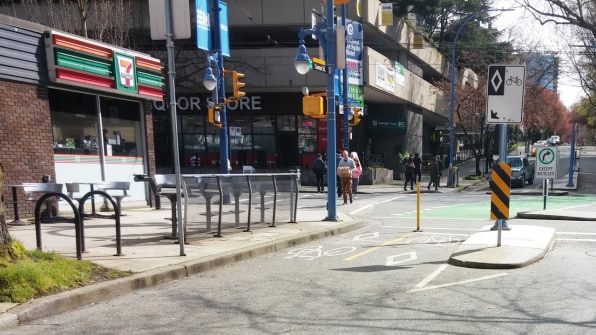 It's easy to see how amid these promises, bike and pedestrian infrastructure could get lost. After all, it's pulling from the past, when so much energy–whether it be around new high-speed rail networks or yes, electric vehicles–is geared toward the future, and what's next. It's telling, for instance, that when announcing the 12 new cities, including Honolulu and Oxford, joined the 14 who had already signed onto C40's Green & Healthy Streets Declaration–a wide-ranging pledge to reduce emissions on city streets–the press around it largely focused on the leaders' promises to procure only zero-emission buses beginning in 2025.
Embedded in the goal setting of 26 cities, though, are some promising bike and pedestrian infrastructure pledges that should be more valorized than they are–even if they require not innovation, but simply political will, to realize. Barcelona's mayor, Ada Colau, for instance, has pledged to double its cycling network in 2019, and reduce all vehicle traffic by 21%. While the regulations target the most polluting vehicles first, there's acknowledgement that streets need to be freed up for people, and the city's strategy of creating superblocks and fully pedestrianized areas out of its current network is one that should be emulated elsewhere. In Seattle, Mayor Jenny Durkan just allocated over $46 million in the city's budget for cycling and pedestrian improvements, and pledged to grow public transit service by 30%. Jennifer Keesmaat, the former chief city planner for Toronto and current mayoral candidate, has proposed lowering speed limits across the city, creating pedestrian zones around schools, and redesigning dangerous intersections to promote safety.
It's both encouraging and not surprising that behind these more grounded human-scale projects are women leaders, who, as Jane Jacobs famously said, "have always been willing to consider little plans." It's a far cry from actor Harrison Ford, who, from the stage at GCAS, roared: "Let's kick this monster's ass!" but zeroing in on the street level, on small-scale, timeless interventions, may be as effective at tackling climate change as some of the more futuristic proposals to come out of the weeks of climate advocacy this month. Consider that, according to Project Drawdown, pulling the global mode-share of trips made by bike up to 7.5% by 2050 will avoid 2.3 gigatons of carbon dioxide emissions, and investing in bike infrastructure over more roads will save municipal governments $400 billion in the same time frame. Walking 5% of trips currently made by car will avoid 2.9 gigatons of carbon dioxide. The work of slowing climate change will necessarily be multifaceted and involve radical, innovative thinking–but human-scale streets are a solution that have been in front of us all along, and need a place on summit stages alongside their flashier counterparts.