When Ben Gomes joined Google in 1999, the company was a search-engine insurgent taking on entrenched giants such as AltaVista, Yahoo, and Excite. Its founding insight—that you can tell a webpage matters if other webpages link to it—was still its principal asset, and Gomes's early responsibilities involved ensuring that this original "PageRank" algorithm could scale up past its initial index of 25 million web pages.
"I had the challenge of taking it from one machine to a whole bunch of machines, and they weren't very good machines at the time," he says, laughing at the memory. PageRank proved scalable and Gomes stuck around. Last year, he was named to run Google search, putting him in charge of the company's first—and still most iconic—business.
I spoke with Gomes at the press event which Google held on Monday in San Francisco. Though timed to help mark the company's 20th anniversary–which it officially celebrated on Thursday–the event served as the launchpad for the most substantial set of new search-related features that Google has announced in a long time. (Gomes began his onstage presentation by pointing out that Google deployed more than 2,400 improvements to search last year; a high percentage of typical changes, however, are subtle if not downright invisible to users.)
Related Video: Over its 20 years, Google has revolutionized the world
At its event, Google introduced new Activity Cards that appear when you repeat a search and show you the pages you visited the previous time. It previewed an updated version of Collections, a bookmark-like feature with a Pinterest-esque look. It showed a new type of element that intelligently organizes results into subtopics that vary depending on the nature of the query.
Other new features include Discover, a fancier version of the Google feed that fills the Google home page with information and content you might like before you've searched for it; improvements to Image Search such as Snapchat Stories-like multimedia shows; and a job search tool that now incorporates information about local training opportunities. Google is even attempting to use search to help people deal with natural disasters by rolling out an AI-infused feature that forecasts floods, starting in India.
When I asked Gomes which of these changes he thought was most important, he cheerfully declined to play favorites. "I wouldn't be able to pick one particular thing," he said. "To me, it's the guiding light of serving the user and using technology to do that. That's common to all the announcements. And that theme means a lot to us."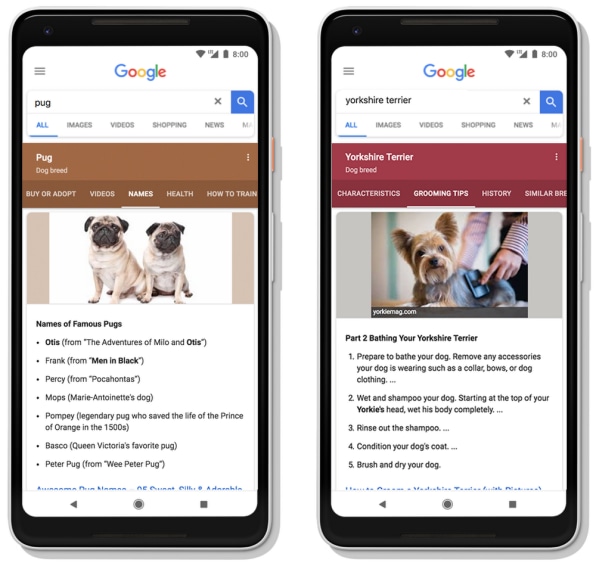 One step at a time
For all that's changed about Google search over the years–and will change as these new features arrive–the basics of searching Google have remained remarkably consistent over two decades. You type in words. You press a button. You skim a variety of results until you find what you were looking for.
The familiarity of that experience can obscure the fact that features we take for granted–or don't even realize are there–once required heavy lifting on the part of the company's engineers. Once upon a time, for instance, Google couldn't deal with misspellings, which meant that search queries with typos–around 10% of all queries–only found pages that contained the same errors. Addressing that "was not an easy problem," says Gomes. "You can't just go to a dictionary–they're words that aren't in the dictionary." That forced Google to handle typos algorithmically, which had the benefit of being language-independent. "I was involved in launching it for German, French, Italian, and Spanish and I didn't know any of those languages," remembers Gomes.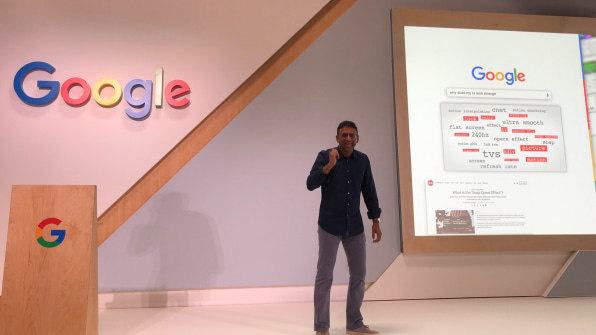 Gomes calls out two improvements as Google search's biggest inflection points, which I found reassuring, since they were the first two that sprung to my mind. One was 2007's Universal Search, which wove elements such as links, news, images, and videos into one list–forever ending the era when Google results were solely about "ten blue links." The second, 2012's knowledge graph, allowed Google search to directly answer questions such as "How tall is Serena Williams?" (5′ 9″) and "What's the population of Monaco?" (38,499) rather than shuttling you off to a webpage which might or might not have the answer.
---
More about Google's 20th anniversary:
These 16 Google search queries will produce easter eggs to remind you it's 2018
The Google Doodle is even older than Google itself
---
At the time the first version of the knowledge graph debuted, Gomes says, it was clear that people were going to do an increasing percentage of their knowledge-seeking by talking into their phones rather than typing, a scenario that naturally led them to phrase queries as questions. (Today, they can do that using the Google Assistant, which is also part of his portfolio.) Answering such queries requires Google to understand entities and their attributes, and to be able to parse the way people talk about them when asking a question. "There's a reference back to some earlier part of the sentence that you first you have to solve before you can solve the data part," he explains. "And you can only do that if you have an underlying deep representation of the information."
The rise of voice may have made the knowledge graph a priority, but "Larry [Page] talked to us years before that about how he wanted to have entities in our system," says Gomes. "It took us several years to figure out 'How are we actually going to do this?' Larry's always visionary, and he convinced us that was a problem worth attacking. We just didn't know the means."
Similarly, the new functionality Google unveiled this week "has been the product of a lot of work over several years, actually," Gomes says. "This has been part of our internal version of where search should go, and today we're talking about it externally." With Google search, there are always new problems worth attacking–and for Gomes, finding the means has turned out to be his life's work, with more to come.