Can running a business be a launchpad for a career in politics? The 2016 election would indicate yes. But looking past Trump, a number of entrepreneurs have been drawn to the political arena recently, from Giant Spacekat CEO Brianna Wu to Chrissy Houlahan, who helped start nonprofit organization B Lab.
And this year has seen a record number of women running for congressional seats, with 255 women on the ballot in November as major party candidates and the rise of upstart progressives like Alexandria Ocasio-Cortez and Ayanna Pressley.
In a recent survey conducted by Fast Company and Inc., we heard from nearly 300 female founders and entrepreneurs on issues like fundraising and the discrimination they faced as women leaders. We also asked about their political leanings and activism, and whether the political climate might nudge them to run for office. Here's what some of the founders who are making their businesses political—and might eventually make politics their business–had to say about running for office.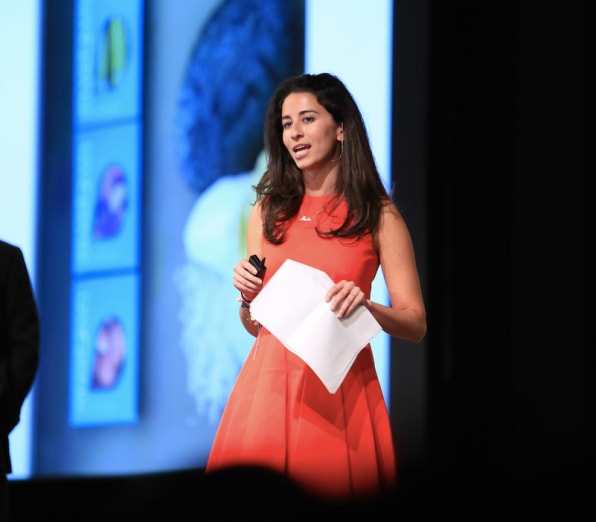 "I think it's natural for people who are running businesses and being entrepreneurial to think about running for office"
Meika Hollender is the cofounder and CEO of Sustain Natural, which sells all-natural, vagina-friendly period and sexual health products. 
On running for office:
It [my interest in politics and business] really started out initially as this idea of, "Is it appropriate for your business to flex its muscles and get behind candidates?" I remember when Al Gore was running, Seventh Generation [my dad's company] put his face on the front of their mail order catalog. It [got] a horrible reaction from their customers, and I've always had that in the back of my mind. Obviously with this latest election, it felt different. You can't say nothing anymore because too much is at stake.

So I think it's natural for people who are running businesses and being entrepreneurial to think about running for office. You continue to run into these issues where you're like, "Oh, wow, maybe there is a place for me to be more politically active and ultimately run because these are things I want to fix." I don't have plans to run for office today, but it's definitely in the back of my mind. Working on building this business has only made me more and more passionate about reproductive rights and access to reproductive and sexual healthcare.
On her political platforms:
For me, it's all about healthcare and reproductive rights. So much of equality, in my opinion, stems from those issues: Women having access to resources and the right to make decisions about if and when they have children and career choices. Being able to continue to work or not work needs to be a choice. When we don't have access to basic healthcare and the right to choose, a lot of those decisions are made for us. I think that's the most dangerous thing that will set us back from a gender equality standpoint.
On influencing politics through business:
I think business, for me, has always been the biggest and fastest tool to change things, whether its access or education. Business still feels the most powerful. But politics is having its moment as well, which makes you question: Maybe that's how where I should be spending my time? I've definitely gotten way more involved with the [Hillary Clinton] campaign and some smaller campaigns. It's even just making policies in the office—everybody is working from home on the day of the midterms—and doing whatever I can with my employees to encourage them to register and vote.
A great way to start the week: a Monday meetup with @kilroyblckchain at East Austin's @LazarusBrewing!

From L-R: Kilroy Blockchain's CEO Karen Kilroy and CIO Lynn Riley, Astral AR's CEO Leah La Salla and CIO Jose La Placa Amigo + Pipsqueak. pic.twitter.com/y5dc3SA79H

— Astral AR (@Astral_AR) September 24, 2018
"Am I running for office? I'm running an office"
Leah LaSalla is the cofounder and CEO of Astral AR, a startup that is building drones to help stop bullets and prevent gun violence.
On running for office:
As a disabled, single, [former] teenage mother of color, I'm not supposed to be here. I'm not supposed to program in nine languages, but I taught myself. I'm not supposed to be a CEO doing this thing. I'm not supposed to have gotten venture capital.

So am I running for office? I am running an office. If I stop what I'm doing, who's going to do this? The world needs this.
On influencing politics through business:
I'm the CEO of a company. Holy crap! You know how you say to yourself, "Man, if I was in charge." Well, one day I woke up and realized I was in charge. I decided we're going to do things the way they should be done. The personal is political—for example, everyone at Astral gets paid the same.

The position that we occupy is extremely political, in every possible way. I spend half of my time with grassroots activists. I just hired a self-described anarchist—and on the other hand, partnered with uniformed police officers. That's a hell of a place to be. The thing we're doing is so unique and special. That's how we come to be in a place that we can be endorsed by Black Lives Matter and the Fraternal Order of Police.
"I would be surprised if I am on my deathbed and I've never run for public office"
Leigh Honeywell is the cofounder and CEO of Tall Poppy, where she's working on tools to help companies protect employees against online harassment and abuse. She worked at the ACLU until May and was at Slack before that. 
On running for office:
I would be surprised if I am on my deathbed and I've never run for public office.

I grew up in Canada, and I've only been in the U.S. for seven years. I had been very politically active in Canada, and after moving to the U.S., I sort of focused on my career and became less active. During the Hillary campaign, I did some technical volunteering—a bit of security code review—as well as standard volunteering to get out the vote. In the immediate aftermath of the election, I was the original instigator and one of the co-instigators of the Never Again pledge: I got 2,800 Silicon Valley techies to pledge to never build a database of Muslims or assist with mass deportations. That helped me figure out the boundaries of what I could accomplish as someone working at a tech company.
On her political platforms: 
As a Canadian living in the U.S., access to healthcare is so top of mind. It has such a wide ranging impact on people's lives, whether it's the ability to change jobs and have that not be a catastrophic impact on your life, or the ability to start a company. I'm only able to start a company because I can afford to pay for Cobra—and that's a pretty hefty burden. There's all these different aspects to the healthcare debate that intersect really dramatically with economic opportunity. I'm a pretty big believer in single payer, having grown up with it, so the mainstreaming of that as part of the American political discourse is something I've been finding really encouraging.
"I feel very empowered to add a voice to a community that doesn't necessarily have one"
Avani Patel is a founder and partner of The Ember Company (formerly TrendSeeder), which advises and invests in consumer startups.
On running for office:
I had not been very politically active. But I think the last few years have definitely changed a lot of things. A lot of my conversations are definitely more politically charged; I'm taking part in rallies and have become more active and aware.

I think having gone to law school has given me a different perspective. It's everything that's happening with the Supreme Court—it's everything that seems a bit unconstitutional. It's more that driving my interest. I don't know that it stems from the startup world.
On her political platforms:
Partially it's more representation of a minority community. I don't think there's a big voice for the Asian American community at all in the political system. I think women's rights and equality is obviously something of great importance to me. As terrible as it is, with the system we currently have in place, I think it's also brought down some barriers for outsiders to enter into politics, which is interesting.
On influencing politics through business: 
The way I was raised is very different from most of my Asian American friends. I think that partially drives me. I see some of that in equality—that hesitance of speaking up or breaking the mold. I was never raised that way. Taking risks was a part of my life, and it was always encouraged versus discouraged. I think that's really rare. So for me, I feel very empowered to add a voice to a community that doesn't necessarily have one. I don't think I would be doing what I'm doing if I didn't have that support from a very early age.

[Photo: courtesy of Vidcode]
"It would be a similar form of expression for me in the future"
Alexandra Diracles is the cofounder and CEO of Vidcode, which builds software to help teens–especially girls—learn how to code.  
On running for office:
Because I'm a startup founder and in that world, my strengths are in passion-driven work and being willing to do what it takes; I love public speaking. I'm pretty exhausted right now from my own startup. But it would be a similar form of expression for me in the future, to get involved with local or national office.

With VidCode, I get to work toward changing the lives of probably hundreds of thousands of kids. We're almost up to a million students on the platform. Ever since I was a kid, I've always been that person to start that club; I'm really good at gathering teams. If the timing was right, and I was with the right people, I could see myself stepping up. I want to see this company to fruition, so I would probably do it in five to 10 years.
On her political platforms:
A huge thing I was thinking about with the last election was maternity leave, being in a highly competitive workforce and the girls' empowerment space. We spend so much time empowering teen girls, but they're entering a world that's just not conducive to it, and a big part of that is that our country hasn't come to terms with supporting families. And when you think about education, it all goes back to families. A big part of my stance would be: How can single parents and moms be supported, and how can we further fix the problems in big business? The truth is even with all the diversity talk, when you look at who's gained the big dollars and where they're coming from, there's not a huge amount shifting there.