Anna Charity is head of design at the meditation company Headspace. She spoke to Doreen Lorenzo for Designing Women, a series of interviews with brilliant women in the design industry.
Doreen Lorenzo: How did you find design? Or did design find you?
Anna Charity: From an early age I was always into the visual side of things. I remember my mom would be like, "Where's Anna?" And I'd be locked away in my room drawing. I've always been fascinated by the way that illustration, and specifically characters can inspire and delight, so I enjoy creating stories and made-up characters, playing around with the quirks and idiosyncrasies of life. I was also very inspired by the animated sections in the Monty Python shows. I just loved the silliness of them. I think humor has always been important for me because it's that tone of voice that adds to the charm and relatability of what you're creating. I eventually went on to study illustration, but I think I became a little disillusioned with the idea of being a full-time illustrator, especially as I was interested in other areas such as photography, design, and animation. But I especially enjoyed seeing illustration being brought to life–which I found magical. And it didn't have be confined to children's books or editorial. It could stretch across design, advertising, and editorial, and, most importantly, it could be used to communicate ideas. I also loved the problem-solving aspect of design.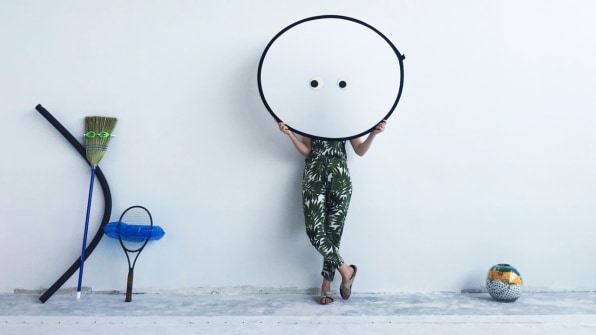 DL: How did you find your way to Headspace?
AC: After graduating with a degree in illustration, I went on to do a traineeship in interactive media, which opened up the doors to web design, interaction design, and animation. After completing that, I moved to London and worked for various agencies and production companies such as B-Reel and The Mill. Then I met Rich Pierson in 2011 (the cofounder of Headspace). A mutual friend had shown him my portfolio and he liked my illustrative aesthetic. I had never previously meditated or thought about mediating–I think I was put off by all the mysticism and cliched imagery associated with it. So it was obviously a very exciting challenge to have the opportunity to potentially rebrand meditation.
DL: What were some of the challenges you encountered from a design perspective?
AC: Meditation is a skill, and it's also a hard thing to explain. Moreover, it has a lot of clichés attached to it. We wanted to offer more of a raw, honest look at meditation as something that feels more accessible, rather than the mystical faraway imagery that a lot of people don't necessarily relate to. Headspace is about using meditation to deal with the challenges we face in life. It's not about zoning out or escaping our problems. The fact that we have access to all these incredible stories through Andy (the cofounder and voice of Headspace) means we can talk about meditation in a compelling way. And these narratives have become an integral part of the experience.
DL: Does it differ from culture to culture as you design this? This is an international program.
AC: One of the main things that we considered when we created the brand was that meditation should feel like it's for everybody, and it should feel accessible and inclusive. More importantly, we try to show meditation in a really everyday way–we show it in contexts that people can easily imagine. And one thing that all of us have in common is, is that we have a mind. Ever since Headspace's inception we have always used characters and storytelling to explain meditation. As we all know, our minds are a complex place. They are full of different thoughts and emotions, and it isn't always an easy place to inhabit. (That's the reason meditation is so valuable.) From this, we knew we had to develop a style that communicated these ideas in an approachable and relatable way. And more importantly we found that characters are a great vehicle to represent the weirdness inside your head because they feel playful and memorable.
DL: What are some of the trends you've seen in the design space that have changed over time?
AC: One of the biggest things to consider is that designers have to wear so many hats now, and our roles tend to be less specific, but more specific at the same time. There are so many disciplines in design now–you've got UX, product UI, art direction, service design, interaction design, design research, the list goes on. As designers we need to approach things from a strategic point of view, from a brand point of view, the user point of view, data metrics point of view. And design is becoming part of the conversation so much earlier on in the process now. It's great that people who aren't designers recognize the need for this. You could say everyone has an opinion on design, which is amazing from a collaborative perspective–it's a healthy conversation, but does it slow down the process? You can certainly look at that from both sides. We also talk about design so much more now, from a cultural and social context. We are much more aware of good design, and bad design. I also think today, more than ever we are drawn to beauty in the functional form. Design and the processes around it are changing all the time. But it's an exciting place to be nonetheless.
DL: What do you look for when you're hiring talent?
AC: I'm always keen to see stuff that goes beyond the client work. This is where I love to see side projects. What is their passion outside the day to day? What really lights them up as a designer or artist? What are they inspired by? I also love to see work that's not necessarily finished–work-in-progress stuff. You don't see enough of this, everything is so polished now. It's interesting, actually–I'm finding that a lot of designers don't bring their portfolios to interviews anymore. I'm in interviews and I'm like, "Where's your work?" I think now more than ever, we have become more confident in talking about and presenting our work, but it's still visual–I want to see things! There is also a lot to be said for charm, and a sense of humor.
DL: Designers present their ideas, and they usually get shot down. How do you coach them through that?
AC: I know firsthand how demoralizing that can be. Especially when you've poured so much of yourself into something. But it's also important not to get too attached to the details because it prohibits perspective. Feedback, whether good or bad, aids your development as a designer. I also like to hold people accountable so they feel empowered in their decision making. And also it's important to show them how far they have come so they feel a sense of accomplishment, otherwise they stand the risk of feeling uninspired and unmotivated when facing the next project or challenge.