"Restricted Areas" is a stunning photography series by Russian visual artist Danila Tkachenko, who traveled to secret cities in the former Soviet Union to capture everything from abandoned deep-space antennas to a concrete sarcophagus that seals a mysterious 2.5-mile-deep hole–at the time, one of the deepest human-made holes in the world.
Tkachenko—who won a World Press Photo First Prize for his series "Escape" and the European Publishers Award for Photography for the Restricted Areas series—wanted to document how the Soviet Union developed technology to compete against the U.S. at any cost, aiming to be "better, higher, and stronger," as Tkachenko puts it, than the rest of the world.
He started the series with a single photo and a visit to his grandmother, he tells me over email."One day I went to visit my grandmother who lives in a closed and previously secret city near Chelybinsk, where the first Soviet nuclear bomb was developed," he says, "I learnt that in the '60s there was a nuclear disaster, but it was classified." According to Tkachenko, a vast territory was contaminated, affecting hundreds of thousands who suffer from various chronic diseases because of the radiation. He took the first photo of some dead buildings, and that prompted him to record the dark side of human progress in the Soviet Union and its satellite countries. "I traveled in search of places that used to hold great importance for the idea of technological progress," Tkachenko says in the intro to the series. "These places are now deserted. They have lost their significance, along with their obsolete utopian ideology."
Before taking the photographs, Tkachenko spent a year doing preliminary research using physical archives and the internet, looking for objects and places that could fit the narrative.
Then he decided to shoot in the winter, when the cities would be completely empty of cars and people, to keep the focus on the structures. But this posed its own challenge. "In Bulgaria, I spent almost a week on a mountain, waiting for the clouds to dissipate to make a single shot of the former headquarters of the Communist Party,"  Tkachenko says.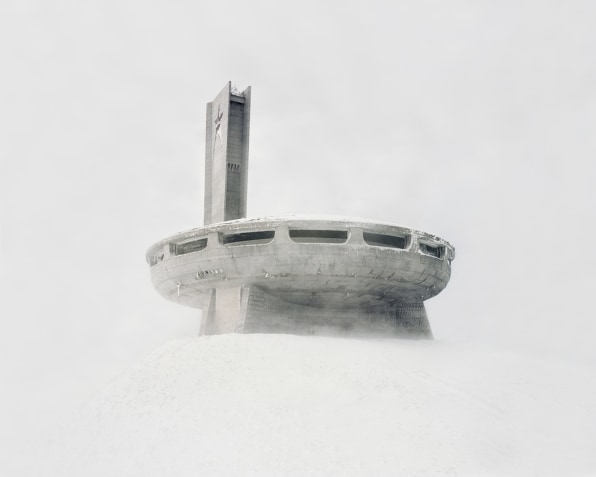 The resulting photographs have a post-human quality. There are the ruins of a spaceport that never hosted any spaceships. There are the rusty remains of a deep space dish designed to connect with cosmonaut in missions to other planets that never happened. There's an astronomical observatory that was abandoned decades ago. These are the sites of long forgotten scientific triumphs and defeats, symbols of a "perfect technocratic future that never happened," as Tkachenko points out.
You can buy the Restricted Areas book on Amazon and on Tkachenko's website.