I made my very first portfolio website in 2013. Since then, I've pushed myself to redesign my portfolio every summer, looking back on the lessons, documenting new projects, and applying new skills.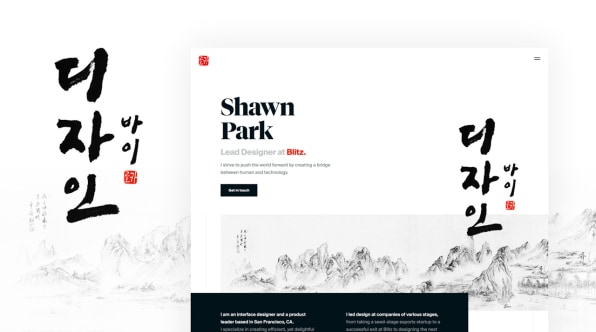 Yes, it's a lot of work–I spend an entire summer for each portfolio redesign. But the annual portfolio redesign is one of the major reasons why I grew as a designer over the past five years, and I'd highly encourage other designers to give it a try as well. Here what I've learned over the course of my six years of annual portfolio redesign.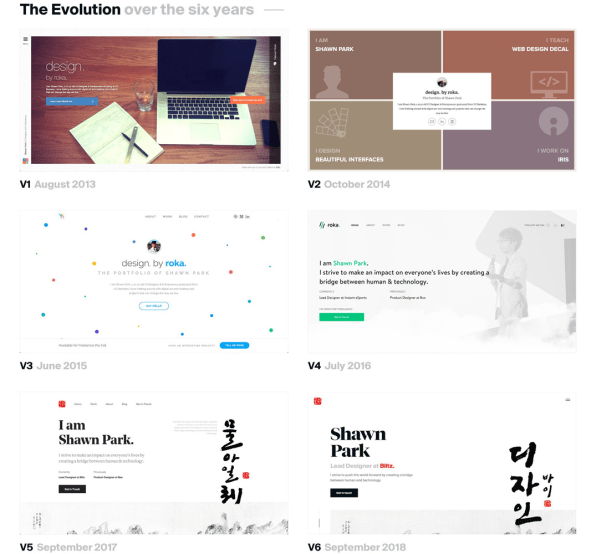 It helps me reflect what I've learned in the past year
I learn so many new things each year, from new tech and design skills to even how I approach product design process. I then apply these learnings to my annual portfolio redesign. In the last year's redesign, for example, I used React.js, which was my biggest learning from the year before. Using React makes it easy to reuse commonly used components like carousels, keeping the code more modular and making the user experience consistent across the site.

It lets me share updates on what I've been doing
Every year, I keep my portfolio updated with new projects from work, freelance, and side projects. This is important especially because I work at the fast-changing startup Blitz. Blitz has changed its focus from a mobile news app (2016) and an e-sports publication (2017) to a desktop gaming insights app (2018). That's why it's important to keep my portfolio updated, in order to document my journey at Blitz and create the best representation of where I am at in my career.

It lets me get creative without constraints
Working on my portfolio redesign is one of the rare opportunities where I can be 100% creative with my work. It's my website–I am the only stakeholder in this project. As such, I can focus on creating a design that's unique to myself and try something unconventional without worrying about anyone else's opinions. Sometimes as a product designer, you resort to conventional, safe methodologies as you design interfaces that meet business and product goals. That's why you should still dedicate some time to flex your creative muscle. Your portfolio is a perfect workout.
Tips for redesigning your portfolio
1. Make it unique to yourself
Take a moment to think about how you can make your portfolio website unlike anyone else's. In particular, the header of your home page above the fold is the area where you can be 100% you and land a striking first impression. Don't be basic and just write "I'm John Smith. Product Designer at Facebook" in Helvetica or Noe Display. Think about what makes you unique–you could use your cultural heritage, or maybe your background, like a physicist who became a designer–as an inspiration for your design direction.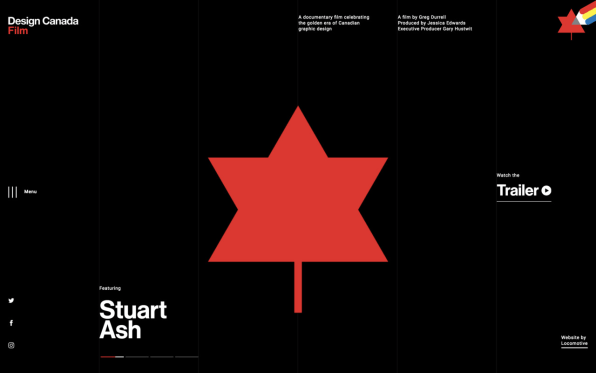 2. It needs to serve a purpose
You should still treat your portfolio just like any other product–you should think about who's your audience and define the goals of your website. Depending on the audience and the goal, you should think about: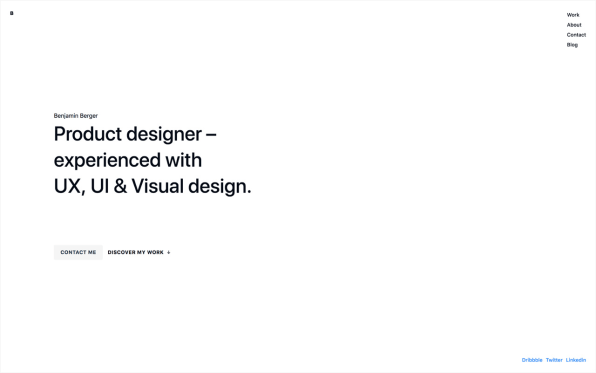 What do you want to get out of your website? Maybe you want to land a job. Maybe you just want to have some fun. Depending on your goal, you should balance out how much you want to focus on function vs. form.
What's one page you really want your users to see? Your navigation should optimize for landing the users on that page. What do you want your users to do after they have explored your site? You should probably have a strong call to action, especially in the header and footer.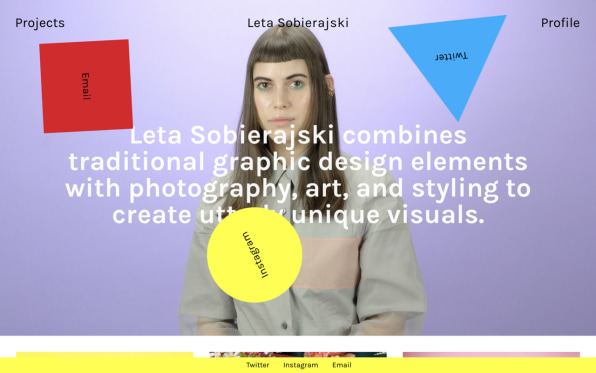 3. But it's okay to get crazy
At the same time, remember that you are designing a portfolio website, not an app or a promotional site for your company. Your audience will most likely be a bunch of techies who are looking at your work on a giant 27-inch monitor in 1,920 x 1,080 screen res (this is true story from metrics from my portfolio site). You have room to be generous with spacing, go bold with typography, and try something eccentric. Don't be afraid to sacrifice just a bit of usability for a touch of delight and personality. This is one of the few cases where you can and should be really yourself when it comes to design.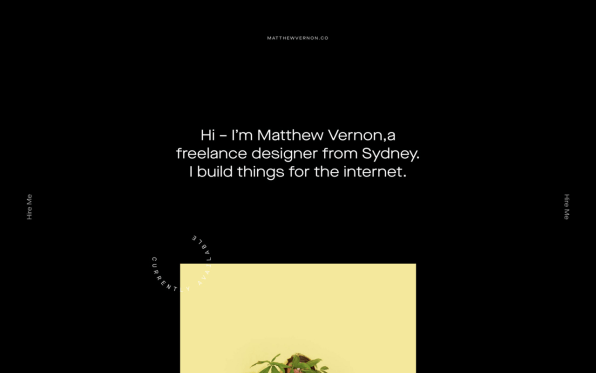 4. Let your work speak for itself
"Show, don't tell"–this is the rule of thumb you should be following when it comes to case studies. You should still describe your design process and the rationale behind your design decisions in detail. But you shouldn't go so in-depth to the point where you are explaining every pixel and end up writing an essay. Keep your writing to a minimum and try to prove your point with your design. Make sure your thumbs are large enough (either container width or full screen) and keep it distraction-free. If your work is good, it wouldn't require an in-depth explanation. It should speak for itself.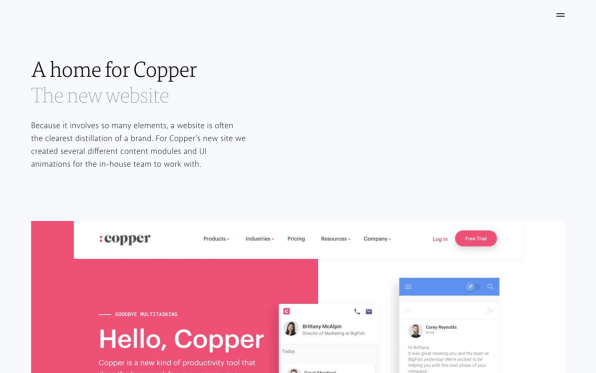 5. Be selective about your work
Make sure you curate your best works, which should be no more than three. Having too many case studies will distract your visitors from exploring your best works. Spend time thinking about how you can optimize your navigation to land your visitors to your best works, and make sure case studies for those best works are thorough enough. It's also important to show a wide breadth of work from multiple categories (consumer, enterprise, fintech, gaming, etc.) and multiple platforms (mobile, desktop, web, marketing website, etc.). It might be good to have one to three featured projects, which are your best works to date, and three to four other projects just to show you have worked on projects from a wide range of audiences and platforms.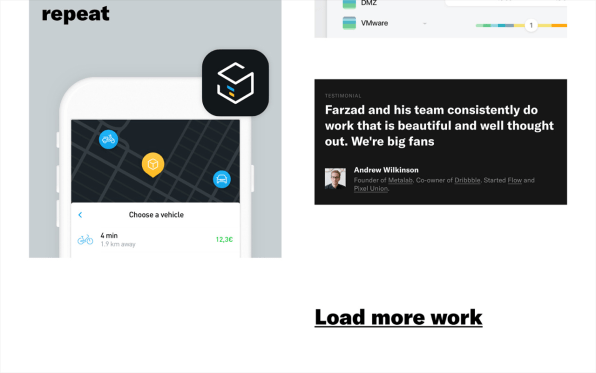 6. Have fun
When I was a kid, I used to spend days and nights just working on my personal website in HTML because it was fun creating an online presence of myself. Sure, I wouldn't count them as my "professional portfolio," but that same passion from childhood is what drives me to work on my portfolio today. It never feels like work. It's just another hobby of mine like games, and that mind-set allows me to get more creative when designing my site.
That's why I want to end this post with the advice to have fun. I've met so many designers who are stressed over building their portfolios, and that's a perfect recipe for designer's block. This is your chance to be 100% you–unlimited room for creativity and expression. You can take as much time as you want, use whatever tech you want, and design however you want. Seriously, you don't get opportunities like this often (if ever). Enjoy it.
Shawn Park is lead designer at Blitz. This essay was adapted with the author's permission. Read the original here.