Ever since Apple introduced the iPhone 4s in 2011, the company's phone-naming terminology has followed a predictable pattern. If the company gave a new phone the same model number as the previous year's, but with an "S" appended, you knew that the industrial design wasn't going to change, even if the technology inside—like the processor and cameras—had progressed quite a bit. Sure, the iPhone 4s, 5s, and 6s were fine phones; they were just about refinement rather than shaking things up.
And then there's this year. Apple's three new iPhones—the Xr, Xs, and Xs Max—all build upon 2017's iPhone X and acknowledge that fact in their branding. But despite their debt to the X, they add up to the most strikingly new lineup in iPhone history. The iPhone X proposition—an edge-to-edge display, a notch, and Face ID—was a novelty last year; now it's standard across the line. And even the smallest model, the Xs, has a larger display than any previous iPhone except the X.
For all their similarities, the new phones don't line up into a digestible good/better/best matrix. The cheapest model, the $749 Xr, is the midrange model in terms of size and has a nifty twist—six different color options to choose from—which is unavailable on the Xs and Xs Max. But if you covet a bright-red iPhone in an intermediate size, you'll have to decide whether the stuff the Xr doesn't have is an issue. And while some of what's missing is obvious—the Xr has only one rear camera—other omissions are somewhat arcane, like the fact it can withstand being submerged for 30 minutes in only one meter of water vs. two meters for the Xs and Xs Max.
Even Apple's specs comparison doesn't tell the whole story. The iPhone Xr's "Liquid Retina" LCD display has a lower pixels-per-inch count and less contrast than the Xs and Xs Max OLED screens. But that isn't necessarily a downgrade worth worrying about, in the way a smaller storage capacity or less RAM might be.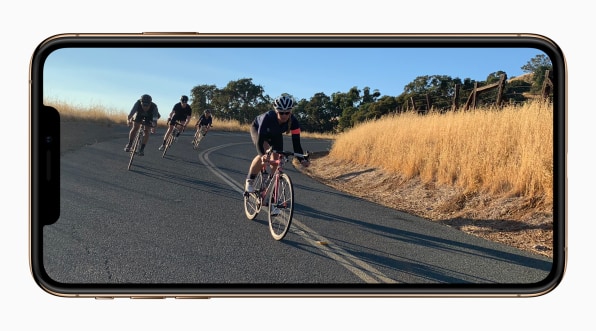 Though Apple has offered iPhones in varying screen sizes since 2014, this year's differences in real estate aren't as distinct as with models of yore: At 5.8″ (Xs), 6.1″ (Xr), and 6.5″ (Xs Max), the new phones aren't small, medium, and large so much as large, very large, and very, very large. As I came face to face with all three at Apple's hands-on area at its event this morning, I had to think for a moment before I could tell which new iPhone was which.
The bottom line is that there may not be a bottom line on the new iPhones, if what you seek is buying advice that can be boiled down to a few sentences. For Apple, that's something new.
No quadrants for you
Upon returning to Apple in 1997, Steve Jobs famously interrupted a meeting in progress—involving the company's then-ballooning, overlapping lineup of Mac models—to draw four quadrants on a whiteboard. It indicated that the company would henceforth offer one consumer laptop, one consumer desktop, one pro laptop, and one pro desktop. That set the stage for an era in which Apple offered a few products with mass appeal rather than a Byzantine menu of offerings aimed at slightly different kinds of users, as makers of Windows PCs continue to do.
A decade later, the original iPhone didn't even need a quadrant diagram. With apologies to Henry Ford, you could buy an iPhone in any size you wanted—as long as it was 3.5″.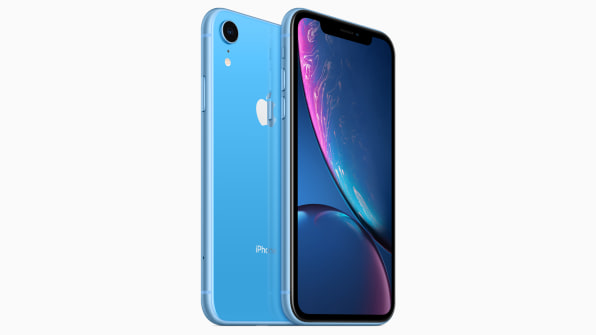 As the iPhone lineup has expanded in recent years, Apple has let go of that minimalist clarity. It seems less like an accident than a willful decision, and—since nobody at the company is likely to acknowledge the shift as a change in strategy with pros and cons—it's up to us to figure it out for ourselves. Why has Apple released three new iPhones that are kinda similar and kinda different in ways that require explanation?
I have a few hunches:
Apple wanted to quickly standardize on the iPhone X platform. Last year's lineup, with the traditional iPhone 8 and 8 Plus and radically new iPhone X, was a blip on the way to 2018. These new X phones are all a lot different than an iPhone 8, 7, or 6s, which should help goose upgrades in a way that an iPhone 8s would not have.
But it also needed an entry-level model. As successful as Apple has been at convincing people to pay $1,000 and beyond for an iPhone X, the new lineup required a phone engineered to hit a lower price point. Enter the $749 iPhone Xr, which—though $50 more than last year's starting price for the iPhone 8–is still significantly more accessible than the Xs or Xs Max. Apple kept costs under control with this model in a variety of ways, but still aimed to make it feel like an X-series iPhone rather than something different and lesser.
A mature upgrade market calls for more models. In most of the countries where Apple sells a lot of iPhones, it's making them for people who already own iPhones, and therefore must give each prospective upgrader one or more tangible reasons to spring for a new phone. By its very nature, that's a trickier feat than getting someone to buy an iPhone in the first place, and would tend to lead to model creep as Apple tries to cover a variety of people—price-conscious shoppers, big spenders, and those with various opinions about ideal screen size.
Apple is all-in on big screens. After years of coming off as not being entirely thrilled with the smartphone market's display-size race–remember when it made the iPhone 5 screen taller, but no wider?–it now shows no such reservations. (Presumably the iPhone X form factor, which packs more screen in a smaller device, helped allay its concerns.) If Apple thinks a big screen is going to be a major selling point for almost everybody, it's going to end up with less visibly different devices than it did in the era when it hired Yao Ming and Verne Troyer to promote a really big laptop and a really small one.
After Apple's launch today, we discussed the new iPhones in Fast Company's Slack. Some of my colleagues who aren't Apple obsessives said that they were baffled by the differences between the three models in ways that watching the keynote and scouring Apple's online info didn't immediately resolve. I suspect that will be a common reaction. If you want a new iPhone but aren't instinctively sure which one speaks to you, the best way to make the decision is going to involve going to the Apple Store or another retailer and checking them all out in person—even if you ultimately place your order online.
For consumers, choosing a new iPhone may have just gotten more complicated. But as long as enough people do choose one rather than sticking with what they've got, or buying an Android phone, Apple will presumably be happy to let a hundred iPhones bloom—or at least several rather similar ones.