If singular surrealist Michel Gondry and renaissance oddball Jim Carrey could erase the memory of working together on 2004's Eternal Sunshine of the Spotless Mind, they obviously would not.
The pair has just rekindled their collaboration for the first time since that mind-bending dramedy with Showtime's Kidding—and have proven that their creative alchemy was no fluke.
In Kidding, Carrey plays a modern-day Mr. Rogers, Jeff Pickles, who's navigating a mental breakdown following an unspeakable tragedy. The show finds both Gondry, who executive produced the series and directed four of 10 episodes, and Carrey in rare form. We've seen Carrey go to dark and sad places before, but here the control and specificity of his performance is tethered to Gondry's equally restrained vision of a dreamworld jackknifed by bitter reality. It's in the same ballpark as the pair's work together on Eternal Sunshine, only a different sport.
When they first began to work together on the 2004 film, Gondry had only one film, the little-seen Human Nature, and a satchel of trippy, iconic music videos to his credit. Carrey was dubious of Gondry's approach.
"I would say to try [acting in a scene] this way, and he would say, 'No, it's ridiculous,'" Gondry says. "And I would say, 'How can you tell if you don't try it?'"
Over the course of filming, however, he gradually gained the star's respect.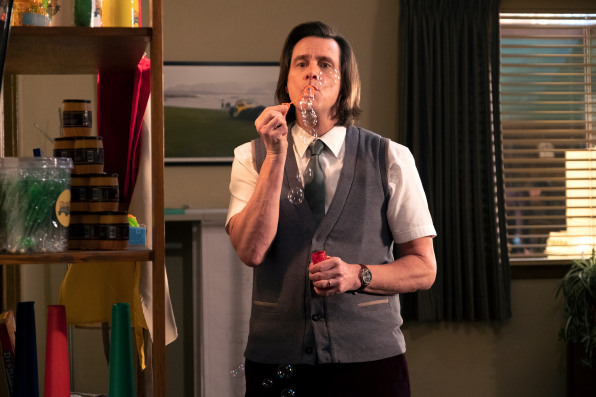 "I had sort of proven throughout Sunshine that I was not a fake or incompetent, and now he trusts me 100%. I can ask him to try something and he's gonna try it."
The film was a modest hit at the box office and with critics. More importantly, its reputation has continued to grow. Carrey's praised performance stood in sharp relief to some of his other more serious roles that followed, such as The Number 23 (2007) and Dark Crimes (2016.) Carrey wanted to find a way to work with Gondry again. And when Kidding creator Dave Holstein sold Carrey on becoming Jeff Pickles, the star knew who he wanted to direct.
In the years since Eternal Sunshine, Gondry has added shades to his directorial palette. He went further down the psyche-plumbing rabbit hole with The Science of Sleep (2006), cooked up his version of the Hollywood superhero flick with The Green Hornet (2011), and dabbled in fantastical French comedies with 2013's Mood Indigo and 2015's Microbe & Gasoline. As soon as he heard about the character of Jeff Pickles, he was intrigued.
"Part of the reason I wanted to do this project is that, even with how crazy he is, I can really identify with him. His desire to express himself in some weird way, the way we react to events in real life, the way he has created this world for television in which he evolves like a kid in his room—all that I could identify with," Gondry says. "And the premise allowed for interesting performances."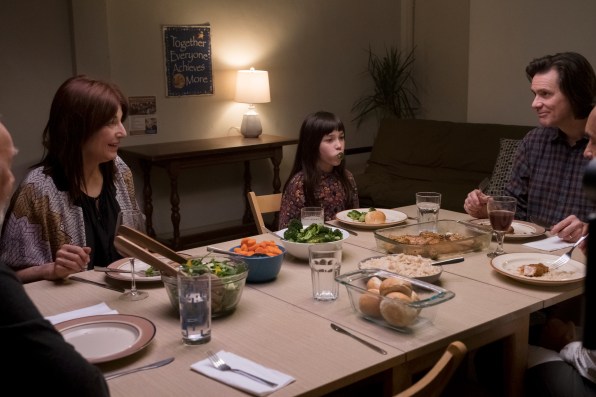 In order to map out what the performance would entail, Gondry went to visit Carrey a few months before shooting began. When he arrived, the director found Carrey in a tired state and with his hair grown out to nearly shoulder-length. It was a look he wanted to preserve for Mr. Pickles. Although the pair had long conversations during the visit about the character's unraveling inner life and how he should carry himself, Gondry did much of the fine-tuning of Carrey's performance on set.
"It's really fun because he's willing to try new things, and you don't have a lot of bullshit that you may have with other actors," the director says. "I think my job with Jim is to find an element that he's not aware of and elements that make me like him more. When I see him doing the Andy Kaufman/Actors Studio thing, it's not my favorite Jim. But when I can get him to go out of himself, I find little bits of him that I really like. So I try to get those bits out of him to create the character. I try to get the Jim that's not the one he controls."
Sounds like the perfect way to draw out a character whose life is going off the rails.