We've seen 3D-printed houses, ceilings, and bridges. But one of the most sensible uses for the technology may be by the U.S. Marine Corps, which recently finished printing the world's first 3D-printed concrete barracks. The new technique is safer and less wasteful compared to conventional construction methods–and the research, a collaboration with the architectural firm SOM, could change how emergency housing and infrastructure are built, too.
"The clearest advantage is flexibility," Captain Matt Friedell, the Additive Manufacturing Lead at the Marine Corps Systems Command, headquartered in Quantico, Virginia, says over email. "We can make walls, obstacles, buildings, and other structures while reducing waste and building safer structures for disaster response both in the U.S. and abroad."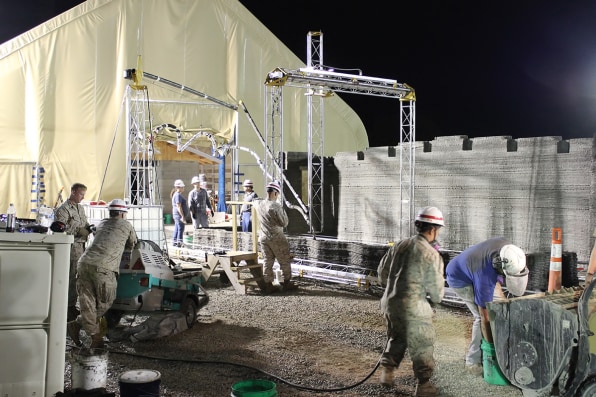 As Friedell puts it, if the Marines bring tents, they'll just have those tents. If they bring wood, they'll be sleeping in wooden barracks. Large-scale 3D printing changes everything, since it allows so much flexibility: As long as they have access to the field printer, sacks of concrete, and a computer, they can print any structure at any scale necessary.
Last month, the group worked with the I Marine Expeditionary Force to test their design using the world's largest 3D printer at the U.S. Army Engineer Research and Development Center in Champaign, Illinois. They also also used an expeditionary printer–read, less cumbersome–to build a 500-square foot barracks in just 40 hours, working alongside Army and Navy Seabees.
The architects at SOM developed the design of the structures–which feature an unusual zigzag wall shape that holds special importance for the speed and stability of each hut.  They describe it as a "chevron design," creating self-supporting walls that need no horizontal beams to stand securely.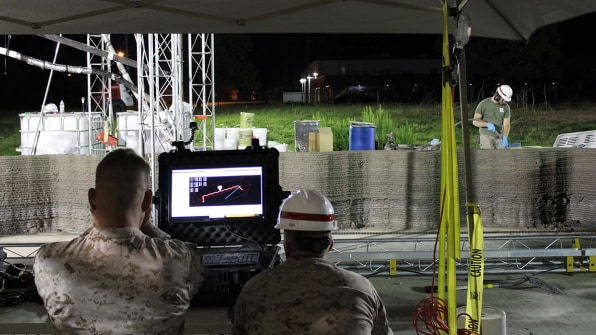 Part of the research included what Friedell calls "the destructive testing phase," which is exactly as brutally fun as it sounds: The building team tries to obliterate the building they just finished printing, simulating some of the wear and tear a barracks or emergency hut might endure in the field. The architects' chevron shape is about "2.5 times stronger than a traditionally straight reinforced concrete wall," so strong, he says, that it's the first 3D-printed building approved for human use in the United States per International Building Code standards.
It's a smart use for architectural printing, since the design is simple and it handles the heavy lifting of construction. While the Engineering News Record reports that there are still problems to be worked out before the printers see real use, the Marine Corps anticipates deploying the first printer prototypes by 2021.