A New Mexico startup called Descartes Labs will receive up to $7.2 million from the Defense Advanced Research Projects Agency (DARPA) to help bring geospatial data from satellites to the cloud.
Images of Earth, ranging from traditional optical photos to heat imagery and cloud-penetrating radar snapshots, are increasingly widely available from a variety of satellite sources. They can be used for everything from analyzing global changes in the oil market to predicting where food shortages might pop up around the world.
The trouble is that those images can still be unwieldy to work with. Huge volumes of raw data of various types arrive every day, and that information must be processed, standardized, and cleaned up to make it usable by analysts and uploaded to a cloud environment powerful enough to process it efficiently.
"For some of these analyses, you're talking terabytes and terabytes of data," says Descartes Labs CEO Mark Johnson.
In a first, roughly six-month phase of the project, Descartes Labs will receive $2.9 million from DARPA to build out cloud infrastructure that can be used to import, store, and process geospatial data as part of what DARPA calls its Geospatial Cloud Analytics program. The system will integrate up to 75 different types of data from a variety of sources.
If all goes well, a second yearlong phase will see Descartes Labs get another $4.2 million to support organizations building data models and automated processing tools on top of its cloud for specific sample projects, according to the company.
Those will include spotting potential food shortages, detecting oil fracking site construction and detecting illegal fishing operations, according to DARPA. Ultimately, the agency envisions an open marketplace where analytics providers can offer services, machine learning algorithms and automated apps to military and other users to parse and slice data in various ways.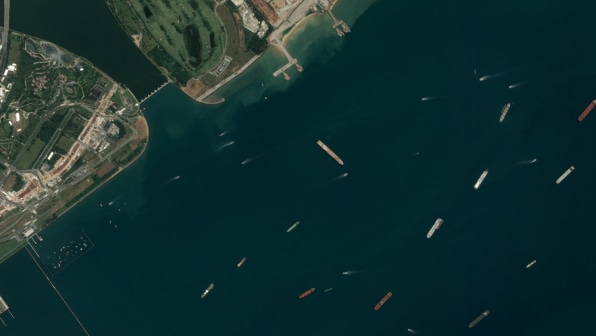 "The goal of GCA is to provide a secure cloud-based platform that automatically curates multi-source global data and metadata, allowing analysts to focus their attention and expertise on analysis—not data collection, aggregation, and curation," said Joe Evans, a partner in DARPA's Strategic Technology Office, in a statement announcing the program last fall. "The vision is for commercial analytics providers to use the common data platform to develop and offer their services in an analytics marketplace. This marketplace framework would allow the Department of Defense to more cost-effectively leverage constantly refreshed, robust commercial analytics services."
More efficient processing can help make human analysis of certain types of images more practical by filtering out irrelevant data, Johnson says.
"If they have to look at tens of thousands of images, that's a really expensive process," he says. "It's really about augmenting them with machine intelligence."
"It's moving on startup time"
Descartes Labs, which spun out from Los Alamos National Laboratory in 2015, won't be the only company building a cloud system as part of the DARPA project. BAE Systems, a defense contractor that has done other geospatial work in the past, is also building out its own infrastructure with $2 million DARPA funding.
Other companies will be working on procuring and processing data for use in the cloud systems: GeoNorth Information Systems, based in Anchorage, will be transforming satellite data for use in the Descartes Labs platform, says Jonathan Heinsius, general manager and director of geospatial programs at GeoNorth.
"We can normalize that data, so if you have, say, a number of images over a given area that were collected over different seasonal times, there will be varying characteristics to it," he says. "If you run software against that, you can normalize that so it looks like a visually consistent and seamless mosaic of imagery."
The DARPA project comes as the military establishment in general seems more interested in using machine learning to process visual data. A controversial Pentagon research operation called Project Maven, involving analyzing drone photos and other battlefield imagery, drew participation from tech companies like Google, which ultimately said it would let its contract expire amid employee protests and resignations.
DARPA has also backed other machine learning projects, including a drive to promote explainable AI with decision-making processes easily understood by humans. The agency announced last week that it plans to invest more than $2 billion in AI projects in coming years, and research projects like the Geospatial Cloud Analytics program appear to be moving quickly.
"One of things I love about this project is it's moving on startup time," says Johnson.