Amid the decline of the coal economy in West Virginia, the city of Williamson has not fared well. Nestled in the heart of coal country in Mingo County, Williamson has lost more than 2,000 jobs–25% of its workforce–in the last four years. The city also struggles with some of the highest rates of obesity, diabetes, and opioid addiction in the U.S.
With jobs on the decline, fewer and fewer residents could afford treatment for their health conditions. So in 2011, a local doctor, Donovan Beckett, set up a free clinic to serve residents. Demand grew quickly, and by 2012, Beckett had formally established the Williamson Health and Wellness Center, which, as a Federally Qualified Health Center, receives federal funding for the services it provides in the traditionally underserved Williamson community.
But Beckett has always seen medical treatment as just one facet of the Health and Wellness Center's potential in Williamson. "We take the approach of working to try to improve the social determinants of heath, and general health overall," he says. That means introducing initiatives to boost access to healthy food, supporting active lifestyles among residents, and working to bolster the local economy, which in turn has a bearing on the health of residents.
Scaling the Center's reach in this way, though, requires investment beyond the government funding it already receives. That's what caught the attention of Jenna Nicholas, an impact investor by training who founded the organization Impact Experience to more directly connect potential investors and collaborators with projects with potential, like the Health and Wellness Center. To date, Impact Experience has worked with the community in Williamson, but also in Houston following last year's hurricanes, in its home city of Oakland, California, and elsewhere.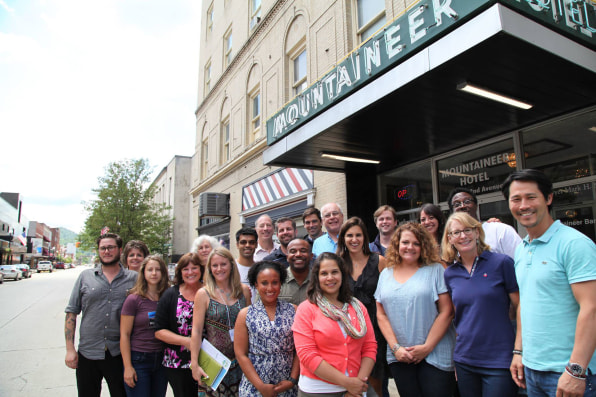 Working in impact investing at Calvert Investments, a D.C.-based firm, Nicholas often coordinated with funds and foundations, pushing them to seek out investment opportunities that would not only generate a return, but would deliver tangible benefits to people and communities. "One of the things that became clear from my work, and the work within the broader impact investing space, was how disconnected so many of the funders and companies were from the communities they were looking at investing in," Nicholas says.
Addressing that disconnect, she says, became the inspiration for launching Impact Experience. Through her organization, Nicholas identifies projects and communities in need of outside investment, and coordinates with potential funders, thought leaders, and creatives would could deliver support in a meaningful way. The key to the whole organization, though, is the "experience," in which Nicholas's team actually brings potential investors to a community–usually around three days–so they can learn more about its needs, and build a stronger connection with the project they'll potentially be supporting. "I really started thinking about how to build bridges between investors, foundations, companies, thought leaders, and marginalized communities in need of investment, so they could co-create solutions together," she says.
In 2016, Nicholas and her team hosted the first Impact Experience in Williamson. Around 30 people, both from Williamson and West Virginia and from elsewhere, gathered for five days to hear from Beckett about his vision for the Health and Wellness Center, and how he wanted to use its roots in the community to create a new economy for the city.
Over the course of the convening, the group laid out some projects that they could build out and fund. An investor from Double Bottom Line Partners who participated in the Impact Experience committed several million dollars to a program to retrain laid-off coal miners in new industries, particularly solar energy and environmentally regenerating land decimated by coal mining. An executive from SolarCity, who expressed interest in helping the solar buildout, had never met a coal miner before, and she learned from a former miner who was there about the complexities–of both personal and regional identity–embedded in making a transition away from coal and toward renewable energy. Brandon Dennison, a West Virginia native and social entrepreneur who founded Coalfield Development Corporation, an enterprise that is actively retraining former miners in five new and regenerative industries, also participated in the event to share his experience working to shepherd that transition.
Nicholas, in building out Impact Experience, is adamant that the role of impact investors should be to help bolster solutions and projects that ultimately originate from the communities themselves. Understandably, among communities that have been marginalized or exploited in the larger economy–and arguably, coal country has been among the most victimized in the economic and industrial transitions of the last several years–there's a sense of mistrust toward outsiders, and a concern that the solutions they choose to fund will not actually reflect the real needs of the people on the receiving end.
Impact Experience aims to close the gaps that give rise to those concerns. Much of the first day is spent sharing experiences and building trust among the disparate participants, like the former miner and the SolarCity executive. "It's not like a parachute approach, where these people from San Francisco parachuted in and now they're going to get out," Dennison said in a video about the experience. "They're coming to really learn what's going on here, and then hitch wagons with what's already happening and make it happen bigger and better."
And Impact Experience is not built around a one-time event, but rather a model of continuous engagement. Since the first Impact Experience event in West Virginia in 2016, the group has stayed in close communication. Double Bottom Line Partners, in addition to funding the miner retraining efforts, has also set up a partnership with Revolution Foods, an organization that brings healthier lunches to kids in schools. Another group of investors and leaders returned to Williamson this year to assess progress and set new goals; by bringing a new cohort in for each gathering, Impact Experience ensures that there's a constant stream of new energy into the community, while continuing to build on past commitments. One new idea that emerged from the more recent trip revolves around the development of a new tourism platform for coal country that emphasizes the natural beauty of the region to encourage new bed and breakfast development, local craftsmanship, and use of its trails for hiking and cycling.
In total, Nicholas says, the program has brought around $25 million in new investments to Williamson, and its engaged in projects in numerous other communities in the U.S.; Nicholas says the organization hosts an experience once every six weeks, on average. "Every experience builds on previous work in the community," she says. Impact Experience is planning another event in West Virginia for early next year, and in the meantime, the organization is also working to train investors in its methodology of listening to and working in collaboration with communities. "There's a lot of power in what can be created when that kind of foundation is built," Nicholas says.