From the time I graduated college until I got married at the age of 29, I had the same terrible plates, purchased from Target along with washing detergent and shampoo.
I didn't spend much time picking the pattern. In a hectic afternoon, I grabbed the best boxed set of dinnerware on the shelf and stuck them in my cart. I eventually grew to hate the colorful flower pattern on them that didn't go with anything in my house, but I held on to them for nearly a decade. At the back of my mind, my plan was to wait until I got engaged so I could pick a gorgeous, high-end set of wedding china to put on my registry.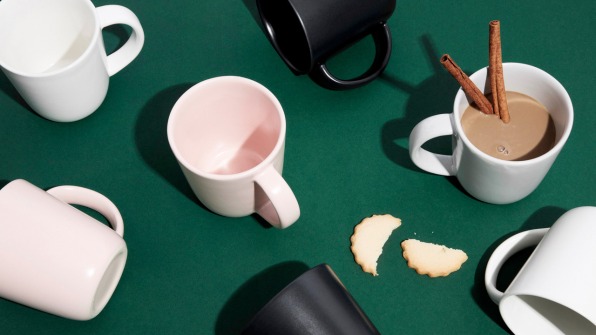 It turns out, I wasn't the only one who suffered through ugly plates throughout my twenties. Kathryn Duryea, founder of a direct-to-consumer dishware startup called Year & Day, says this is a trend among today's twenty- and thirtysomethings. She should know. She's spent the last two years investigating the specific plate-buying habits of millennials, the oldest of whom are now 37. "Our lives have modernized in many ways, but bizarrely, we still buy our dishes based on very traditional notions of marriage and wedding registry," she says. "Many of us still wait till we get married before we invest in proper plates, but we're getting married later and later."
Duryea, a Stanford MBA who spent several years at Tiffany's before launching her company, wants to fundamentally alter millennials' relationship with their plates. Year & Day produces elegant, high-quality dinnerware, flatware, and glassware, then sells it to the customer through a website. While the brand occasionally does pop-ups, often with other home brands, Duryea has found that many customers are willing to take a risk and buy plates online. She's created a $26 set of four small dip dishes that give customers a sense of the colors and materials in the ceramics, and allow them to test out the products before buying a whole set.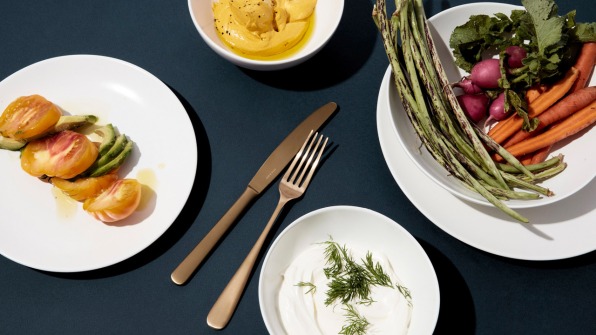 The ceramic dishes have a modern, minimal design. There are no fussy floral patterns or family crests in sight, nor do you have to wade through 30 different fork designs that all look the same. Instead, the plates, bowls, mugs, and serving platters come in four matte colors–cream, gray, deep navy, and rose–which can be easily mixed and matched to create easy but beautiful table settings. "Many brands on the market create everyday dishes that are different from more formal tableware for fancy dinners," says Duryea. "But that's just not how millennials live today. We don't have time or space for multiple sets, and most of us like our parties to have a casual, relaxed feel."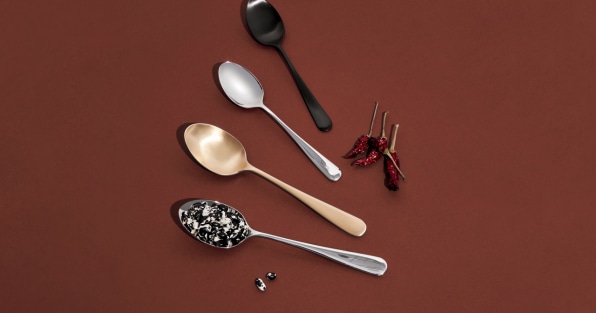 The silverware comes in one simple design, but in three colors: gold, steel, and black. And there are only three types of glasses, one for wine, and short and tall tumblers. This no-nonsense approach to product selection came from months of consumer research. "Consumers are overwhelmed and confused by all the designs on the market," Duryea explains. "And the truth is, we don't actually need all the choice. Many wine critics actually say that a single wineglass is all we need for red or white wine, or even champagne."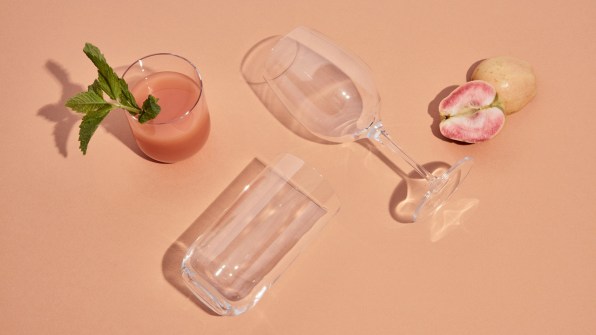 Duryea's focus is on using high-quality materials and craftsmanship: The flatware is made in a family-owned factory in Portugal, where the stainless steel pieces are polished by hand. The ceramics are also made in Portugal, using local clays that are molded by hand and then fired in kilns.
The glassware, which is made in an Italian factory that has been around for two centuries, looks delicate with a smooth finish on the lip (though it's dishwasher-safe). Duryea says the glassmaker achieves this by combining high-tech touches, like laser cutting, and traditional approaches, like drawing the stem of the wineglass from the same material as the bowl, rather than attaching it separately.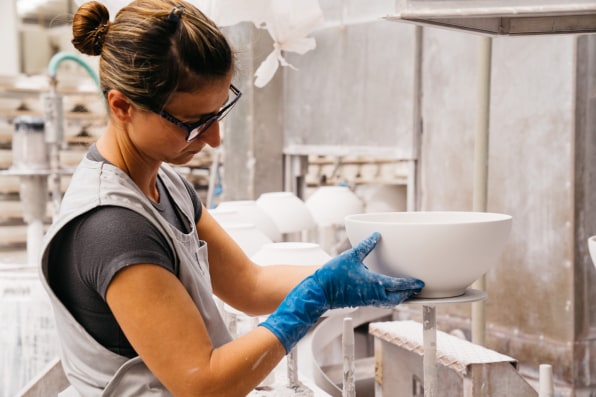 While consumers are more familiar with the manufacturing of their clothes, thanks to brands like Everlane and Cuyana that educate customers about where products are made, many are not as well-versed in distinguishing quality when it comes to tableware. Year & Day is working to explain the manufacturing process in a fun way through their website, which describes how each product is made, and through the brand's social media channels. One Instagram post, for instance, shows a pile of clay and explains how the ceramics are made, while another shows dozens of bowls ready to be fired at once to conserve energy. "A big part of my challenge with this brand is telling the story of where these products are made," Duryea says. "I want to offer my customers good value for money, but this means explaining the hard work that went into making these plates, forks, and glasses."
In terms of price, Year & Day costs significantly more than Target or Ikea, but less than the high-end designer dinnerware you might register for at Bloomingdale's. At $13 a plate and $15 a wineglass, prices are on par with millennial-focused, mid-market brands like West Elm or Crate and Barrel. But Duryea says that the pieces in her collection would retail for significantly more at a department store. She's only able to offer this level of craftsmanship at these prices because there is no middleman markup.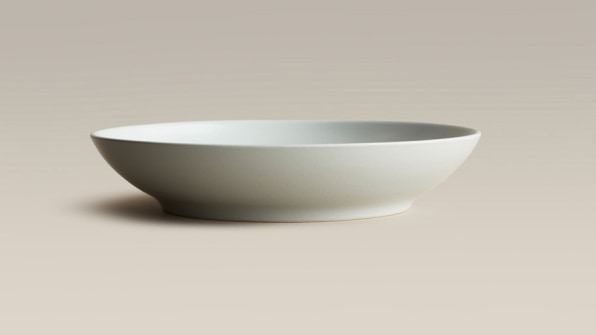 Importantly, Duryea doesn't want customers to spend money on dishes or flatware they don't need. While most brands on the market sell pre-packaged collections of dishes, Duryea allows customers to buy whatever they want, in whatever configuration works best for them. The website has a short quiz that helps you decide what you need to buy for your particular needs, with questions about whether you host a lot of parties, or you're a single person who likes cooking for yourself. But you can also just create your own combo: If you know you use small plates much more frequently than large ones, you might get eight large plates, and 16 small plates, a combination that is often impossible to create with a boxed set. "The goal was to create as much flexibility as possible with this system," Duryea says. "It means that you can buy a set for yourself as a single person living alone, but grow your collection if you get married or have kids, without any waste. Or if you happen to drop a plate, you can just restock the single plate."
This approach is tailor-made for the way people live today. We may spend years living alone or with roommates before choosing to settle down. Why should anyone wait for people to chip in on their wedding registry to have a decent set of plates?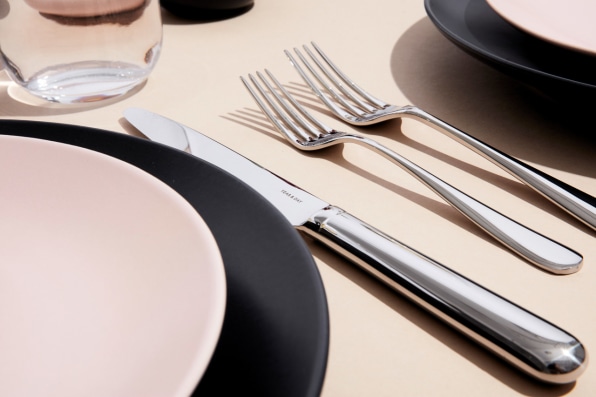 At Year & Day, there is no official wedding registry function. And while Duryea says her customer insight data reveals that a portion of people who shop on her site happen to be engaged, many others are not. They're single folks outfitting their apartments, or people who are tired of their mismatched dinnerware and looking to upgrade.
This sets it apart from many brands that market their dinnerware and china sets to couples about to get married. When I created a wedding website, for instance, I received an invitation in the mail from Crate and Barrel to join a mimosa brunch where we could pick china patterns and set up a registry, along with other newly engaged Boston couples. (It worked: All of our current dishes are from there.)
This kind of marketing helps capitalize on the current norm of buying higher-end plates when you get married, but Duryea believes it is exclusionary in many ways. "It signals that you don't deserve to have nice plates that you really love until you have passed the threshold of marriage," she says. "I think it creates a mental block that prevents people from buying nice plates when they wish they could."