For the most part, Burning Man isn't about winners and losers. It's about community, gifting, great (and some not so great) art, dancing, fighting against dust storms, and so much more.
But sometimes, just sometimes, you have to give a nod to the victorious. Perhaps it's ironic, like when a member of a team that had transformed a mothballed Boeing 747 into a giant rolling art car told me they'd built a viewing platform on the wing of their plane "so that the Sparkleponies can win Instagram."
Or maybe it's when something is just so useful that you see it everywhere on the playa (the name for Nevada's Black Rock Desert, where Burning Man is held).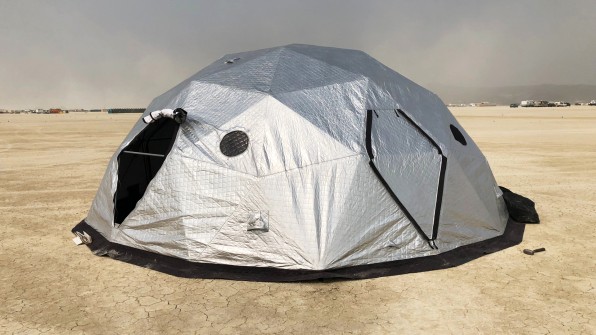 Last year, I wrote about how the ShiftPod, a $1,300 Burning Man camp project turned business success, had become a multimillion-dollar company. This year, as I made my way across the playa, I could only come to one conclusion: ShiftPod definitely won Burning Man.
Here's why: Although it's big and heavy when packed up, it's simply marvelous as a tent alternative. It can be set up by one person in about five minutes (plus a few minutes more to pound a few stakes), it's huge inside, it keeps the dust out, and it stays warm at night.
I'd bought a first-generation ShiftPod a couple years ago, and this year Advanced Shelter Systems–the manufacturer–lent me a ShiftPod 2 to try out at Burning Man. By my unofficial count, I was joined on the playa this year by at least 2,000 others with the ShiftPod 2.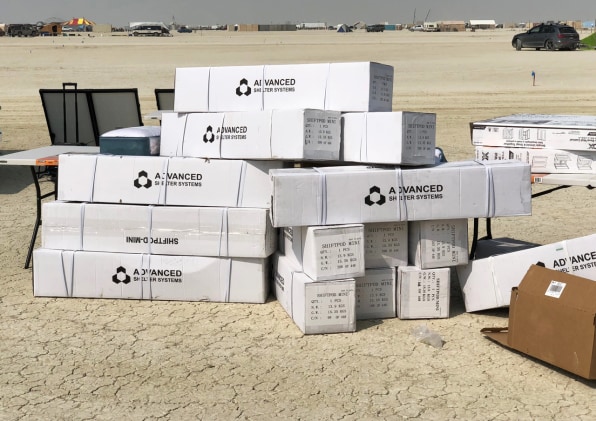 The ShiftPod was originally created as an answer to things like the hexayurt. Longtime Burning Man attendee Christian Weber came up with the idea for something that could be set up quickly, that could withstand heavy winds, and that was big enough to stand up in. He definitely succeeded.
I love my first-gen ShiftPod, but I have to say, the second-gen version is a step up. It's a bit bigger–enough to notice, for sure–it's more reflective, which means it's cooler inside during the hottest part of the morning, and it's just a little more modern. It feels like a second-gen version. As well, it comes standard with what's called a Blast Shield, a highly reflective cover meant to make it possible to sleep a little later in the morning, even when there's no shade.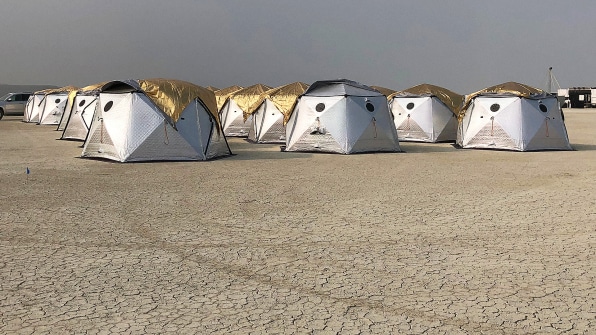 The consensus in my camp, where, amazingly, there were seven ShiftPods this year, was that the Blast Shield probably made it as much as 10 degrees cooler inside than without it. Given that the ShiftPod 2's higher-reflectivity alone probably cuts 10 degrees over a first-gen version, you're looking at up to 20 degrees less searing heat by moving from a coverless ShiftPod 1 to a v2 with a Blast Shield. That's big.
It's things like this that convince others to get on board, and that's why there were so many ShiftPods at Burning Man this year. And That Thing in the Desert (as some burners jokingly call it) is hardly the only place where the shelters have caught on.
For example, the Electric Daisy Carnival, a massive EDM event in Las Vegas, purchased 3,000 ShiftPod 2s that it rented to attendees. There are countless stories of them at places like Coachella, Further Future, and other festivals as well. And Weber said that he is in talks with a government–he wouldn't identify which one, although he said it was not the United States–on a purchase of 50,000 ShiftPods that would be used in emergencies.
Even the hit HBO show Silicon Valley featured a ShiftPod.
At Burning Man, there were plenty of camps like mine, where a bunch of us organically bought ShiftPods on the recommendation of our friends. More striking were the so-called plug-and-play camps–controversial, highly organized camps where residents pay a hefty fee to have everything taken care of for them–where you'd see dozens, or even more than a hundred ShiftPods set up in close proximity and uniformity. Last year, a worker at one of those camps told me that his company had bought 2,000 ShiftPods for use at festivals around the country.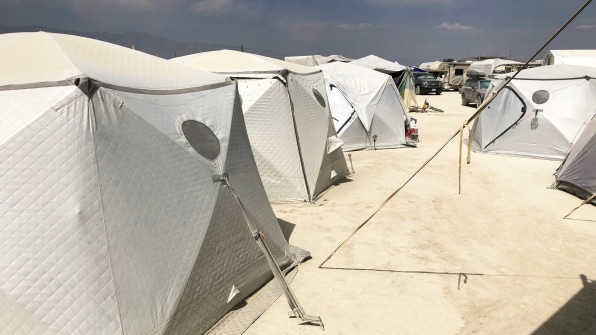 As for my experience with the ShiftPod 2–compared to my previous couple years in my ShiftPod 1–I have to say I was really happy with it. As noted above, it felt bigger, had better zippers, was a little taller, and kept the heat out enough so that I could sleep until about 10 or even 11. That's nearly impossible in a standard tent, and probably bought me an extra hour over my first-gen version.
There's no doubt that a ShiftPod 2 is pricey. At $1,300, it's not something you're just going to buy on a whim. But if you're looking for something to live in at a hot, dusty, windy event like Burning Man, and that you can take with you car camping and live in comfortably, you can't really go wrong.
And then you, too, can win Burning Man.