You've probably heard that a messy desk is a sign of genius, and how great minds like Mark Twain managed to work through his clutter to reach literary heights (instead of sorting through his detritus). You've probably also heard that the reverse is true, and that a tidy workspace can practically guarantee you'll be more productive because your brain doesn't have to work so hard to find what's really important amid the chaos.
Organized or not, there are certain things that people must have on or in their desks to make them work smarter, or simply to inspire them. We asked some executives about the things they keep close to hand, and why they can't manage without them. Those who spend the bulk of their time on the road spilled the contents of their traveling bags that substitute as a desk to hold all those necessities.
Here's what they told us.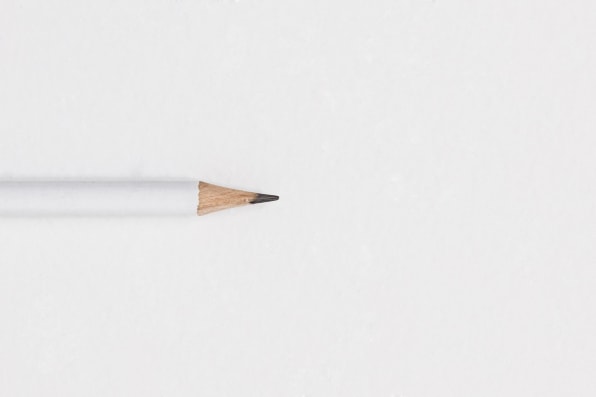 A pencil with sentimental value: Steve Huffman, cofounder and CEO of Reddit
"If you open my top drawer, you'll see a Bic pencil, which doesn't sound out of the ordinary at first. But this one, which is wrapped around and around with decorative string, is something I bought at an entrepreneur event for young kids to learn how to market and sell products. It's my belief that the biggest barrier keeping people from aiming high is the lack of realization that they can actually do so. These kids are learning early to trust that they can aim high, and having this in my desk is a reminder to take on even the most complicated or unprecedented ideas on Reddit's mission to bringing community and belonging to everyone."
A special good luck charm: Lisa Su, CEO of AMD
"I'm a little bit superstitious, but my mom is quite superstitious. She believes in Chinese feng shui. When the company wasn't doing so well, I would often consult mom and say, 'I'm not feeling so good about where the company is right now.' So my mom sent me a little jade cylindrical box. It was supposed to bring me and the company good luck. It has three compartments, and one of them has a silver dollar in it. It's been sitting on my desk for three years now [and the company continues to make gains]."
Everything!: Liz Wessel, CEO of WayUp
My desk is definitely the messiest desk at my office. I have everything from piles of paper that need to be organized, to pens in all colors (I like to switch it up), to clean napkins (you never know when you need one), to cards people have given me, and the list goes on. Of course, I also have a monitor that I almost never use, a tissue box that quickly gets empty in the winter, and a mouse that wirelessly connects to my laptop.
"Too much paper for 2018": Jason Fudin, CEO and cofounder of WhyHotel
"I'm still a big drawings person (when it comes to architectural layouts) so too much paper for 2018 strewn across my desk. The drawers are actually tidier and are mostly just full of backup pairs of headphones. Headphones are probably my most important office amenity so I can drown out everyone's conversations and make calls. Been on a Sam Smith kick since seeing him in concert, so luckily for everyone else at WhyHotel only I hear what's playing. Also, unsalted nuts (brain food), receipts (I'm behind on expense reports), business cards, market update reports from real estate publications, and of course a monthly calendar of my son on the wall."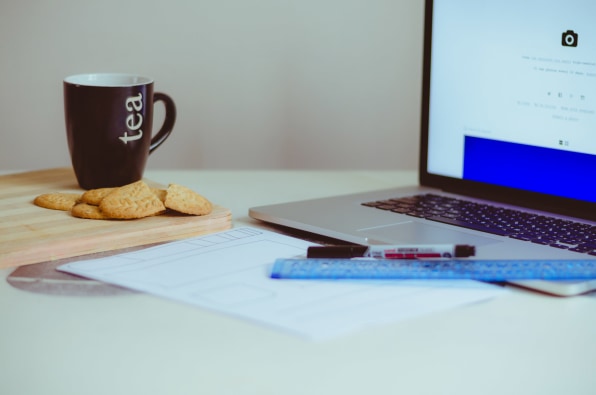 Lots of snacks: Autumn Manning, cofounder and CEO of YouEarnedIt
"The most important items in my desk are high-protein, grab-and-go snacks. With daily meetings that run long and are usually back-to-back, being able to grab some almonds, a protein bar, or some fruit from my desk helps me stay focused and engaged, and less hangry for everyone else. I always have a big Nalgene water bottle on my desk and with me in every meeting. Finally, sticky notes and headphones are crucial items in my desk. If I need to focus, the headphones help me drown out the external noise that comes with YouEarnedIt's open floor plan environment, but still shows I am available as needed in a way that a closed-off office does not. Sticky notes help me remember little things that can easily fall off my radar and go undone."
Lots of souvenirs: Barbara Humpton, CEO of Siemens USA
In my desk I have a small stash of paper-based office supplies that I use during brainstorming meetings and my "souvenir" collection. Throughout my career, I've saved little mementos of important meetings, special events, and favorite people. My file cabinet is now empty except for this archive.
I also love setting up shop in a new corner of the world and being every bit as productive as I would be in my official office on Capitol Hill in D.C. I've learned I can pack for any length of time in any region of the world in a single rollaboard suitcase. That and the laptop bag are all I need. The latter holds my emergency kit–it's amazing what problems you can solve with a hotel sewing kit, a manicure set, and tape. I also keep a supply of green tea, since that's one thing you still can't get on an airplane."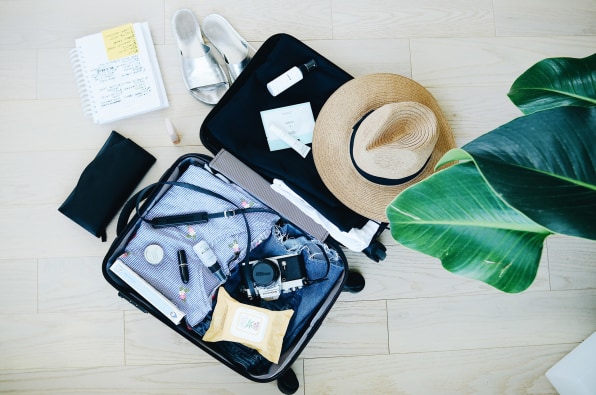 Travel essentials and unexpected Legos: Michelle Klein, marketing director of Facebook North America
"Technically, I don't have a desk drawer because I'm always on the move, so my bag has become my mobile office. At any point, I may have to jump on a plane, so I keep all essentials in said bag at all times. Critical items include: two pairs of Apple airpods, two different phone chargers, Purell wipes (to wipe down plane seats), a couple of RX bars, Oyin Handmade Honey Water (one of my favorite products from a Facebook small business council member), and then, because of my 5-year-old son, I also find myself unexpectedly carrying Ziploc bags full of Lego, and his Little Passport (another favorite small business idea).
An iPhone and a fan: Rose Stuckey Kirk, chief corporate social responsibility officer of Verizon
"In my bag, I keep my iPhone 8 with apps that get me through the day. I have to have podcasts to listen to like Fresh Air to give me insight that I can take back to work and bug my team about the things we ought to be doing. I also have my fan. It is a pleated hand fan in peacock blue that I use to keep myself calm and cool. When I start to feel anxiety, I step away and give myself a fan to make sure I am cool and under control. I also keep pictures of my family, so that whenever I get distracted and ask myself what I'm doing and why, I just look at my son and my husband and remind myself this is why I do what I do every single day of my life."
Travel essentials and the same pair of shoes: Alex Amouyel, executive director of MIT Solve
"I'm rarely in the office for a full week. To stay sane and ensure I haven't forgotten anything, I have a suitcase that's always ready to go with the essentials: a toothbrush, beauty products, medicine, a comfortable throw for the plane, and a phone charger. I never fully unpack–I just wash the clothes I've brought when I get home. I even leave the same pair of shoes in my suitcase."