In 2001, the U.S. aerospace industry was in dire straits. The number of contractors, like Northrop Grumman and Lockheed Martin, had eroded from more than 70 to five. The previous 10 years saw a precipitous loss of half a million jobs across the industry. The government faced a critical question: What would the future of America be without the aerospace business? To ensure such a scenario would never happen, president George W. Bush appointed a 12-member commission to come up with a solution. Among the members were captains of industry, former astronauts, members of Congress, and America's favorite astrophysicist, Neil deGrasse Tyson. But back then, Tyson wasn't there to give his pop culture spin on quasars or dissect the feasibility of Star Wars. He had a problem to solve that, in turn, would become a book more than a decade in the making.
"I had never before seen a completely learned, intelligent collection of people spread across a political spectrum with one common goal in mind. So I got to see how some of the sausage was made behind the doors," Tyson says. "I thought to myself, this must have happened in other countries and at other times throughout the history of civilization: smart people coming together, informed people coming together, in the interest of national priorities. And then I thought, 'What role would my people have played in the past–my astrophysics peeps?'"
These questions formed the basis of Accessory to War, a comprehensive exploration of the symbiotic relationship between astrophysics and the military. Tyson details how war, or even just the threat of it, has led to major innovation and advancements in astrophysics, and he postulates on the very real (and cataclysmic) probability of conflicts between countries on Earth being resolved in space.
Tyson stopped by Fast Company HQ to talk about how early explorers harnessed and exploited astronomy, what he needs from the Trump administration's proposed Space Force, and the future of business in space.
Christopher Columbus will always be a "dick"
As the forebears of modern astrophysics, early astronomers played a crucial role in explorers being able to chart courses on sea and land by way of calculating the positions of the stars, moon, and sun. From that understanding, Tyson says, came "dominance, empire building, hegemony"–often at the expense of others, as history has proven. In Accessory to War, Tyson recounts a story about Christopher Columbus's fourth voyage to Hispaniola. Columbus was short on supplies to make it back to Spain, so he asked the natives for some of their crops. They denied Columbus, having only just enough for themselves.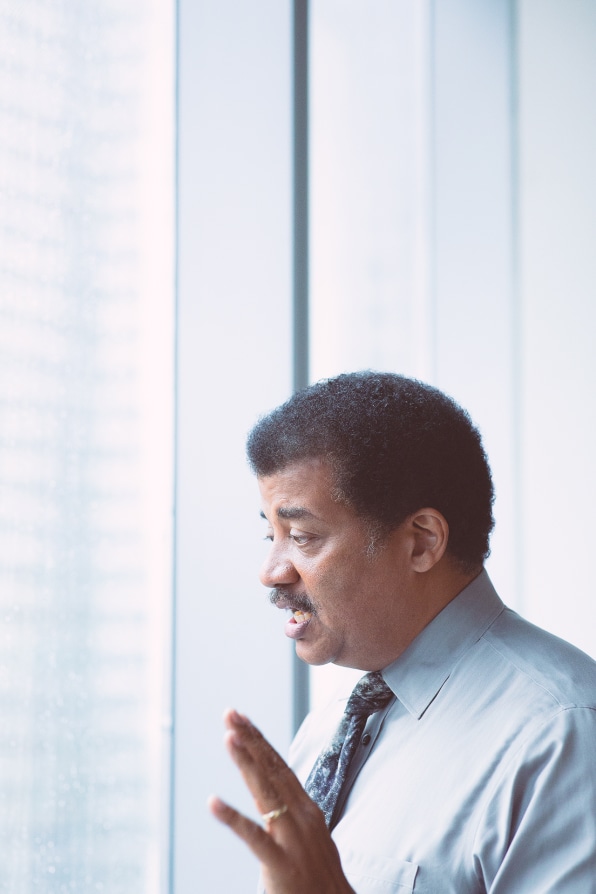 "That pissed off Columbus," Tyson says. "Columbus knew that one week's hence, there was a total lunar eclipse that was going to happen. So he said if you don't give me supplies, I will summon divine power and make the moon disappear."
The natives didn't make a move to help Columbus until they "freaked out" over the eclipse that did indeed occur.
"Columbus comes out of his cabin halfway through the eclipse and says, 'My divine God is a forgiving God, and now that you have given us these supplies, he will now forgive you for resisting and we will give you back to the moon,'" Tyson says. "So if you needed yet another reason to think Columbus was a dick, he's using science as a means of exercising power over others."
A Space Force wishlist
Back in August, the Trump administration announced its intention to create a Space Force, an initiative that would break off all space-related matters under the Air Force into its own military branch. During his announcement speech, vice president Mike Pence cited Trump's own words: "It is not enough to merely have an American presence in space; we must have American dominance in space."
It's a strikingly similar tone to what Tyson covers in Accessory to War: (Potentially) tyrannic leaders who feel like ruling space means ruling the world, which isn't too far off base. Think about if a country starts taking out another country's satellites. Not only would that cause massive disruptions in telecommunications–an industry that's expected to be worth $1.2 trillion by 2020 in the U.S. alone–but all the resulting debris would cause a scenario known as the Kessler effect, a chain reaction of space junk from one collision causing more and more collisions.
Tyson is supportive of a Space Force, but a top priority in his opinion should be protecting assets in space by cleaning up existing debris and having an asteroid defense plan in place–not necessarily flexing dominance toward other countries, as this current administration tends to do.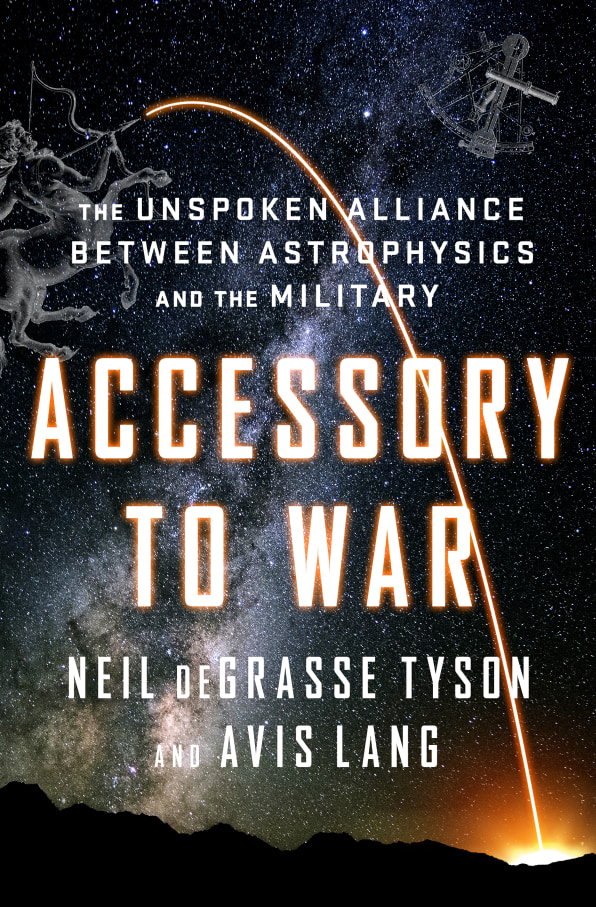 "You would want and expect a military to not only protect your borders in the traditional sense from invaders, you'd want them to protect your assets particularly when they're of very high value," Tyson says. "If we have a Space Force but this Space Force does not include some means of deflecting asteroids that have us in harms way, then I think you're incomplete in your mission statement. Because I happen to value life on Earth."
A Businessman's guide to the galaxy
Companies like SpaceX and Blue Origin are in a domestic space race of sorts to see who can drive down the exorbitant cost of space travel, which would then pave the way for potentially lucrative industries like space tourism and asteroid mining for precious metals.
"I've said this before: The first trillionaire will be the first person who exploits the resources on asteroids and comets," Tyson says.
Given the fact that both SpaceX and Blue Origin are backed by billionaires Elon Musk and Jeff Bezos, respectively, it may seem like there's a high barrier of entry to even innovate in the industry–and for good reason. According to Tyson, it currently costs $10,000 to put a pound of payload into orbit. But Tyson sees plenty of opportunities for startups, as well.
"Small companies are not going to put somebody in space. You're going to perfect something that other people who put people in space need," he says. "There was a company called Honeybee Robotics. They built the drill that went on the Mars rover."