During the season 10 premiere of RuPaul's Drag Race, RuPaul made his mission clear: "To take over the mother-tucking world!" And it seems that's exactly what he's done.
RuPaul's Drag Race has won a total of nine Emmys, including Outstanding Reality Show Program this year. Since migrating from Logo to VH1 last year, RuPaul's Drag Race has hit all-time highs in ratings with no signs of slowing down, as VH1 has already greenlit season 11 and season four of its companion show, All-Stars. Adding to the drag's pop culture takeover is RuPaul's DragCon, a bicoastal drag convention started in 2015 that's driving major business. Collectively, DragCons Los Angeles and New York City 2017 brought in more than $8 million in floor sales with around 80,000 fans in attendance in total. And now, DragCon's second annual New York City edition will undoubtedly have similar, if not more, successful results.
Drag has gone from a highly niche art form to a mainstream force, with RuPaul's Drag Race alums like Trixie Mattel topping Billboard charts, Shangela starring in A Star is Born with Bradley Cooper and Lady Gaga, and Alyssa Edwards landing a Netflix show. Fenton Bailey and Randy Barbato, cofounders of World of Wonder, the production company behind RuPaul's Drag Race and DragCon, have watched drag's flashpoint success with equal parts awe and anxiety.
"I think 100 years ago when we first fell in love with drag artists, it was a twofold thing. It was being mesmerized by their artistry and then being touched by their humanity. And I think it's the combination of those two things that makes Drag Race a success," says Barbato. "And by extension, I think that's what DragCon is all about. What's exciting about watching DragCon grow, and what's challenging at the same time, is to translate that equation into a physical experience."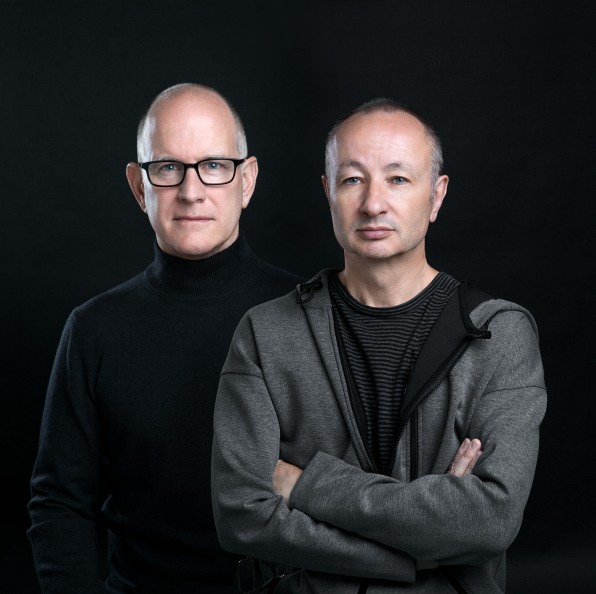 How the RuPaul's Drag Race universe has exploded creates something of a paradox–an art form that was marginalized, even within the LGBT community at one point, is now a mainstream fixture–so what's been lost in the ascension? Furthermore, knowing that drag is all about uniqueness and personal expression, how do you cater to mass individuality?
"The shift that we're seeing culturally is that the outsider voice is the new mainstream. We live in a culture that is very consumer-driven about mass marketing, about ratings, about audience, and yet the reality now emerging is the recognition that everybody is different and unique–and how do you serve that audience?" says Bailey. "Absolutely there are things we're missing because this is a larger cultural shift that is recognizing the individuality of people. We're at the tipping point where the outsider voices are no longer the outlying marginal voice. It is the voice of most people."
But are all voices being heard?
The cultural shift RuPaul's Drag Race has caused has also unearthed some ugly truths that have long been a problem in the drag community and that also run counter to its ideology of acceptance. RuPaul caught some heat in March when he said he wouldn't allow trans women at a certain point in their transition to compete–even though several queens either came out as trans on the show or after their season. RuPaul eventually backtracked but jumped right into another pot of boiling water during the racially charged season 10. Contestant The Vixen was praised during the season for calling out racism within the drag community and how narratives on TV are shaped in favor of white queens. At the reunion, The Vixen and RuPaul got into a contentious exchange over how The Vixen carried herself during the season, resulting in The Vixen choosing to leave the taping. Fellow black queen Asia O'Hara stood up to RuPaul for not doing enough to support another queen–let alone another black queen–in one of the season's more powerful moments. RuPaul has yet to directly address the racism that stems from the Drag Race community, leaving many to question the reasons behind his silence. In Barbato's opinion, issues surrounding race can be abetted by representation.
"RuPaul's Drag Race is probably the most diverse show on television. The No. 1 way for us to address any kind of issues across the board is always visibility," Barbato says. "I really think it's about providing opportunities for voices. And when you provide opportunities for voices, hearing the voice is the message. Seeing the people is the message."
It's a disservice that there isn't a panel at DragCon NYC this year tackling social issues like racism given the climate of the not just season 10, but of the country right now. DragCon NYC does have panels discussing body positivity and inclusivity for non-binary and gender non-conforming people. And Barbato and Bailey have made sure to address politics with the midterm elections fast approaching. Political group Swing Left is hosting a panel, along with activations throughout the convention to call or send notes to local representatives, and reminders to register and vote. RuPaul is also having an onstage conversation with New York Times columnist Charles M. Blow, which will certainly veer into the political realm.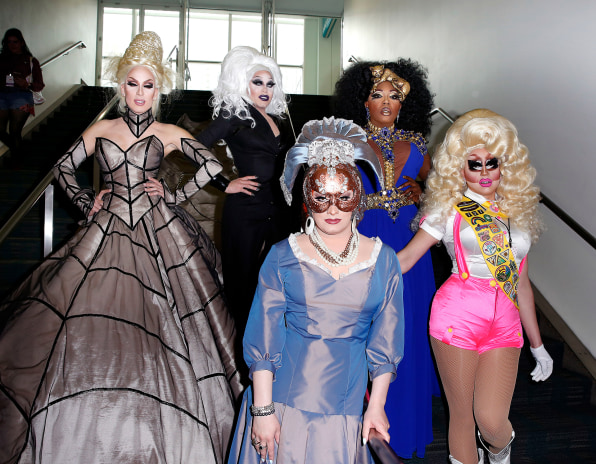 As DragCon continues to grow every year, it would be wise to bump up programming to include more discussions around topical issues not just facing the drag community, but the world at large–especially given the fact that the DragCon audience has grown to include a wide breath of ages, genders, and sexual orientations. According to demographics from DragCon LA 2018, attendees were 60% female, 40% male; 38% gay, 38% straight, 24% other; and 55% were under the age of 30. What that boils down to is a very important and influential generation that needs to be primed just as much on makeup and wig techniques as sociopolitical issues.
"This is a business. It's all about ratings and demographics, and those sort of stats on a sheet. But to actually meet people and to see the extent of diversity kind of defies all those demographics. That's been the real learning curve," Bailey says. "I truly believe that drag is universally relatable. It doesn't mean that everyone has to be a drag queen, but I think it's something that everybody can enjoy. It's just so exciting to see an audience feel that they have permission to enjoy it and to participate."
RuPaul's DragCon NYC is from September 28-30.