Buckminster Fuller was an engineer, architect, inventor, designer, and all around Renaissance man. He was also his own number one fan–and at the end of his career, he even made his own fan art.
A new exhibition at the Edward Cella Art & Architecture gallery in Los Angeles is featuring a series of posters of Fuller's most famous inventions, with line drawings from his patents superimposed over a photograph of the thing itself. While they look like something Fuller aficionados might have created after the man's death to celebrate his work, Fuller actually created them in partnership with the gallerist Carl Solway near the end of his career. The posters, which are striking with their two-layer design, are Fuller's visual homage to his own genius–and an attempt to bring what he believed were world-changing utopian concepts to the masses.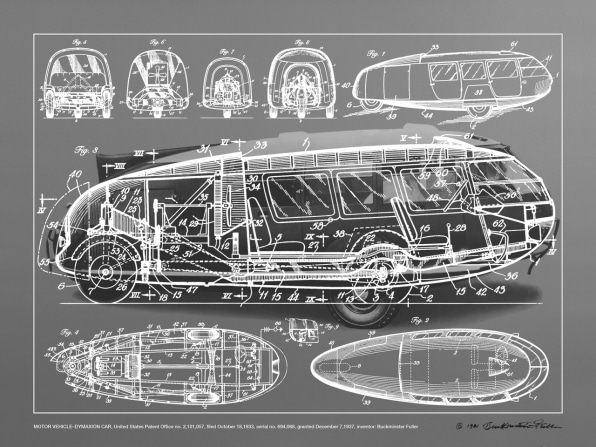 "[Fuller] was very proud of these inventions and specifically worked to select these particular representative examples of his work as sort of masterworks for his oeuvre," says Edward Cella, the owner of the gallery.
The series of 13 posters, called Inventions, are almost like his greatest hits album. They were clearly designed to show off Fuller's wide range of work, from the geodesic dome for which he's most famous, to the Dymaxion car, a three-wheel aerodynamic design from the 1930s. But the posters had another purpose as well: elucidating the complex structural ideas that Fuller conceived and built through his career.
"Trying to visualize what Bucky's accomplishments were for a wide range of audiences is really at the heart of what this portfolio is about," Cella says. "Bucky could speak to engineers, to architects, to cartographers, but he also believed it was really important to communicate to the general public."
Each of the posters will be on sale for $7,000 at the gallery through the length of the exhibition, which runs from September 8 to November 3.