Crowdsourcing philanthropy platform GoFundMe has been bridging some of the difference by allowing users to create fundraising campaigns that let others cover costs. That includes recent successful campaigns for $1,500 to cover extra fees on a 21-year-old's new insulin pump, more than $40,000 for a 15-year-old who received a liver transplant and faces a long road to recovery (the NFL Saint's Drew Brees chipped in), and more than  $800,000 for a University of California-Berkeley rugby player, who is rehabilitating after being paralyzed during the 2017 college national championship.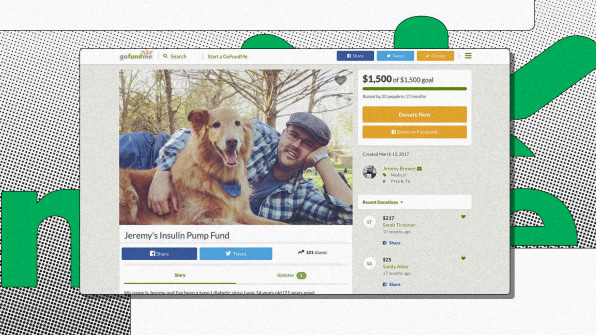 In 2017, one-third of the money that the site raised globally went to campaigns that users categorized as medical-related. The total dollar amount of that is unclear, but since its inception in 2010, the company has reportedly enabled more than 50 million donors to raise $5 billion for various causes. While some campaigns deal with costs related to being uninsured or under-insured, others address additional fallout like lost wages from hospital stays or the time it takes to care for loved ones, the travel costs associated with treatment, or assistance with paying for clinical trials and out-of-pocket therapies.
The one-third statistic began spreading online in early July, after Minnesota Public Radio reported a story attributing it to GoFundMe CEO Rob Solomon and making the first comparisons to now well-circulated data from the Commonwealth Fund. In a way, GoFundMe's success in this area was already becoming a cause for concern: "In the richest country in the history of the world, people should not have to rely on GoFundMe to pay their medical debts," tweeted California state representative Ro Khanna, whose district includes Silicon Valley, earlier this summer. Now that its success is more quantified, others are sharing that message, including Edward Nelson, a Democratic candidate running for state representative in Tennessee, and numerous health care access and reform groups, and medical news services.
When contacted by Fast Company, GoFundMe would not formally confirm that number but did not dispute it. At the same time, the company declined to share an exact breakdown for U.S. campaigns. Either way, the mechanism that the for-profit company uses to generate revenue from these situations has changed: in late 2017, GoFundMe switched from taking 5% of each transaction to allowing donors to leave the platform a voluntary tip in the U.S. and Canada, so it's no longer making money from each person's health problem. The company declined an interview request but provided a general statement about the situation.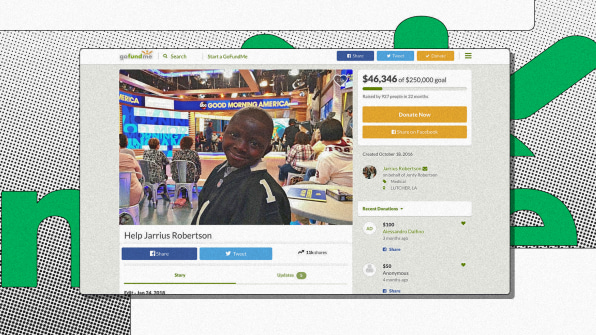 It reads, in part: "Despite the progress made with the Affordable Care Act, there are ever-widening gaps in coverage for treatment, prescriptions, and related health care costs, even for patients with insurance… However, while GoFundMe can provide timely, critical help to people facing health care crises, we do not aim to be a substitute social safety net. A crowdfunding platform can not and should not be a solution to complex, systemic problems that must be solved with meaningful public policy."
The statement comes at a moment when the Trump administration has been seeking to dismantle the Affordable Care Act and make potentially more expensive changes in Medicaid. At the same time, GoFundMe has been increasingly vocal about supporting causes that run counter to Trump's agenda: In recent months, the company set up centralized hubs to help Dreamers stay in the country, and to reunite families separated at the border.
In this case, the answer isn't entirely as simple as setting up universal health care—there are many campaigns from people in other countries with national or socialized health care systems who still seek assistance for rare conditions and costs beyond basic treatments. GoFundMe's overall pool of medical campaigns also includes fundraising for mass tragedies like Hurricane Harvey, and the Orlando and Las Vegas shootings. There are also proactive campaigns to support different groups trying to raise awareness and assistance for things like mental health or hearing loss.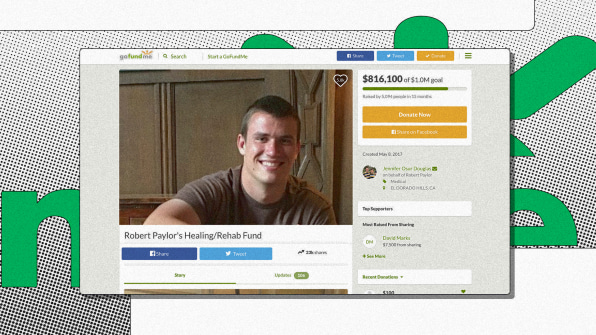 But as the MPRnews story makes clear, the variety of those experiencing medical shortfalls is staggering. That includes a Florida toddler with a genetic condition that leads to easily breakable bones, a South Carolina man facing prostate cancer with no health insurance, and a North Carolina woman who suffered a traumatic brain injury and must pay for her own procedures to try and restore her hearing.
All of those people have since met or are near their goals, although as Buzzfeed has reported,the concept of "crowdfunding health care" is rife with inherent inequity because people who may not have the savvy to construct a catchy campaign won't go viral and could miss their goals.
"We believe that affordable access to comprehensive health care is a right, and action must be taken at the local, state, and federal levels of government to make this a reality for all Americans," the GoFundMe statement adds. "But in the meantime, we will continue to work hard to provide a place where Americans can help one another during times of need."