In 2009, when Square unveiled its original credit-card reader, one meaningful fact about it was the connector it used. The tiny white doohickey commandeered a smartphone's headphone jack as means of communication with the phone. For years, this clever repurposing of an audio jack for data transfer assured Square's reader would plug right into your phone; after all, there was no such thing as a smartphone without a headphone jack.
You already know where I'm headed with this. Seven years after Square shipped its reader, Apple ditched the headphone jack from the iPhone 7 and 7 Plus, a move that was (depending on whom you asked) courageous, inconvenient, or nightmarish, or maybe a little bit of all three.
The headphone jack's absence from iPhones was a problem for millions of people who owned a favorite pair of headphones with a 3.5 mm plug, but it also required adjustment by any merchant who'd been happily accepting payment with the original Square reader and an iPhone. (By then, it didn't account for every transaction: The company had already introduced a larger reader which worked with chip-enabled cards as well as Apple Pay and Google Pay.)
Like a pair of headphones, the original Square reader could be connected to an iPhone via Apple's $9 Lightning-to-3.5 mm dongle. Square also sold a custom $10 dock-like adapter designed specifically for its reader. But either workaround was a bit kludgy—one more thing to buy, futz with, and possibly lose. That undid some of the elegant simplicity which was part of the Square proposition in the first place.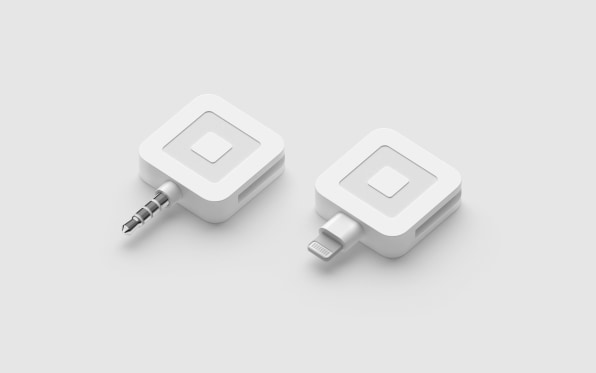 Now Square is restoring that lost Square-ness with a new version of the original reader. It has a Lightning plug—compatible with iPhones and iPads from 2012 onward—but otherwise is the same small, rounded-corner white square it's always been. (At least since 2013, when it did go through a subtle redesign to make it less chunky and more reliable.) As before, the reader is free—or, if you pay $10 at a retail store, free after you get reimbursed by Square as part of the setup process.
That price, or lack thereof, is part of why Square is still investing in its original little reader as well as its larger, chip-and-contactless model, which sells for $49. For the smallest of merchants, the kind who might not even have made the move to accepting credit cards yet, "the difference between cheap and free is a big deal," says Jesse Dorogusker, Square's head of hardware.
Even though Square has lately been successfully investing energy in signing up larger sellers, "serving those smaller businesses turns out to be a pretty big business, and some of those businesses become big businesses," Dorogusker says. "And man, what an opportunity to grow with them."
Mag stripe: old, but not out
In theory, swiping your credit card using a magnetic reader might seem nearly as anachronistic as running it through one of those "knuckle buster" gizmos of yore, which captured an imprint of the raised digits onto a paper slip. After all, credit card companies would greatly prefer that you dip a chip card, which reduces the chance of fraud, and are well into a years-long effort to discourage merchants from swiping. And more and more consumers would like to skip plastic altogether with a wave of a smartphone equipped with Apple Pay or Google Pay.
But even if the trend away from mag-stripe transactions is inexorable, it's also been sluggish—at least in the United States, where 100% of cards still have the stripe and newer technologies aren't universally deployed. That helps explain why Square is only rolling out the new Lightning reader in the U.S. and Canada.
Swiping a credit card through a magnetic reader may be old technology, but it compares favorably with newer options when rated on pure user experience. Small, inexperienced sellers can be pretty sure it'll work reliably and efficiently with any card a customer hands them, and don't need to deal with Bluetooth or charging a battery, as they do with the Square's chip/contactless reader.
"There's a simplicity to it which is spectacular," says Dorogusker. "If your purpose is to make sure the seller makes a sale, mag stripe is still a home run."
The headphone jack lives
The arrival of Lightning doesn't means that Square has any plans to do away with the classic headphone plug-equipped version of its mag-stripe reader. It remains compatible with the vast majority of Android smartphones, which have preserved their headphone jacks and indeed sometimes promote that fact as an advantage over an iPhone. So far, only a few Android models, such as Google's current Pixel phones, have gone all-in on USB-C; at some point, Square will offer a USB-C reader, Dorogusker says.
Square is even announcing a new use for its most classic reader today. Merchants can plug the headphone plug-equipped version into a Mac or Chromebook's headphone jack and accept mag-stripe payments using Square Virtual Terminal, an existing browser-based service which, until now, was designed for scenarios such as customers calling and reading their credit-card info over the phone. Plugging the reader into a Windows PC should generally work as well, but Windows machines vary so widely in hardware implementation that Square decided against officially claiming support.
By making the classic reader compatible with Macs and Chromebooks, Square aims to make credit card acceptance more appealing for the sorts of operations that run their business off a computer rather than going out in the field with a smartphone or tablet. (Typing credit card info into Virtual Reader isn't just a chore; it also involves a higher transaction fee for merchants, since it increases the chance of fraud.) Bottom line: The trusty old headphone jack may no longer offer the universal compatibility it offered when Square was founded, but it's nice to see the company is still teaching it new tricks.