I'm at Sony's New York headquarters, where the Japanese electronics company is showcasing the new version of its robot dog, Aibo. I'm skeptical that the robot could possibly come close to mimicking a real dog, much less warrant the price tag of $2,900. When I was a kid, I'd received a furry robot dog for Christmas one year, but quickly lost interest because it was way more fun to play with my real dog. What could possess someone to buy a $2,900 fake dog when they could have a living one for far less?
"Aibo, sit," I say.
The robot's ears perked up, and its OLED eyes fixated on me. But it did not sit.
"Sit!" I tried again. Aibo just cocked its head, with a somewhat mischievous look–not unlike the response you'd get from an untrained puppy.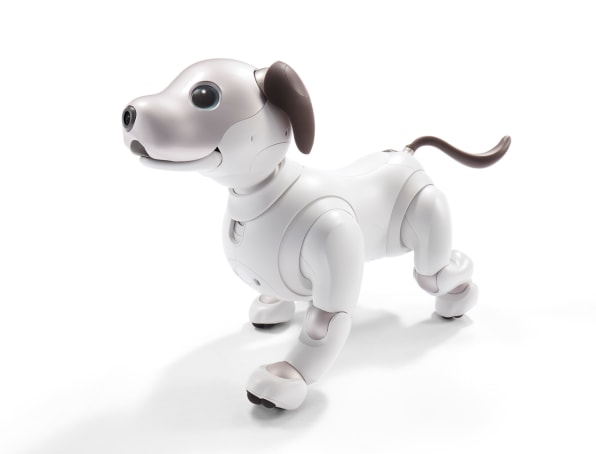 I made one last attempt to get the dog to sit before giving up. In response, it barked at me and wagged its rubbery tail. That simple gesture melted my skepticism. How could I possibly be annoyed by a disobedient puppy? I patted its head, and the robot vibrated slightly at my touch, almost like it was purring. As I played with the puppy for the next half hour, I became more and more charmed by its playful personality. I even started to imagine what it would be like to take it home with me–a testament to Sony's thoughtful approach to designing human-computer interactions for AI.
Aibo was first introduced in 1999, with new versions released every year or so. These older versions look like overly mechanical robots, with a limited range of movement and little artificial intelligence. Some don't even have eyes. The sixth generation of Aibo, which Sony is launching in the United States after introducing it in Japan late last year, is the most lifelike Aibo yet, with 22 axes of movement that allow the robot to walk, sit, lie down, and even play dead. The robot doesn't entirely disguise the fact that it's a robot–it's hard, and not covered with fur–but it moved so smoothly and its little gestures were so endearing that it didn't matter. There's a camera equipped with facial recognition on the dog's nose and a camera that maps the space around it at the base of its tail. Motion and ranging sensors sit on its chest, and there are touch sensors on its head, chin, and back. These sensors are powered by deep learning algorithms, which constantly assess the dog's surroundings and react to them. In Japan, the new Aibo sold out right away, and Sony has sold 20,000 of the robots as of July.
Why go to the trouble of building such a complex robot in the shape of a dog in the first place? Aibo was designed to be a home companion, particularly for the elderly. And as the aging population in the United States doubles from 46 million to 98 million by 2060, there will be more demand for products that can aid with the problems that elderly people face. One such challenge is social isolation, which can occur as people become less active and can impact cognitive ability, movement, and happiness. Companies like Intuition Robotics are tackling social isolation with internet-connected robotic assistants that can act as companions for elderly people when they're at home. Others have created interactive stuffed animals, like a soft, squishy monkey that monitors its owner's mental well-being, and Paro, an adorable seal that makes noises; those were developed in Singapore and Japan, respectively. Japan in particular has a significant aging population, and has been producing robotic companions, like Paro the seal, for some time.
Aibo isn't meant to be an assistant that performs tasks–like calling your family and friends–on your behalf, and it's not tracking your behavior for the express purpose of monitoring your health. It's meant to mimick the kind of companionship a real-life dog offers through a clever mix of interaction design and engineering.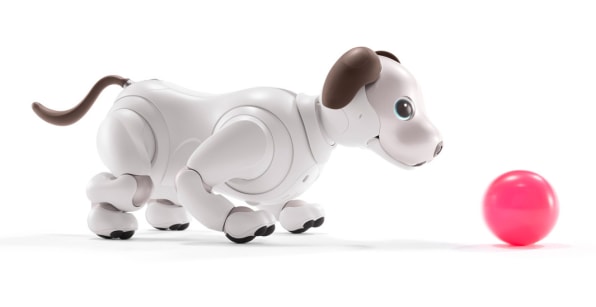 A Charmingly Contrarian Puppy
A big part of Aibo's charm is that the robot wasn't designed to always do what you say. It's also a clever way to hide the technology's inherent flaws: Most of the time, AI doesn't work as advertised. (Even more ubiquitous machine learning-powered assistants, like Siri or Alexa, don't always get it right.) But Aibo turns this bug into a feature. The fact that the robot didn't sit when I told it to may have been a deliberate decision or a failure of its computer to understand my words, but it resulted in the robot appearing more lifelike. After all, a new puppy wouldn't immediately know what it meant to sit.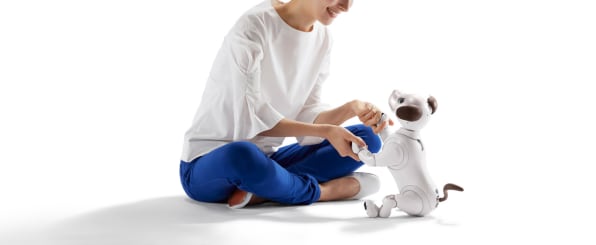 The Puppy-Owner Learning Curve
Over time, the robot puppy does get more obedient. Aibo was designed so that the more you interact with it–the more times you pet it, or ask it to sit or shake paws–the more the robot recognizes your face and the more likely it is to listen to you. Aibo's facial recognition system can remember up to 100 faces, so every member of the family can have a different relationship with the robot. It learns over time, just like a puppy would–and just like AI does.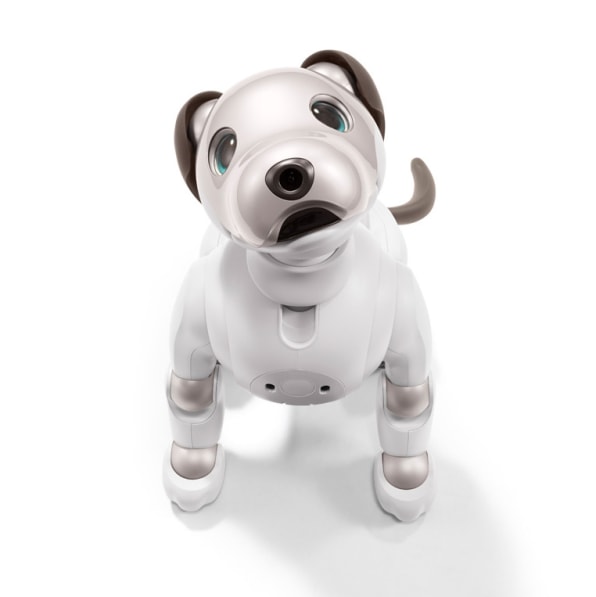 Yes, It Even (Fake) Pees On Your Rug
This is a fundamentally different way of designing the interface for an intelligent machine: Instead of presenting the robot as a highly capable being that in reality fails frequently, Aibo is presented as a fallible being that becomes more capable over time. Training the robot feels natural, like getting to know a puppy friend. Rather than expecting the robot to be perfect and getting frustrated when it's not, users instead actively work to improve it, and it's this experience that helps create an emotional connection between the user and the robot. For instance, when Aibo is new to your home, it will pretend to pee in your house. It's only by telling it "bad dog" a few times will the robot learn that it's not supposed to do that. On the flip side, when it finally listens when you ask it to sit, you can shower it with praise to positively reinforce the behavior. My colleague Mark Wilson has compared AI's current stage of development to that of a toddler, but perhaps it's more accurate to say it's just like a puppy.
Given how closely Aibo mimics the experience you'd have with a real dog, it's not just the elderly who might be interested in this kind of technology. As someone who would love to have a dog but can't stomach the idea of waking up at 6 a.m. to take it out during a New York blizzard, the low maintenance of the robot is appealing. You don't even have to remember to charge it: When its battery is going to die, the robot walks back over to its charging station all on its own. After just a little time playing around with Aibo, I started to see how the robot's adorable mannerisms would be able to bring people joy and companionship–if they can stomach the hefty price tag.