My fingers approach the mouse like I'm about to shake its hand. It's an odd sensation for a moment: The mouse is turned 57 degrees toward verticality, standing on my desk with a confident slant that promises to reduce wrist strain. But then, the meat of my thumb docks with the rubberized finish. I feel the familiar right and left buttons under my index and middle finger. And yes, it feels natural to use in just seconds.
This is the MX Vertical, a new, $100 ergonomic mouse from Logitech. Developed over 18 months, it is not the world's first ergonomic mouse, nor is it the first mouse to position itself perpendicular to your desk. But it does hit a compelling sweet spot, balancing comfort, intuitiveness, and a sculptural design that makes the prospect of using a healthier mouse a compelling one.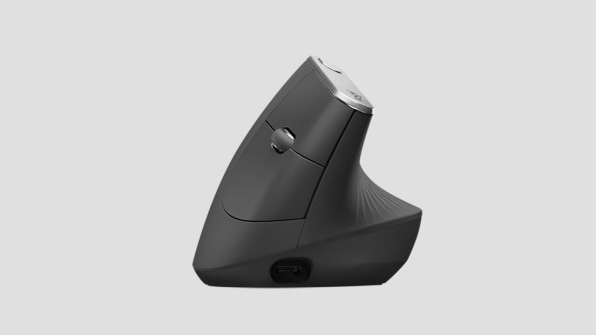 "We're not claiming we invented the ergonomic mouse category with this product," says Nik Jinkinson, the lead designer on MX Vertical. "But one of the things we've observed over the years is there's a tendency for overtly ergonomic products to look a little bit clunky, and not be the most elegant or appealing products."
Ergonomic designs are often bulbous and blobby because they're designed to complement our bodies like negative space, which are anything but flat aluminum and glass. For a user in pain, that's okay. But for a user considering making the leap to an ergonomic design, it's a major hurdle. The less attractive products actually look more intimidating as a result.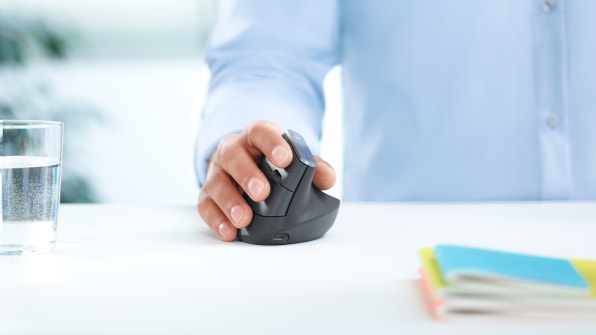 "One of the things we heard over and over again was this anxiety people have when making a purchase decision, they're looking at these products, thinking, 'I've got this problem, this pain, this issue, but I don't want to drop $100-$200 on this thing I don't know if I'm able to use.' It's a big hurdle for people."
After interviewing dozens of ergonomic mouse users to get this data, the company enlisted its own employees to use ergonomic mice from several manufacturers, all while hooked up to sensors that measure muscle activity and skeletal stress. "We did a bunch of benchmarks on the mainstays in the space to find what it was about those devices that had a beneficial effect," says Jinkinson. "And that allowed us to unlock some of the combinations where we could improve."
Jinkinson doesn't break those combinations into incredible detail, but he does outline the MX's general approach. When designing an ergonomic device, you think about how your body would float naturally in water. Think about your arms–they wouldn't palm down by your sides, but lift with a slight rotation of the wrist, a rotation that's not parallel to a desk, and not perpendicular to a desk, but somewhere in between.
Then his team began sculpting models out of a resin that you can carve and finish, much like wood. One of the team's first models actually got extremely close to the final design. Dubbed T2, it stood for "tower." "The visual reference was cooling towers–very architectural," says Jinkinson. "This captured somehow the DNA of what we went with, and very early in the process."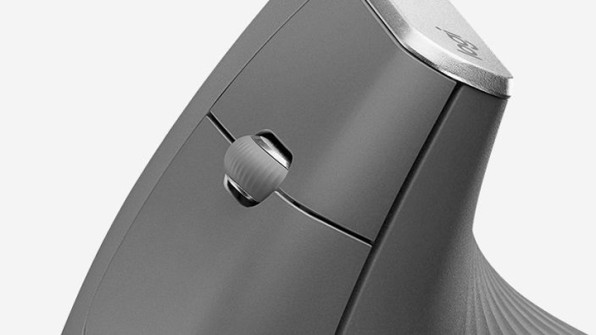 But the T2 was too vertical, and too monolithic for the hand. With no real indentations, "the weight of the hand was pulling down and slipping, and it would put pressure on the pinky," says Jinkinson. "And the thumb had no landing pad."
So the team carved a slot for the thumb to rest–and found just the right angle (57 degrees) for the rest of the hand. With each iteration, Logitech employees were hooked up again to sensors, running a battery of mousing tests on PCs to quantify the results.
These tests were key to challenge their own preconceived notions. For instance, one version of the MX had a real rest for the thumb, a little platform that would keep it off the table, rather than the cascading indentation that's in the final design. That platform sounded great for supporting the weight of your hand, but it came with a cost. "The accuracy tended to suffer because they couldn't use their fingers to stabilize the mouse," says Jinkinson. "They had to do a full palm grip, and drive the mouse entirely from the wrist." The final MX allows wrist movement and finger pressure in a way that feels a lot like manning a sock puppet.
All in all, the mouse feels extremely natural, for lack of a better term, to use. But Logitech hopes that its sculptural industrial design, which resembles a snail shell from above, will be attractive all on its own.
"It would be awesome if it was adopted by people who are in the market for a vertical mouse already, but also people who aren't–who see something that is just a beautiful object, and they learn about the health benefits afterwards, and still feel motivated to buy it," says Jinkinson.