Nothing really prepares you for purchasing sperm. It's not as simple as a Tinder-meets-Netflix swipe-through of super attractive aspiring rocket scientists and brain surgeons. The information comes to you via your fertility doctor as a printed list of URLs for around 10 different cryobanks (facilities that store sperm). You have no idea what differentiates these facilities, which may be the best fit for you, and why. The cryobanks' websites appear similar to dating websites. But instead of adult pictures, and without warning, you are suddenly faced with photos of the donors as children, which makes things weirder, infinitely more awkward, and at times downright creepy.
Next comes the prioritization of the myriad of information being offered (some free, versus hearing a prerecorded hour-long interview with your donor, which might elicit a "premium" charge). It's complex beyond belief, presented as 17 separate files, clips, and records to download per donor, leaving you little to no idea of what you should be considering or comparing. Which traits are nature vs. nurture? Should I decide based on logic or emotions? Should I be choosing the father of my child as a donor or choosing the child I want? Because in a way, you are looking for "the one."
Talking to staff at these facilities–from geneticists to sales staff–can add to the sense of confusion, as ultimately, they are selling you a product. It all feels a bit dispiritingly cold, transactional, outdated, and overwhelming. Sperm clinic nurses' sweet-but-old-timey impression notes such as, "this prince charming will save any damsel from distress," don't exactly help, either.
Instead of feeling like you're buying a date, what if buying sperm felt personal, natural, and rewarding? That rather than showing you a million options, you received a carefully curated shortlist based on your genetic compatibility, and what you personally find most important in a donor? Throughout my journey, I couldn't believe that a tool didn't exist to help me easily compare and contrast the donors, relative to the degree that they were a match for my preferences. What was surprising to me, was the moment that led to my ultimate choice–hearing the voices of my potential donors.
In the first article in this series on redesigning fertility, I introduced a design concept that my colleagues and I call Project Junior–an inclusive online fertility resource for women who are looking to better understand their options and get bespoke guidance throughout their journey. That includes a Donor Portal, which highlights the most helpful inputs–like donors' voices–to give women the confidence that they are making the best decision for themselves.
I can't pretend it doesn't feel lonely sometimes; not having a go-to partner who is equally invested and as worried as I am. The process of choosing sperm only reinforced my feeling that I was doing something abnormal and undesirable. The entire experience was transactional in nature, living up to the "artificial" label doctors give the process of insemination.
When I finally decided upon my donor, that should have been an exciting moment. Instead, all I went through was a sales call and a follow-up email. I still have to log on to my account, and navigate to my "favorites" section, if I want to remind myself who I've chosen. If I had a partner, we would have at least been cheers-ing to this life-changing decision with a glass of something. Imagine if after choosing your donor you receive something meaningful to mark the moment–to remember who you chose and why. Here's one idea for acknowledging those moments: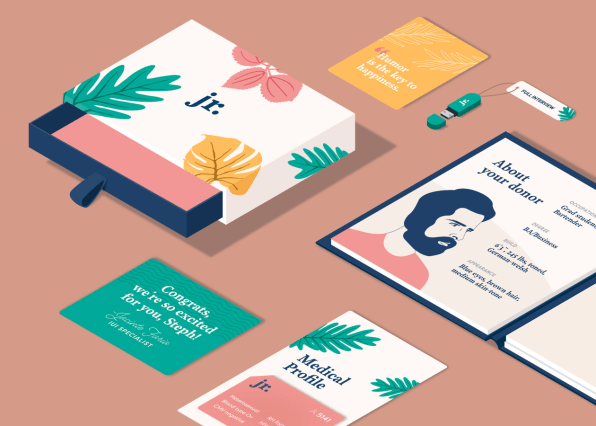 It doesn't take much to build some humanity and thoughtfulness into those moments of joy and excitement in the fertility experience. If you're doing it alone, it could well be those little things that get you through the uncertainties and trials ahead, and start contributing to the normalization of this pathway.
This essay is part of a series on redesigning the fertility process for nontraditional families. Read the first installment here. Author Stephanie Yung is a design director at Smart Design's New York studio. She also serves as design advisor on the board of not-for-profit technology company Simprints. Jr. was conceptualized by Yung and her strategic design team: Crystal Ellis, Sarah Phares, Semi Lee, Steffany Tran, and Haley Rasmussen.