Connected home fitness equipment goes way beyond the Peloton bike. The booming subsector now sees treadmills, dumbbells, and in the latest iteration, rowing machines.
Crew by True Rowing takes the experience of gripping oars and delivers it via a connected device, albeit with a twist. Instead of the traditional streaming class format from a studio, the startup broadcasts live from Boston's famed Charles River, bringing the experience of open water to a user's dry living room.
The classes are taught by none other than members of the United States National Rowing team as they train for upcoming competitions. The unpredictability makes for exciting live classes, says Bruce Smith, CEO of  Cambridge, Mass.-based True Rowing: "There's all kinds of stuff that happens out in the water."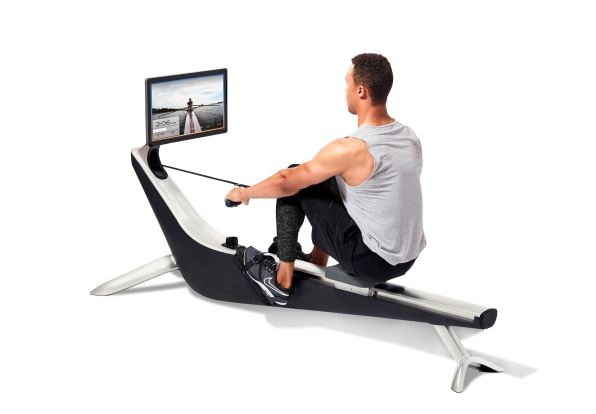 Smith, a former national team coach, was inspired to bring the connected environment to rowing after seeing the phenomenal success of Peloton. The bike-maker recently raised $550 million in new financing and is now valued at $4 billion.
"Rowing clubs are great but they require a lot of infrastructure," concedes Smith, who saw the value of offering a more accessible solution. "Peloton has done such a great job establishing the fact that at-home fitness is a huge segment that people really want."
The global fitness equipment market is estimated to hit $14 billion, according to Global Market Insights. As Americans put a further premium on health, the segment is expected to see 5%+ growth.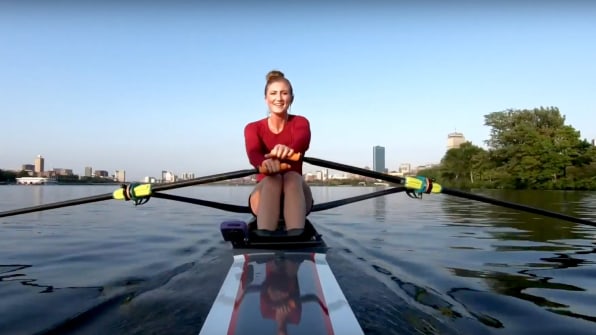 Row, row, row our boats
Meanwhile, rowing continues to grow in popularity, with boutique fitness studios dedicated to the rigorous regimen. True Rowing intends to expand rowing to the greater masses, many of whom are too busy to seek out a gym or venture out onto the water.
The startup estimates there are roughly 250,000 active outdoor rowers in the U.S. and  4.3 million people who use indoor rowing machines daily.  Rowing is considered highly effective exercise, working 86% of upper and lower muscles, according to an English Institute of Sport study. In comparison, cycling uses, on average, 44 percent. Even astronauts in space rely on rowing for dependable exercise.
"Crossfit and OrangeTheory helped shine a spotlight on the quality of work that you get from rowing," says Smith.
True Rowing's main distinction–that it broadcasts from the outdoors—creates some unique challenges. The video team needs to portray the movement and vibration of the rowing team without sacrificing steadiness. Then there's the uncontrollable outside noise, like say ambulance sirens. True Rowing spent the last year researching best practices to handle such occurrences and invested in technology to make for a more seamless broadcast.
---
RELATED: How Orangetheory grew to dominate the boutique fitness industry
---
Weather is another issue. During two months in the winter, the rowing team relocates to Miami, from where it will continue broadcasts. Now, seven national team members produce classes, but that number is expected to grow to 20 in the coming year.
The startup's equipment features a 22-inch screen and a silent, electromagnetic brake that governs resistance. A user can make it feel like a basic rowing machine, single scull, an 8-person boat, or even a weight stack.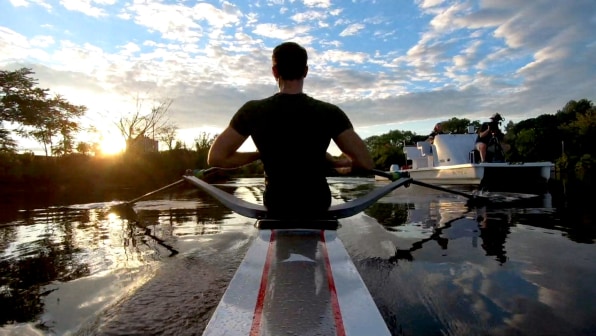 True Rowing raised $5 million in seed capital, with funding from Olympian and indoor rowing world record holder Richard M. Cashin and private equity executive P. Andrews McLane. The company plans to deliver the first shipment of Crew machines in the first quarter of 2019. The equipment costs $1,885 ($10 less than a Peloton bike) and subscription service is $38 a month.
As technology advances, says Smith, people are going to look at fitness training through new screens, and more likely, virtual and augmented reality devices. Smith says he is steadily acquiring talent to keep up.
Peloton, meanwhile, plans to release more products in the coming years. Is True Rowing concerned they might delve into the rowing sector?
"The market is just so enormous," says Smith, "I don't think it's going to be a winner-take-all kind of product."
Smith believes there's plenty of room for various brands, including Microsoft, Apple, and Google. What True Rowing offers though, he thinks, trumps pure capital: their rowing experts bring the closest thing possible to actual rowing on the water.
"It's an instructor-led experience that brings outside experience directly to people's homes," says Smith. "We have a lot of confidence in our ability to deliver something that people find very authentic and compelling."