It's lunchtime on a sunny California day and I'm walking down a street near San Francisco's tallest building, the glittery 1,000-foot Salesforce Tower. This third of a mile, bordered by the Bay Bridge, the famed Embarcadero, and 2nd and Mission streets, is home to some of the Bay Area's most important companies, including Google, Amazon, and Slack. More than $1 billion of venture capital money is invested in startups in the 94105 area code every year.
The sounds of pounding jackhammers and the whir of construction cranes fill the air as casually dressed tech workers spill onto the streets for a bite to eat. There are almost no trees here, in the heart of one of the nation's greenest cities. As cars exit the Bay Bridge, they whiz down the neighborhood's wide thoroughfares. And its homeless population? Nowhere to be seen.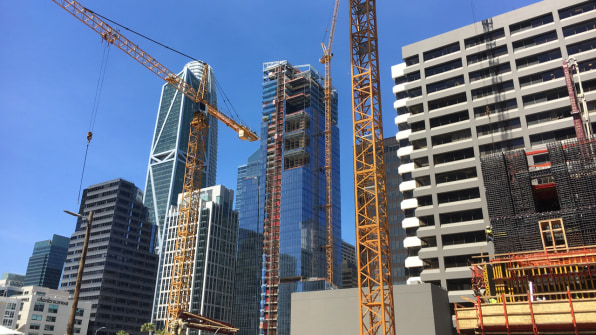 I'm here to conduct a bit of an experiment: What exactly is this section of the city called? I stop people walking down Howard Street. It's Rincon Hill, and part of SoMa, one person tells me.
"I feel like this is more like the financial district," a woman who's lived in San Francisco for 11 years says. "This is where people work, and they go home somewhere else."
And finally, a common reply: "I don't know."
A massive effort is underway to change that and, at the same time, create what amounts to an entirely new neighborhood in this city of neighborhoods.
The new name for this 20-block area? The East Cut.
It's all part of a push by the local Community Benefit District (CBD), a nonprofit funded by local property owners to offer services beyond what the city provides, and its branding agency Collins, to create an identity for the 10,000 residents who now live there—and the thousands more expected. The CBD, which was established in 2015 by the 4,200 property owners in the neighborhood including about 3,700 residents and 540 owners of large residential buildings, receives money every year from these constituents through a special tax that all owners pay. The money–$4.5 million for the 2018-2019 fiscal year–is distributed by the nonprofit organization to provide services like street cleaning, security, and park management, including for the new Salesforce Transit Center Park.
But as new office and housing towers rise, some of the most crucial elements that make a neighborhood livable are missing. The East Cut lacks a school, an affordable place to buy groceries, and pedestrian-friendly streets.
And the breakneck construction boom has led to some painfully public mistakes, like the need for a costly reinforcement of the relatively new luxury residential Millennium Tower, which is sinking and tilting. In September, the newly opened centerpiece of the area, the $2.2 billion Transbay Transit Center (also known as the Salesforce Transit Center) was shut down when cracked beams were found. It is still closed with city officials and engineers unsure of why the structural cracks occurred, and it may not reopen until 2019. Residents say that the closure has brought even more congestion to an already heavily trafficked area, with buses diverted back to the temporary Transbay Terminal used during the center's construction.
---
Related: San Francisco's luxury Millennium Tower, home to celebs and tech billionaires, is sinking and tilting
---
The setbacks raise questions about what extreme growth is doing to San Francisco. If its boosters get their way, the East Cut will start to feel like a real neighborhood, one with life and personality beyond the power-washed blocks, incessant traffic, and skyscrapers (leaning and otherwise). Against the backdrop of challenges that have come from the neighborhood's intense growth, including issues like affordability, safety, and lack of access to schools, the community has spent tens of thousands of dollars on branding from the firm, Collins, which has designed identities for tech startups like Dropbox, Mailchimp, and Facebook's failed Messenger assistant.
It's an approach that is steeped in Silicon Valley's obsession with branding, even in the face of complex social and urban challenges. While the CBD is dedicated to making the East Cut look the part of a thriving, up-and-coming neighborhood, it still faces the entrenched problems of an area–and a city–in transition.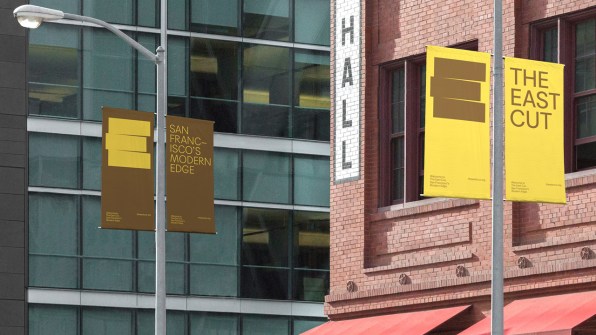 Welcome to the East Cut
"Having a place-based identity in a city known for neighborhoods is really important," says Andrew Robinson, executive director of the East Cut CBD, which provides cleaning, safety, and the maintenance of parks and open spaces. "There was a fear that the neighborhood might be called the Transbay area. As Salesforce is now occupying three large high-rises, and has its name on the transit center, I think people were afraid it would be called the Salesforce neighborhood."
After about a year of working with the CBD to interview residents and host events, Collins came up with a name to evoke the city's history. The East Cut references a historic reshaping of the area's geography in 1869 when the city decided to flatten the center of Rincon Hill–one of San Francisco's original seven hills–to make shipping easier between Mission Bay's shipyards and the city center. Before this "cut" occurred, the area had been a ritzy one, where the city's wealthy–newly rich from the Gold Rush–built mansions overlooking the bay. But after the 2nd Street cut, the area eventually became an industrial throughway.
"It was a scar and people who had lived there left for Russian Hill and Nob Hill," says Brian Collins, the cofounder and chief creative officer of the branding agency. "It became a gritty, unloved area."
The change was exacerbated by the 1906 earthquake–what architect and urbanism advocate Christopher Roach called the area's "nail in the coffin." In the rubble of the earthquake, new city blocks were laid out to optimize for the scale of railroads and warehouses. The Bay Bridge, which connects San Francisco to Oakland, opened in 1936, depositing more cars in the area and making it unfriendly to pedestrians.
"Fast-forward to the last few decades: that whole area has become a big redevelopment area," Roach says. "All of a sudden you have all these people there again, you have restaurants, you have the ingredients of a place for people again. So, if you understand the arc of that history and the need for people to identify with a place, it makes a lot of sense to give it a name. It's more of a grassroots desire for all the people living there to feel like they have a neighborhood and a name to call it and a sense of place. "
The CBD approved the new name in May 2017. "Naming it after what the city decided to do in 1869 gave us a sense of connection to our past and it sounded good, unlike NoBu or one of these silly meaningless acronyms," the designer Collins says. "This wasn't a real estate play. It came from a neighborhood community that needed a meaning and story and emotional gravity."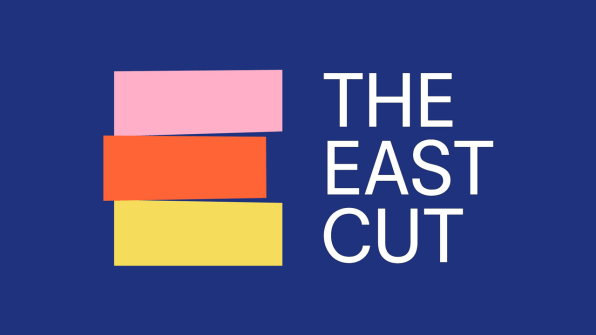 "You don't just name a neighborhood and expect everyone to start using it"
To go with the name, the agency also created a logo–an "E" composed of three colors meant to represent the three main areas of the neighborhood–and a website, where the CBD posts its calendar, contact information, and ways to request services. Many of the street banners in the area now display this logo, which can also be seen on the CBD security and cleanup teams' uniforms.
"I was involved in voting on it," says Lauren Post, a resident of the neighborhood since 2012 who's on the board of the CBD and served as its first president. "I like it. It's snappy, it's modern, and it's what this neighborhood is. The neighborhood is new but there's a lot of history here."
Not everyone is thrilled with the name. "It just sounds like a cut of meat," says Marc Wong, a resident who has lived and worked in the 94105 area code since 2005.
Wong's sentiment is shared by others. "At first I was pretty concerned that the name would affect the status and reputation of the neighborhood," says Gloria Li, who moved here in 2012 and is on the Citizens Advisory Committee for the transit center. "The name just sounds a little like the Meatpacking District in New York. It has this weird industrial feel to it."
She learned of the name change only after the branding started appearing on garbage bins, adds Li, who still refers to her neighborhood as Rincon Hill or Transbay.
Others wondered why the naming needed to happen at all, and why the CBD would spend $68,000 on it. "There has been a huge brouhaha because a lot of people were so upset with the name change," says Katy Liddell, who has lived around the area since 1995 and founded the South Beach-Rincon-Mission Bay Neighborhood Association.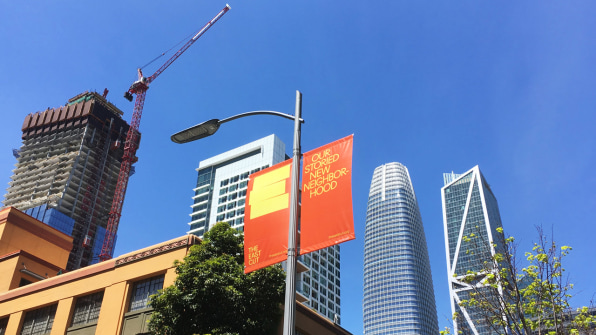 She insists she lives in Rincon Hill and would like the street banners that say "East Cut" to be burned. "I was flabbergasted by how much they paid when I didn't think it needed to be done in the first place."
Still, the CBD's function as a central resource to get local services, particularly its dedicated cleanup force, has won some fans. "That's certainly nice to see that around," says Matt Potts, who's worked in the area for five months. "They keep it tidy. There was graffiti on our building a couple weeks ago and they were there hours later cleaning it up."
Post, the stalwart supporter of the name change, believes that it will slowly get adopted over time. "I know I get frustrated when I read articles in the Chronicle, and the journalists still call it Transbay," she says. "But I'm patient. It'll take years. It'll happen organically. You don't just name a neighborhood and expect everyone to start using it."
Regardless of public opinion, one of today's most important arbiters of city geography has already spoken: The East Cut now shows up on Google Maps.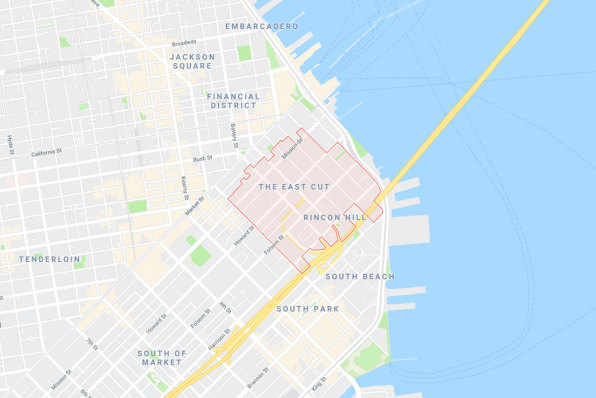 Extreme growth, extreme inequality
It's well documented that San Francisco, where the average one-bedroom apartment costs $3,340 a month, is experiencing a housing crisis. The city's storied neighborhoods have vehemently fought zoning changes that could change their character–but not the East Cut, which has embraced the promise of high-density housing. Its landscape is full of both commercial and residential towers–and cranes building new ones. In the last few years alone, some 6,000 units have been built and thousands more are in the pipeline.
When Li moved to the area five years ago, she says it felt like New York's Wall Street on weekends. "It was dead. There were no restaurants open," she says. "I tried to find a Starbucks that was open on the weekends and it didn't exist. Delivery took about an hour, so I learned to cook."
Her new neighborhood's extreme growth in the last few years is part of the larger story of San Francisco; the Association of Bay Area Governments estimates the city's population will grow about 20% by 2035. Much of that growth will be unevenly distributed because older neighborhoods have more political power and can keep out the new towers by blocking zoning changes. District 6, which includes the East Cut, built 60% of the city's new housing in the last 10 years, and that boom will only continue.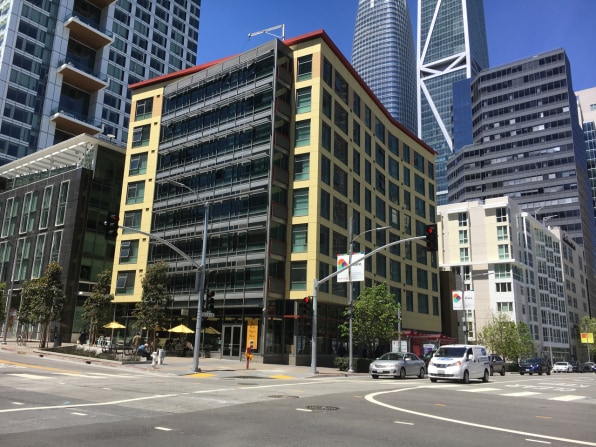 Most of the new buildings are luxury condos, and even though 20% of the new housing is billed as "affordable," the area is still very expensive to live and shop in. The only major grocery store, Woodlands Market, opened in spring of 2017, is too pricey for some.
"Not everyone moved in last year and got a multimillion-dollar condo," Liddell says. "I do see young people with nice cars, and all their dogs, shopping at the upscale market. I have a friend whose parents live on Beale, in a new place that's affordable housing. Those people can't afford to shop at the Woodlands Market." The fact that a walkable, albeit expensive, grocery store only arrived in 2017 speaks to a lack of planning on the part of developers, who have played a major role in transforming the East Cut into the high-rise neighborhood it is today.
The cost of living here has contributed to a homeless problem that has gained national notoriety. But it is less evident on the surface because luxe apartment building security has worked to clear the streets. The CBD says it helps with the homeless problems and says it has gotten 2,300 calls for homeless outreach assistance from January through October 2018. But a recent study from UC Berkeley found that some CBDs (also called Business Improvement Districts, or BIDs) in California have contributed to the rise of anti-homeless laws across the state by lobbying local governments. "Our key finding is that [CBDs] exclude homeless people from public space through aggressive policy advocacy and policing practices," says Jeff Selbin, the director of the Policy Center and UC Berkeley School of Law, at a press conference in September about the study. "This finding raises important legal—and I would say moral—concerns."
The area's growth has exacerbated the problem. "A lot of the new construction forced some of the homelessness out of the neighborhood," says Jimmy Hua, a software engineer at Salesforce who's worked in the area for eight years. "It's good and bad. Homeless [people] need to be somewhere. It's nice that they're not around but it's still a problem for the city."
---
Related: San Francisco's homeless problem as viewed through human poop
---
"Just because you build a bunch of housing, that's not a neighborhood"
One thing the East Cut has no shortage of is traffic.
"The thing affecting most residents is the fact that the city put 10,000 residents in this district, which is also where all the highway off-ramps are, and is built for light manufacturing, with narrow sidewalks and wide streets," says Sonja Trauss, a high-density housing advocate who ran for supervisor in District 6.
"You can't have tons of car traffic and also tons of people. It's a very weird place to live because on the one hand it's very walkable. But it's very not walkable in the sense that even if it's just three or five blocks, you have to cross wide streets, four lanes of traffic with people who just came off the highway."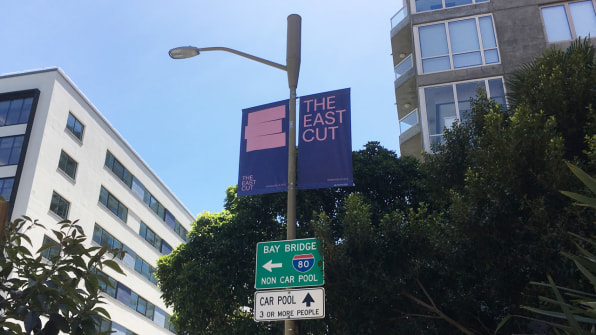 With the long blocks, fast cars, and lack of crosswalks at every intersection, Li finds it difficult to get around.
"It was not very planned or designed for that amount of residents," she says. And while the area's industrial-sized blocks and streets would be difficult to change, the city could do things like add more crosswalks or lower the speed limit for cars coming off the freeway that dead-ends into the area.
Perhaps the most egregious example of bad planning is the fact that the area doesn't have a school, and bringing one to the area could take decades. In Mission Bay, the neighborhood next door, land was set aside for an elementary school for two decades before a plan was finally approved by elected representatives on the San Francisco Unified School Board in April 2017. It will take another four years for the school to be finished. While the board said in the approval meeting that it is looking at building other schools to accommodate the surging number of students in San Francisco–they estimate 10,000 new students by 2027–Mission Bay's journey to finally get a school approved indicates just how long of a wait it could be for other growing neighborhoods. Even when the Mission Bay school is built, it will still be too far of a walk for kids who live in the East Cut and accessible only by ground transportation.
"For owners like us, we want to stay in the area, we want to keep our property, and we have to start thinking longer term, like where's my kid going to go to school," says Li, who recently had a baby.
---
Related: A history of the San Francisco housing crisis
---
The lack of schools is one reason for the neighborhood's high turnover, says Trauss: "It's something that makes people move away. I talk to a lot of people who moved there 5 or 10 years ago, and now they have a partner, and a small child, and their problem is not that the apartment is too small, but whether the neighborhood is going to support having kids." Residents "feel like they pay a lot of taxes and they feel like they're not getting the services they're entitled to . . . What was the city thinking?"
Bruce Agid puts it more bluntly: "Just because you build a bunch of housing, that's not a neighborhood." Agid is the president of the Eastern Neighborhoods Democratic Club, and he's worked on bringing the school to Mission Bay. "The retail, the grocery stores, the schools, the open space, the community-gathering places: That's what's gotta happen," he says.
The CBD question
As the East Cut continues to transition, these concerns will only grow. That's part of the reason why the CBD was formed in the first place: Area property owners pay a premium to get services the central city government is failing to provide. "Basically, we shouldn't have to have a CBD," Liddell says. "Our taxes should take care of everything, but they don't."
But there's another reason, too: CBDs increase local political power. According to urban historian Roach, the rise of CBDs has also occurred because San Francisco's city government tends to have a weak mayor with stronger supervisors, or representatives that are elected by each district. CBDs, which are even smaller than districts, further consolidate power in the hands of neighborhoods, providing a way for a group of residents to use tax money to lobby the local government for laws that are beneficial to its residents, at the cost of others. "On top of what we have in our urban planning and city development structure, we have placed an unbelievable, and from my point of view, completely unhealthy amount of power in the hands of neighbors and neighborhoods to stop, to delay, to radically change projects–in particular, dense multi-family housing [projects]," Roach says.
That's why he believes that San Francisco's 16 CBDs can be a negative force for a city: They can reinforce inequality.
"[CBDs] do give people a certain degree of autonomy and control and sense of belonging," Roach says. But "where we have this incredible influx of wealth and economic activity and a very pivotal struggle for the identity and the future of the city, I worry a bit about the kind of fragmentation into these neighborhoods or sub-neighborhood enclaves that put their own interests and their own identity above the greater good of the city or even the region as a whole."
For some of the East Cut's residents, the CBD's presence has been a positive influence. In the two and a half years the CBD has been in operation, Liddell has seen a change in the small things the nonprofit has control over: "I wanted to see better security, safety, cleanliness, and I have seen it," she says. "I'm so glad that if I see an overflowing trash can, I can report it and it's topped off and cleaned up within an hour."
However, these services exist in the East Cut because the residents are affluent enough to afford them–but not every neighborhood can, exacerbating inequality between the haves and have-nots.
"[This area] has the ability to pool a good amount of resources to provide these benefits for themselves, but what about the Excelsior?" Roach says. "What about these other neighborhoods that rely on the basic city services that are provided by the Department of Public Works and the San Francisco Police Department?"
"It's symptomatic of a trend toward creating . . . a two-tiered system where there's high-quality benefits for people who pool together and can afford them, and there's a level of minimal, mediocre service for those who can't," he says.
Still, Roach doesn't think the East Cut's approach is inherently bad for the city. "I don't think on the surface there's anything insidious," he says. "They're already a dense neighborhood, they're already accommodating the kind of growth and change in the city that we need."
Even as the impact of extreme growth in San Francisco continues to increase inequality when it comes to housing and urban planning, years will pass before the impact of the CBD and its campaign to turn the East Cut into the neighborhood its residents desire will be clear.
For now, the new Salesforce Transit Center is still closed. But when the center and its glorious rooftop park  finally open, they will bring the area retail stores, restaurants, pop-ups, and even a farmers' market–the kinds of elements sorely needed. The CBD is contributing $1.5 million a year to maintain the rooftop park and put on events.
For residents who've stuck it out, it's cause for celebration. "We went from no Starbucks to choices! It's awesome," Li says. For Liddell, it's the change that's the fun part. "It's not said and done. We have new stuff all the time," she says. "The block changes every day I walk out the front door."