That's what Brent Rose–a friend who is a freelance journalist, actor, and prominent figure of the van-life movement–tells me when I ask him about the recent surge of new van models designed for living on the road from companies like Nissan and Volkswagen.
"I've seen a massive increase in the number of van-lifers over the last few years, and I think there are a lot of contributing factors," he writes from the road. Rose, who celebrated his third year on the road with his "vanniversary" on July 15, believes that the surge in the lifestyle can be attributed both to its idealization on Instagram and rising rent prices paired with the availability of 4G mobile internet nationwide. "So many people work from their computers," he says. "As long as you have reception and power it doesn't matter where you are."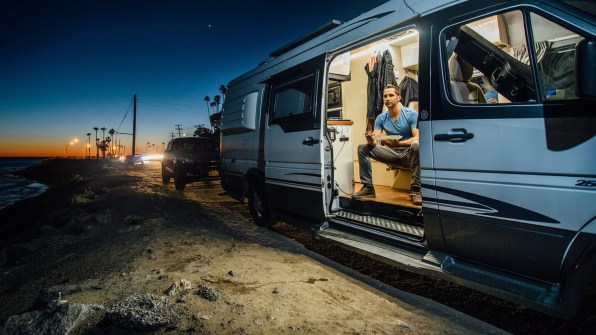 Since he started living on the road–which began as a one-year experiment and has evolved into an ongoing project called Connected States–Rose says that the increase in the number of van-lifers both male and female (the latter were uncommon when he started in 2015) has been massive. So has the number of van models optimized for this lifestyle. "It's been great to see that the van-life movement has become big enough that major auto and RV companies are starting to take notice and build better vans," he says.
At this year's Madrid Auto Show, Nissan unveiled two new campers–the NV300 and e-NV200–that it says were specifically designed for van life. Their cute and happy exterior design does look particularly Instagrammy, with splashes of pop color that remind me of the classic 1960s surfer vans. The interiors are easily transformed, the company says, "into the ideal place for four people to stand thanks to an elevating roof, or they can sit around the table conversing." Both campers have a kitchen with a refrigerator, sink, and water and gas installations. At night it transforms into "comfortable bedrooms with window shades and stationary heating." The NV300 can even add a second double bed in the raised ceiling–and both are customizable.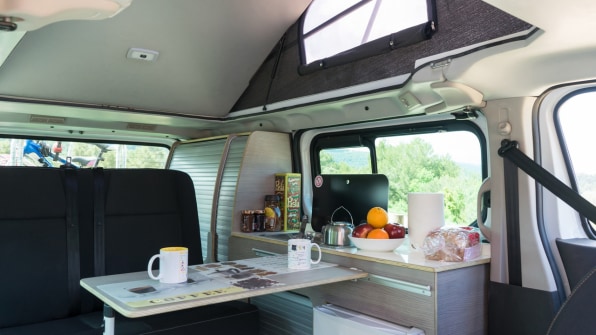 While they look amazing, Rose–a seasoned van-lifer–isn't convinced about the all-electric e-NV200, which is rated at a maximum 170 miles on a single charge. "The all-electric Nissan is very intriguing from an idealistic perspective, but its short range would be a deal-breaker for me," he says. Both are also too compact for comfortable long hauls, he thinks.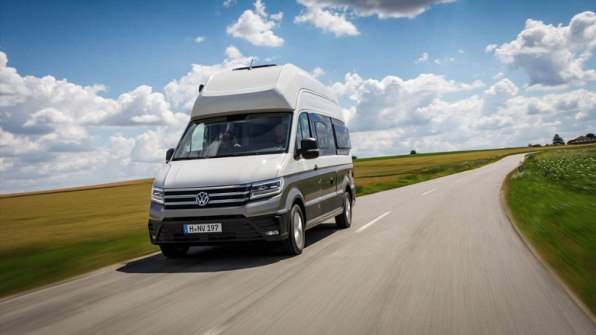 Volkswagen's new Grand California–a big brother of its classic California model that it introduced at the Caravan Salon in Düsseldorf, Germany–may be a better option for the serious van-lifer. It's in what the company calls the "6-meter class," clocking in at 19.68 foot long, with a bathroom and sleeping area in the rear. It's full of features, like a compact kitchen with a dual-burner propane stove, sink, storage room, a 70-liter pull-out fridge accessible from the outside and the inside, bath with shower, toilet, fold-out sink, and a ventilated skylight. You can even add a high bunk bed for children.
Both new models are far from the only van-life-focused cars to hit the market recently. "The most appealing new van I've seen is the Winnebago Revel," he says. "It's based on the [Mercedes Benz] 4WD Sprinter chassis and it's fully winterized, so I could take it on some wild adventures all four seasons." These more advanced vans are expensive, running you about $150,000, but they can also go off the beaten path–a necessity, Rose has found. "My current van is rear-wheel drive only [like the Nissans and VWs]," he says. "I've taken it down some very sketchy roads that I was frankly lucky to get out of."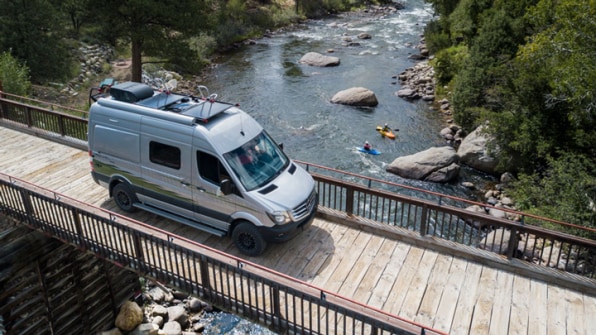 While car companies are rushing to respond to the trend, there's also been a boom in van customization companies, which pick up where the automakers leave off, adapting vans to very specific tastes of each owner. Almost akin to tiny house design companies, these studios can customize a van's interiors with new materials like wood and aluminum, add new kitchen equipment, install solar panels, and even expand the available space with bespoke bodywork. ("If I had all the money and time in the world, I'd probably go with a custom job from Outside Van," Rose adds. "They do incredible work.")
Meanwhile, luxury car companies like Mercedes-Benz are offering their own options, like the compact Marco Polo or the Hymer motorhome. But the company's best-selling van is actually a "luxury" cargo model: the highly customizable and extremely comfortable Sprinter. It's not designed for camping at all, but it has become the darling of the van-life community thanks to its versatile chassis, and countless companies around the world make RVs based on it.
This segment of the auto industry is booming among baby boomers as well as young people, with a burgeoning cottage industry of customization companies not far behind. Rose, meanwhile, will stay on the road until it stops behind fun. "When I started [this trip] it was supposed to be a one-year project," Rose tells me, "but I didn't imagine I would love the lifestyle as much as I do. Currently, there's no end in sight. I've just decided that I would keep doing it until it stopped being fun . . . That's kind of the beauty of it, to me. You don't have to do much planning. You can just sort of make it up as you go, and you're always packed and ready."
The passion van-lifers like Rose feel for their lifestyle is contagious, and it's hard to resist the idea of trying it out. In fact, for people who aren't quite ready to go all in, a surge in custom van rentals will let sedentary humans try the nomadic life for a few days. I can't help but recall the words of Carl Sagan: "Even after 400 generations in villages and cities, we haven't forgotten. The open road still softly calls, like a nearly forgotten song of childhood."