Facebook is gearing up to mine what it sees as a massive opportunity to engage its users by offering mentorship through its Groups channel.
"Last year, the team worked with a couple of nonprofits," says Gabe Cohen, Facebook's product manager for Mentorship. In November 2017, the social network announced the new tool as a pilot program, and now they are rolling it out in earnest.
This is not to be confused with the partnership between Facebook's Workplace and Ten Thousand Coffees that also debuted a mentorship matching feature recently. The startup is using Facebook's Workplace to integrate its services to its client companies looking to match mentees with mentors within the organizations.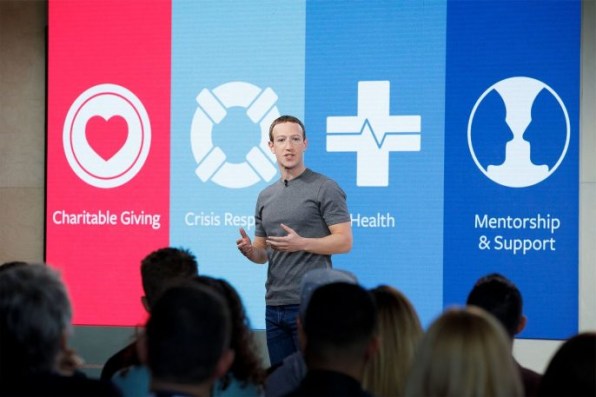 The good news for Facebook is that they don't have to reinvent the wheel. In fact, when they debuted Mentorship last year, each mentee and mentor was matched by a nonprofit partner organization to work through a step-by-step program. The programs were developed by the organizations, tailored to fit the mentees, and geared to work directly on the platform through private interactions between the pair.
The pilot began with iMentor (for education) and The International Rescue Committee (for crisis recovery). From the outset, Facebook was eyeing expansion into other areas like addiction recovery and career advancement, according to Cohen. And he's quick to point out that as "privacy is very important to us" (Facebook's recent and constant refrain in all public forums), each pair's conversations are private.
Other Groups have participated since the initial launch, like Mama Dragons, which Cohen describes as a support network for Mormon families with LGBTQ kids. "They're having a profound faith and family crisis," he explains, "and finding people going through that experience is really hard."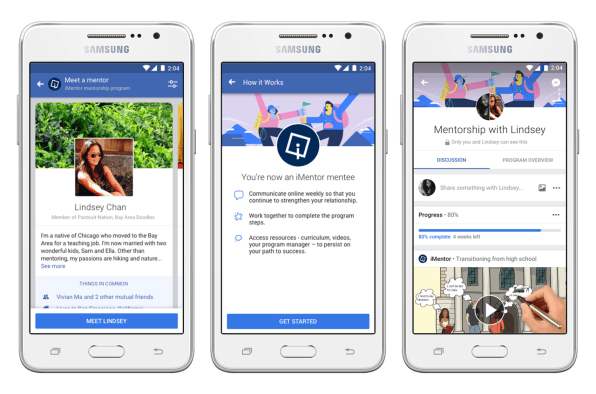 Matching without an algorithm
Part of what is making it such fertile ground for connecting is the lack of algorithmic intervention. Cohen says that it's a very manual process that relies on admininstrators' expertise within their communities and the qualifications of its members. Facebook provides an additional layer of tools for admins to manage an influx of information and customizes the data to help them ask more specific questions to make prospective pairings. Allison Esposito, an administrator of Tech Ladies, says she's been needing this kind of tool for a while–especially since most of her members are on Facebook.
"One of the challenges is that if you have an extremely large group, it can take a lot of admins to match people," she explains. Tech Ladies make it work by using the data tools to segment 650 people out of the full 25,000-plus member group and match those by hand. As networking is a key part of career advancement, Tech Ladies mentorship has focused on that. "The further we go in our careers, the more women and nonbinary people we need to bring up with us," says Esposito. "The mentorship tool helps us do that by making targeted and meaningful introductions in our community."
Cohen says that Facebook has further developed templates in-house for mentor/mentee interaction based on expert thought leadership as well. "We don't want people to do a lot of work to create their own content," he says. Cohen does admit these templates are fairly generic and designed just to help the pairs get started. "Everything about this is subject to change over time," he says, from the content to the spaces Facebook would like to get into.
Facebook is just scratching the surface right now, but Cohen says there's potential to reach tens of thousands of Groups that run the gamut from professional to the more personally-oriented. The difference, he says, from traditional mentoring in the workplace–as well as digital mentorship like the one launched by LinkedIn–is that Facebook intends to help people form more meaningful connections with people they wouldn't otherwise get to know.
"It's not just about asking questions and finding solutions," Cohen says, with a nod to LinkedIn's matchmaking feature. "We want there to be something in common as the foundation for the relationship," he explains, "but we want there to be enough distance for building bridges rather than reinforce tribalism." Isn't that inherently problematic if admins are doing the matching by hand and mentors or mentees can reject a match? "We want people to have agency," Cohen asserts, and that will be reflected in the preferences of who they want to work with. "That is always going to be pulling against broadening their horizons," he admits. But as Facebook gathers survey data from participants and admins, Cohen says they'll continue to figure out how to present good options.
"Needs [for mentorship] change every day," he maintains, "But this kind of connection with someone who knows about the thing you are dealing with can be really powerful."