Thanks to growing fears about surveillance by governments and internet providers, and because of restrictions on online media by authoritarian regimes around the world, more internet users are turning to virtual private networks to keep their online activities private.
And whenever data breaches or privacy violations make the news, more users download VPN software, says David Gorodyansky, cofounder and CEO of VPN provider AnchorFree.
"We see massive spikes in the order of a few hours," he says.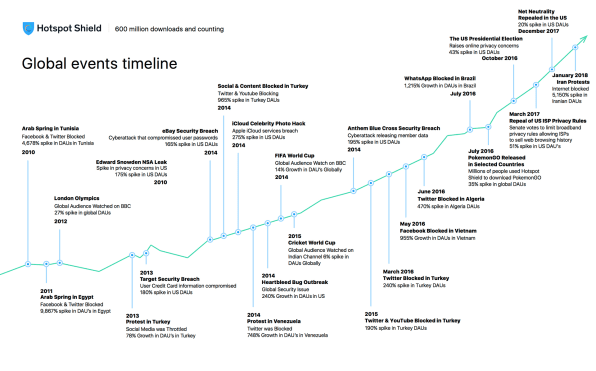 Most recently, the company has seen a burst of downloads of its Hotspot Shield VPN software amid restrictions on social media in Iraq, after protests in that country. In total, the company has seen more than 600 million downloads of the software, though Gorodyansky emphasizes that the number of users is likely smaller, since users have downloaded versions of the software to multiple devices.
Like other VPN tools, Hotspot Shield routes internet traffic from users' phones and computers over a securely encrypted channel to its own servers, making it difficult for ISPs or governments to snoop on traffic or block access to particular sites. The software also hides its users' IP addresses from the websites they access, making it harder to know where users are coming from or to monitor them from site to site. Earlier waves of interest in Hotspot Shield came in 2010, during the Arab Spring protests–and in 2016, when Pokemon Go players used it to access the game before it was officially rolled out in their own countries.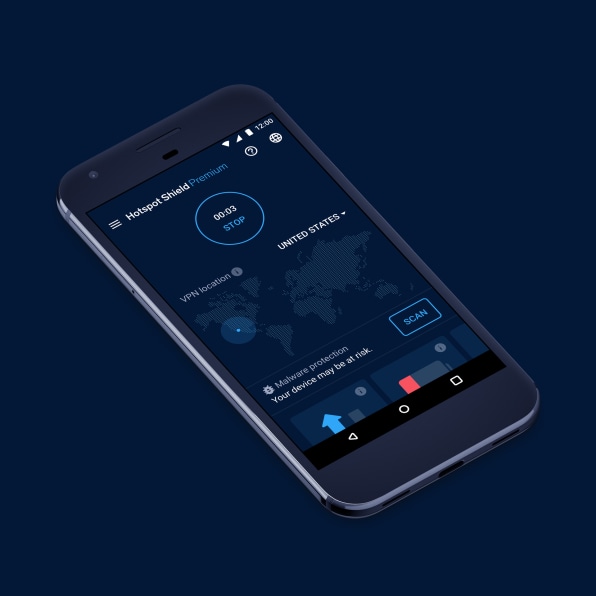 Though the market for VPN software is a crowded one, AnchorFree claims that its innovations have made Hotspot Shield speedier than many rivals, which can make a difference to users frustrated by added delays caused by the extra communication steps involved in using a VPN. A recent study sponsored by AnchorFree and conducted by security-auditing company AV-Test found Hotspot Shield to provide the fastest connection of VPN technologies tested.
"We built our own proprietary VPN technology that essentially its goal is to substantially increase performance," Gorodyansky says. Among other features, the software opens multiple digital connections between user machines and AnchorFree servers, he says. The atypical protocol also can make it harder for hostile countries to spot Hotspot Shield users and shut down access to the service.
"We are very hard to censor because it doesn't look like a normal VPN," says Gorodyansky.
White-label versions of the Hotspot Shield protocol, dubbed Catapult Hydra, are used by other security and telecom companies to provide VPN software to their own users.
Hotspot Shield also automatically blocks access to addresses associated with malware, updating in real time based on industry lists, and for premium users it can also filter out sites serving up fraudulent content or phishing attacks.
VPN is bae. #IraqProtests pic.twitter.com/gGlmm2jroG

— Raveen Aujmaya (@raveenaujmaya) July 25, 2018
The service hasn't been entirely without controversy: Last August, the nonprofit Center for Democracy and Technology filed a complaint with the Federal Trade Commission, alleging that AnchorFree misled users about what information the company logged and shared with advertisers (a free version of the VPN software is supported by advertising, while a paid version is ad-free). The complaint also cited research claiming that Hotspot Shield injected code into websites accessed by its users in order to display its ads, which Gorodyansky denies.
"That CDT complaint was not accurate," he says.
The FTC declined to comment on the status of the complaint, and AnchorFree has since updated its privacy policy to emphasize that it doesn't store user IP addresses beyond a particular VPN-use session, or share user information with advertisers.
"Looking at their privacy policy now, it is a little bit more clear and better in terms of describing what they're doing," says Joseph Jerome, policy council on CDT's Privacy and Data project. "I think they've been chastised, and I think they're trying to do better by their users."
Not logging IP or web-use information means that the company also can't be compelled to turn it over to governments, Gorodyansky says. According to a transparency report issued this past November, despite receiving legal requests, "AnchorFree has never provided the identity or other personal information regarding our users to the government."
Separately, a vulnerability reported late last year to AnchorFree could have caused the software to leak what countries users were in and the names of their Wi-Fi networks, which in some cases could have helped de-anonymize people. The vulnerability was fixed by a February update, according to AnchorFree.
Other VPN providers have faced worse criticism: One study last year by researchers in Australia and at the University of California at Berkeley estimated that 38% of Android VPN tools actually spied on users rather than maintaining their privacy. A Facebook-owned VPN product, called Onavo, has also been critiqued for helping the social media giant collect data from users and learn the popularity of potential rival apps and sites.
In general, the FTC advises would-be VPN users to carefully research potential tools and their makers, including their advertising and privacy policies, to learn more about what they do with user data. Gorodyansky, too, recommends that VPN shoppers look for VPN providers that share information about how their products work, where they're based, and who their investors are.
"If you're trusting a company with your security and privacy, you want to make sure the company's fairly transparent," he says.