"Location, location, location." It's an old mantra in real estate, yet digital real estate platforms have never really talked about neighborhoods before–just homes. That's something Trulia wants to change.
The listings app, which is owned by Zillow and currently claims roughly 10% of the real estate app market share, is hoping to distinguish itself with a new feature called Trulia Neighborhoods. The idea? To give people a real feel for what it's like to live in a neighborhood before they move there, using a combination of photography, drone footage, infographics, quotes from locals, and tons of factoids about each neighborhood that range from commute time to crime to how well-kept the yards are.
"The neighborhood is so important to the home process, buying or renting," says Tim Correia, SVP and general manager at Trulia. "And it's something no one else is addressing in the market. Consumers have to hack together a bunch of solutions to get a view of what's going on." For the home buyer today, that means starting in an app like Trulia to find a house, then hopping over to Google Streetview for a look at its block, and then to any number of other internet searches for statistics on schools and crime.
Finding the right neighborhood isn't just important, today. It's actually the most important thing to buyers, according to the company. When Trulia surveyed people planning to move over the next 18 months, 84% said the neighborhood is as important or more important than the home itself–and that was true at the beginning of their search process up until the moment they actually chose their new home.
At the same time, another Trulia study learned that three years after moving, 40% of people regretted their move. "It had nothing to do with the physical building," says Correia. "It had everything else around the neighborhood–vibe, walkability, friendless, parking . . . so we think we're starting to answer that question for people so they understand."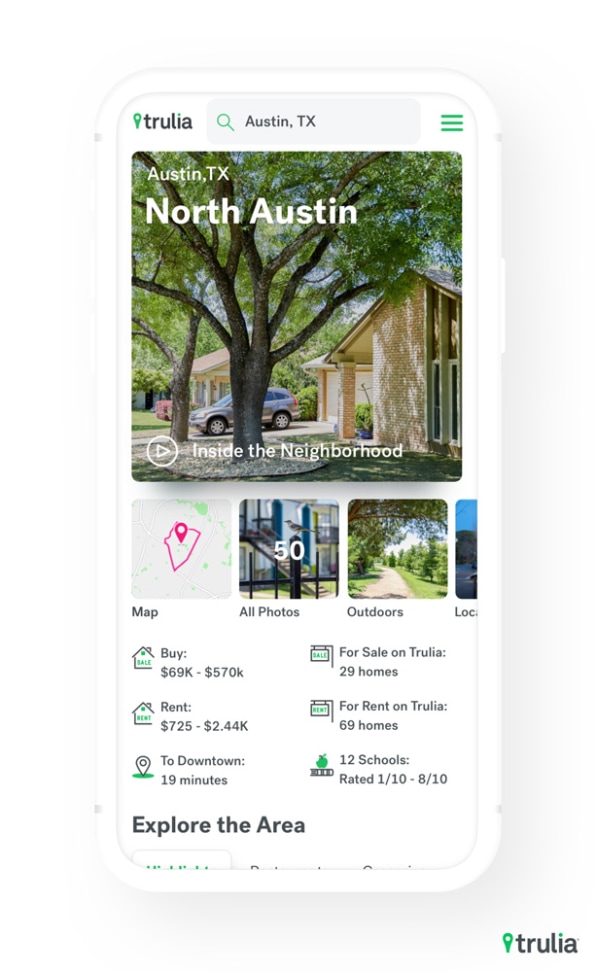 With those stats in hand, Trulia began developing its new Neighborhoods view to paint users a picture not just of a home, but the place where it's located. To build each page, Trulia hires photographers and videographers in each city, then combines this imagery with facts in a Snapchat-style series of images that let you scroll through a neighborhood in an annotated slideshow. You can also hop through photos by classification to see images of the main street, or a neighborhood's particular architecture styles.
"You see things like power lines," says Correia, of the unexpected consequences of putting images front and center, which connote all sorts of quiet information about the infrastructure and age of a neighborhood.
Scroll down a bit further and you get to amenities, like restaurants, shopping, and fitness, which are all mapped. Go further, and you'll see a section called "what locals say"–99% of people might say a place is walkable to grocery stores, while 55% might say it's lit well at night. This is information Trulia has offered for a while, but it's doubling down on packaging it for users now. The company currently receives 100,000 responses a day from its users on various topics, including mini-reviews of neighborhoods by topic, like dog owning.
The app also offers a combination of things like crime maps and quotes from local people. "It's not about the image or the data point," says Correia. "You bring the two together, and it's powerful and engaging." The quotes themselves are parsed by a human moderation team, to make sure they follow Trulia's community guidelines with no tolerance for discrimination.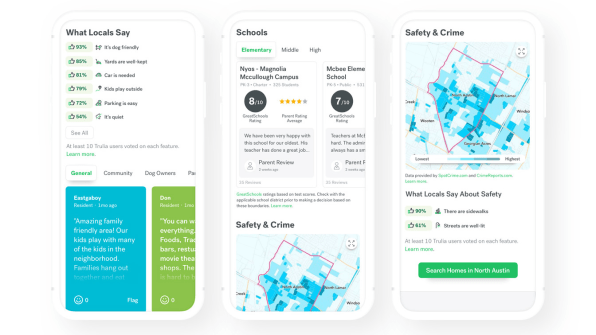 Having just hunted for a home myself using Trulia, I wish that I'd had this view. Above all else, it consolidates so much information into one spot–and as Correia points out, that makes it easier to hone in on what's most important to you in a neighborhood. "The reality is that everyone has different trade-offs they need to make. And what's acceptable to them–schools, level of crime, and time of commute–it's all so personal," says Correia. Most of us are balancing a complex stack of priorities, along with a budget, too.
Correia believes that Trulia's true potential lies in a new feature currently coming down the pipeline, which will leverage AI to learn what you prioritize in a neighborhood and actually make recommendations–much like Netflix suggest a show or movie you've never heard of. "If we can help you understand there's another neighborhood that's only 10 minutes further on the train line that fits a majority of your needs and is still the price point you want, then we're doing our job," says Correia.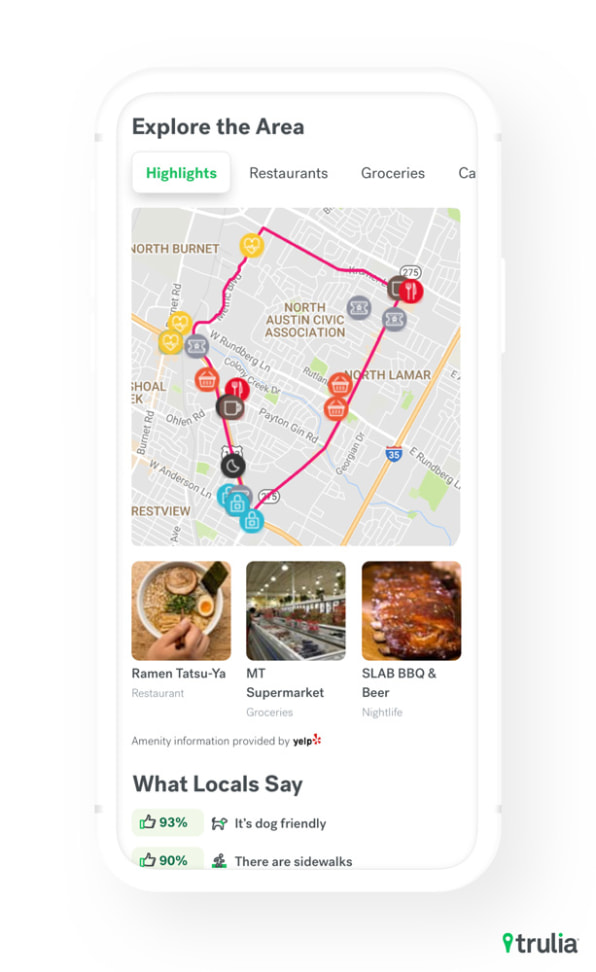 Yet, by creating these neighborhood snapshots, Trulia is making a definite step into the realm of editorial content. This isn't unprecedented. Airbnb, which has its own editorial team, romanticizes the idea of travel much like a typical travel magazine. But Trulia isn't selling your next vacation; it's articulating the feel of a neighborhood to people who may move and live there. It's not just telling stories about beds and bathrooms, it's defining a place to future inhabitants.
With this new aspect of its app, Trulia is taking on a whole new level of challenges, along with the responsibilities that journalists face to be unbiased and factually correct. For instance, neighborhood-focused platforms like NextDoor have found that giving citizens a space to voice their opinions isn't enough–because it can lead to racial profiling. It takes careful design and curation to avoid such issues.
I ask Correia how Trulia handles a basic editorial duty: Does the company feel a responsibility to make every neighborhood look pretty in its commissioned photos? "I wouldn't say 'pretty' is the word I'd use," says Correia. "We always lead with being genuine, and sharing the good, the bad, and the ugly, whatever it is." Which is great–until it's your neighborhood that looks ugly to the next person who might buy your home. Even Correia admits it will be a learning process for the company, without a one-size-fits-all approaches to every area. But for Trulia, which makes most of its revenue by building tools for realtors, there's no benefit to suggesting one neighborhood over another.
The Neighborhoods feature launches today, but it'll only be fully baked in 300 neighborhoods across San Francisco, Oakland, San Jose, Austin, and Chicago. The rest of its rollout across the U.S. will take place slowly, as the company assembles distinct pages for hundreds of neighborhoods. Look for those judgy drones flying overhead shortly.