As of June, Apple accounted for 6% of the 50 million smart speakers sold in the United States, bringing its estimated sales to 3 million according to Consumer Intelligence Research Partners. That's more than double the estimated market share that HomePod had in March, one month after launch. Amazon's Echo speakers still lead with 70% market share, followed by Google Home with 24%.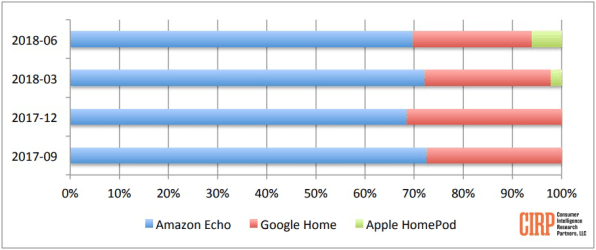 CIRP's numbers are more promising than what some analysts had been predicting. In April, Ming-Chi Kuo estimated that Apple would sell 2.5 million units at most by the end of 2018, and a report from Bloomberg around that time claimed that Apple was lowering sales forecasts. CIRP's survey is more in line with optimists like Loup Ventures analyst Gene Munster, who predicted 7 million HomePod sales (worldwide) by year-end.
Apple doesn't need to win on market share to consider the HomePod a success, provided the company is taking a healthy profit margin from the hardware, though it may be envious of how Amazon and Google are getting their smart speakers into every room of the house. CIRP reports that 34% of Amazon Echo users and 31% of Google Home users own at least two of the speakers, and nearly 10% of Echo users own three or more.