Just when everybody was feeling good about Apple's stellar earnings announcement this afternoon, IDC has thrown cold water on the party.
The research firm actually brought a one-two punch of bad news (if you're rooting for Apple), saying that Apple has fallen behind China's Huawei in smartphone unit sales and that the overall global smartphone market declined 1.8% in the second calendar quarter of 2018. Apple falls into the No. 3 spot, with Huawei at No. 2 and Samsung holding fast to No. 1.
IDC says smartphone vendors shipped a total of 342 million devices during Q2 2018, compared with the 348.2 million units shipped in the second quarter of 2017. Apple reported slightly lower than expected iPhone sales of 41.3 million units–though that's up year over year–in its quarterly earnings report earlier today.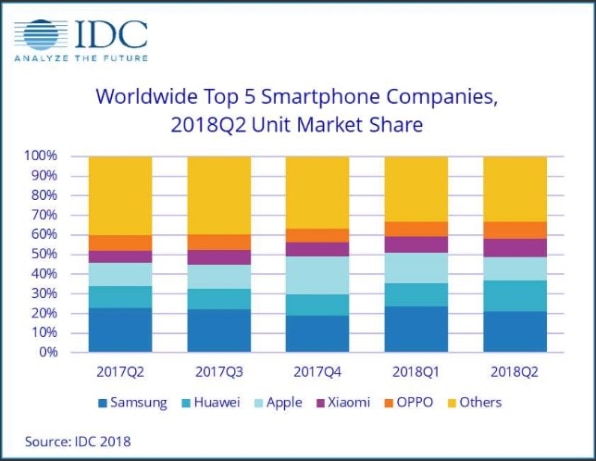 "The drop marks the third consecutive quarter of year-over-year declines for the global smartphone market and only the fourth quarter of decline in history," IDC says in a statement. IDC attributes the decline to "churn in some highly penetrated markets."
The statement ends with an optimistic note, however. "Many high growth markets still exist and should return smartphone shipments to overall growth."
The number of units shipped is important, the the profit that devices bring in is more so. And in the smartphone business, Apple always wins that race by a mile. The financial services firm Canaccord Genuity reported that while Apple accounted for only 18% of smartphone unit sales in the final quarter of 2017, it took home 87% of the profits made in the sector.