Much respect is due to Apple marketing guru Ken Segall for his work with Steve Jobs making the Apple brand what it is today. The famous "Think Different" campaign came from Segall and TBWA\Chiat\Day, as his agency was called back in the day.
But Segall is no fan of Apple's current marketing messages and ad content. He says they're boring, the result of a huge company playing it safe.
"The passing of Steve Jobs created a completely different approach to marketing which we can see the results of," Segall told The Daily Telegraph. "As a marketer, I look at that and can see the difference between Steve being there–and not being there–very clearly."
In a nutshell, Segall says Apple's ads aren't memorable and don't create an emotional connection with consumers. "They should be building a personality for the phone," he said, arguing that the iPhone should be "a thing that people might want to be part of because it rises above the features of the moment." People should lust after the iPhone not because of specific features and specs, but because it's an iPhone.
Segall is a voice worth listening to, to be sure. As much as anyone, he helped elevate the Apple brand to today's stratospheric heights. But raising a brand to iconic status is a different job than keeping it there and humming like a cash machine. Apple is a very different company–a far larger and more mature one–than the one Segall worked for. The products are different: Apple now makes its money mainly from selling iPhones and services like the App Store and iTunes these days.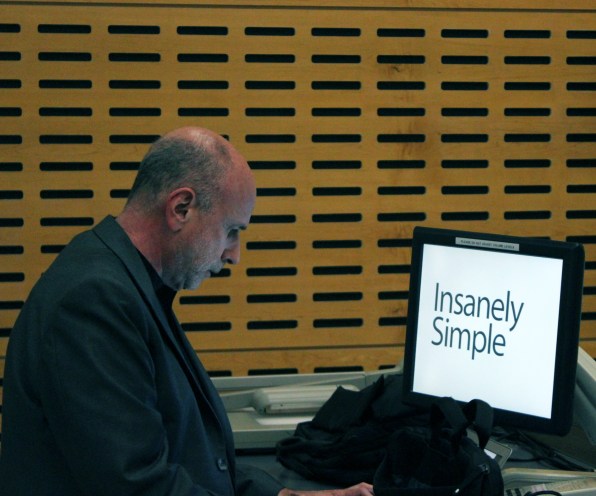 Apple was building up its core brand when Segall worked with Jobs on the "Think Different" campaign. I'd argue that the company's ads still convey that iconic brand power, and manage to wrap a lot of more specific product messaging around it.
Talking about specific product features (and even specs) in ads is necessary in the mature consumer tech markets in which Apple plays. Thanks to YouTube, and a vastly larger and more mainstream tech press, consumers are much more aware of new products and features than they used to be, I'd argue. So instead of focusing mostly on celebrities or lifestyle, iPhone ads, for example, focus on specific features like FaceID and Animoji. Other iPhone ads zero in on services delivered through the device: There's an ad for Apple Pay, and a number of them for Apple Music.
It's likely that Apple's ad messaging is more market research data-driven these days, and less guided by the artistic or market instincts of individuals. Many of Apple's ads seem to carefully position Apple's products against competing products, or against consumer attitudes that might prevent someone from buying (the iPad ads that say "It's a computer. It's unlike any computer" might reassure a buyer of the device's power and versatility).
The approach seems to work. The Apple Watch started selling well after Apple figured out in 2016 that people were more likely to understand and buy a health and fitness product than an all-purpose computer-on-the-wrist. An advertising campaign featuring the Watch's fitness attributes got that message across. Sales soon started climbing.
And, of course, Apple has sold the sh*t out of iPhones since the introduction of the iPhone 6 in 2014.
Apple has far more products and far more ads than it used to. Some of its ads aren't very exciting, I'll admit, but they make clear points that differentiate their products. Others, well, they just can't be called boring, like the Spike Jonze-produced "Welcome Home" ad for example (you know, the one where the lady dances around the house and the house keeps changing shape).
Segall is shooting from the cheap seats without the benefit of the market data Apple has. His comments may have rung true in 1995, but today not so much.