Today was supposed to be a good day. As I look out the window in my office, the sun appears to be shining. Not only that but Chipotle was supposed to be giving customers free guacamole if they ordered online.
But when I tried to do just that, something went wrong. First, it took a very long time for Chipotle's website to load. Then, once it did open, the website asked me to enter my location, and when I did so, refused to acknowledge that there's a Chipotle a mere three blocks away. In fact, the online platform told me that it could find no New York, NY, locations. This is quite odd because Manhattan Chipotle locations are nearly as plentiful as Starbucks stores.
Later, I tried again, and both the site and app appeared to be down completely.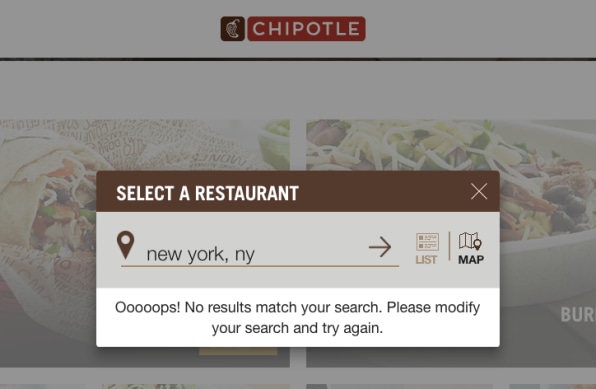 I did a quick search online and found that many other people were experiencing the same problem. These potential customers tried both the website and the app but found it impossible to purchase their entree with free guacamole.
This likely means that Chipotle is experiencing a lot of online traffic right now, which is probably good. But it is also angering the many customers who want to cash in on the deal. So, all you folks trying to get some free avocado: beware! The site seems to be down–and it's not even 1 p.m. ET yet!
I reached out to Chipotle for comment and will update this post if I hear back.