It's going to a rough day for the people who run Pizza Hut's social media accounts. They likely got up this morning and checked various lists and analytics to see what was trending online, as a way to figure out what social posts they should deliver to their pizza-loving audience. They probably saw that the #bigfoot hashtag was trending, and assumed there was another Yeti sighting, or something. I'm guessing they didn't click the hashtag to investigate further.
And so, poor Pizza Hut, sent a tweet that began "Did someone say #BigFoot?" which then promoted the company's pizza product known by the same name.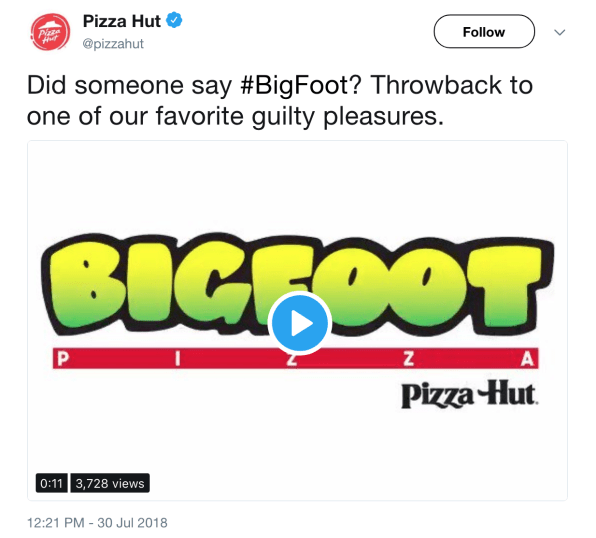 Alas, if this social media professional had looked up why the hashtag was trending, they would have learned that last night a Democratic candidate in Virginia tweeted that her Republican opponent was a "devotee of Bigfoot erotica":
My opponent Denver Riggleman, running mate of Corey Stewart, was caught on camera campaigning with a white supremacist. Now he has been exposed as a devotee of Bigfoot erotica. This is not what we need on Capitol Hill. pic.twitter.com/0eBvxFd6sG

— Leslie Cockburn (@LeslieCockburn) July 29, 2018
Because of this allegation, which she discovered on his Instagram, #Bigfoot has been trending. So it seems that Pizza Hut, in its attempt to ride a viral social wave, has unwittingly aligned itself with Yeti porn.
Of course, there's always the off chance that the Pizza Hut folks knew exactly why the hashtag was trending, and just thought it would be funny to be part of that conversation, but let's hope not. While many brands do try to be "edgy" online, I'm guessing Pizza Hut wasn't trying to be this edgy. The company's tweet described a "guilty pleasure," but how guilty are we talking?
We'll have to wait and see how long the tweet remains online, and whether Pizza Hut will apologize for it. What would such a statement say? "I'm sorry we alluded to bigfoot erotica"? Or how about, "Our pizzas in no way condone fictionalized bestiality literature."
Good luck out there to all of you in the content mines.