After a disastrous earnings report from Facebook yesterday, which resulted in the company losing a historic $118 billion in market cap, all eyes are now on Amazon and its performance this last quarter.
Analysts were expecting the company's quarterly revenue to hit $53.41 billion. Amazon, however, slightly missed that target, hitting $52.89 billion. It's still a healthy jump from its revenue the previous year, which was $37.96 billion. Amazon also made up for this slight miss with an insane beat on its earnings per share. Analysts expected it to be $2.50, but Amazon reported an EPS of $5.07.
The company also significantly grew its AWS revenue, hitting $6 billion, compared to last year's $4.1 billion.
Amazon stock is currently rallying in after-hours trading, up over 2%.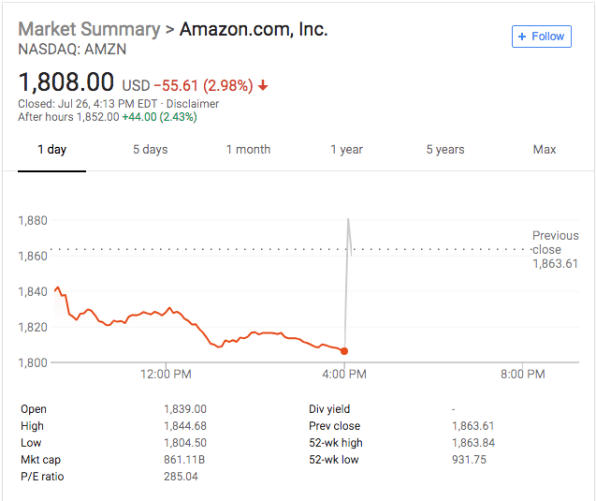 Overall, investors should be happy with these numbers. Though the company missed on revenue, it more than made up for it with its EPS beat. And the AWS growth indicates that its non-e-commerce business is thriving.
We'll have to wait and see what the company says at the earnings call later today. Stay tuned.