ClassPass gathered hordes of fitness fans when it introduced its all-you-can-use subscription services, and now the membership group promises to grow significantly larger.
The company announced today that it has raised $85 million in series D financing led by Temasek, an investment firm in Singapore, along with L Catterton, the largest consumer-focused private equity firm in the world. This puts ClassPass at a significant marker, with a total of $255 million raised.
On the heels of the announcement, the New York-based startup today revealed ClassPass Go, a new audio fitness class service. The free standalone app, available on iOS and Android, offers guided classes in a wide range of genres, including running, cycling, HIIT and yoga. Users can filter classes by duration, intensity, and calorie burning goals.
"Audio workouts are one of the fastest growing categories in digital fitness given the convenience and flexibility," said Fritz Lanman, ClassPass's CEO, in a press release. "As we continue to expand our product portfolio to become the destination for all things fitness, audio was a natural progression in giving our members more ways to work out and non-members a reason to try us as we continue to flex our muscle in the digital category."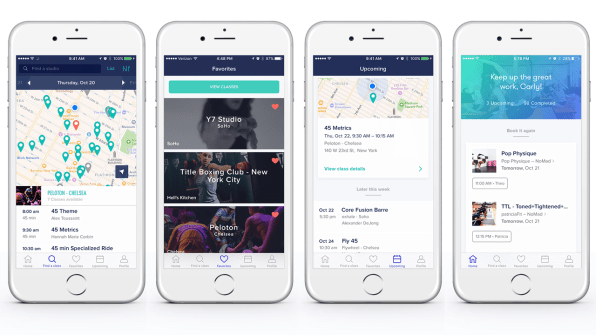 It's been a year of growth for ClassPass, which expanded to 10 more markets last fall. It hopes to launch in 10 more U.S. cities and 20 international countries by the end of 2019. With that comes more studio offerings and a bigger class selection.
ClassPass also improved on its current product, responding to common complaints by users. Earlier this year, it announced the elimination of studio limits and the ability to roll over up to 10 unused credits, meaning more workouts for the same price. Previously, customers were restricted to three classes each month at a specific location. In addition, ClassPass added premium class spots to cater to high demand and peak class times, thereby offering more booking options.
"When I think about the ways our product and brand have evolved, it's incredible to think about how many touch points we provide to help people find time for themselves each day," said ClassPass founder Payal Kadakia. "We have always strived to remove the friction to trying new things. ClassPass Go is another way we can inspire people to be active."