There are a lot of challenges facing CEOs and leadership teams today. There's the fact that a minority of millennials believe in capitalism; there's the pressure to innovate to compete with low-cost disrupters; pressure to improve environmental and social practices; pressure to improve stagnant productivity; pressure from regulatory upheaval. And on and on. A multiplicity of threats and challenges.
But I would argue the most urgent, most critical challenge does not come from customers, activists, or shareholders. The most urgent challenge lies within. According to the 2018 World Value Index (created by enso, where I work) , nationally representative research we conduct each year, only 14% of Americans strongly agree that the values of their employer match their own. Another 28% say they somewhat agree, meaning a majority of Americans are spending the majority of their productive lives in environments they don't fully believe in. There's not a huge variation between different types of people: higher income people, men, and younger people recorded a little higher than others, but none of the 20 population segments we looked at exceeded 25% strong agreement with their employer's values. This finding lines up with other research that suggests a chronic disconnect between people and their employers: Gallup found 85% of workers globally are not engaged in their work.
Some people find this unsurprising. "Working for a paycheck" is deeply ingrained in culture and the reality of many jobs–but it should shock us. It's not a stretch to imagine that people operating in an environment that does not reflect their values are not bringing the best of themselves–or anything like it–to work.
With an industrial revolution mindset, perhaps this doesn't matter: In the pin factory, labor was a commodity, and fostering employees' enthusiastic belief in the company was less important than establishing good production processes that made people effective at functional tasks. Leadership attention could mostly be trained outside rather than inside. In Harvard professor Michael Porter's seminal Five Forces approach, the foundation for a generation of business strategy, the strategic agenda was to be determined by external challenges–from customers, suppliers, existing and potential competitors.
But with a 21st-century business mindset, where companies survive or perish based on employees' core human skills– like empathy, creativity, innovation, passion– fostering an emotional commitment at work is essential. An employee turning up for a paycheck in exchange for functional work will not create products that stand apart from functional low-cost versions, or create that magical customer experience, or that team ethic that urges each other on to their very best.
This has a real business cost. Studies have found that decreased employee engagement leads to higher absenteeism, more errors, accidents and defects, lower productivity, lower profitability, lower job growth, and 65% lower share price over time. Is it any wonder that global productivity is dragging if we don't even care about the same things as our employers? Over 3 million Americans voluntarily quit their jobs each month. It's hard to quantify the tie between alignment of values and financial performance, but Starbucks has done it:
"We have successfully linked the percent of store partners in a given store who think we're living up to our values to the performance of that store. We're able to see a very distinct market improvement in the store's comp ­performance"–that is, same-store sales–"controlling for all other variables, when partners believe we're doing the right thing, values-wise. That's pretty amazing," says Matt Ryan, chief marketing officer, Starbucks.
And this also has a huge human and societal cost. The lost human potential of spending the majority of our productive time in environments we don't fully believe in is unfathomable. There's real tragedy in losing a passionately pursued life in favor or a life of persistent disengagement. Silicon Valley may lionize "grinding," but as anyone who's ever experienced anything close to "flow'" can attest, it doesn't feel anything like grinding or toiling in mechanical shifts for a paycheck. Flow requires intrinsic motivation; personal values, happiness, and productivity are integral.
And in this individual tragedy playing out all around us, every day, there's a ripple effect of frustration and disenchantment in society. When you think of Clay Shirkey's concept of "cognitive surplus," where humanity collectively can do amazing things by pooling small amounts of each of our time (e.g. Wikipedia was created in roughly the total amount of time that Americans spend watching TV every four hours), there's surely a dramatic emotional deficit holding back humanity given all the hours we're spending in places we don't believe in. If we redress that deficit even minutely, how much better would we all be?
Doing more work that matters to people
So how to address the business challenge of our time? Given the urgency of inspiring people, this topic has become important to entire leadership teams, not only human resource departments. Shifting workplace culture and employee engagement is a vast and blossoming research field unto itself, with many potential strategies. But maybe the most important is the most simple: Do more work that matters to people. "Do," meaning don't just create that SuperBowl ad about your values that feels great–actually create a meaningful difference in the world that demonstrates your values in action, and in which employees can be proud.
It's hard to have missed the wave of companies doing purpose-oriented marketing; many ad agencies now have a special division for such work. But talking about things that matter is at best a first step (at worst, a cynical distraction). What really matters is transitioning organizations to a state where the impact they create has the people that know them best – their own people – waking up in the morning inspired to be part of the work.
What often holds companies back is a disconnect between lofty marketing, purpose or mission statements, and the daily principles and practices of operating the company. We see all too often organizations claiming to better the world, but actually the principles that govern decisions and practices are driven by other factors, like short-term financial optimization.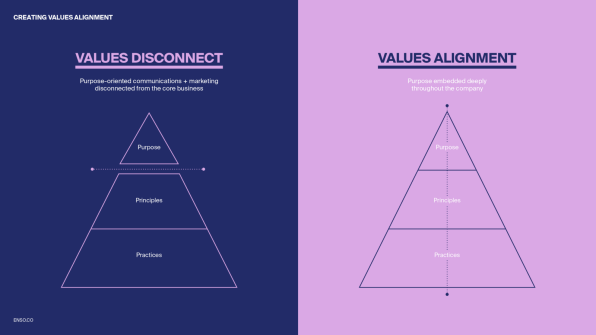 As a first step to creating alignment, what we have seen work well is beginning with internal conversations about what people and teams stand for, and what really living up to that would look like. One example is REI's much-acclaimed and commercially successful #OptOutside program which began from an internal conversation about how to live up to its team's brand positioning of  "a life outdoors is a life well lived." From that sprang not just marketing, but programs of meaningful action that got millions of people outside. For a generation of business school graduates that grew up trained and comfortable in Porter's Five Forces and analytical processes, facilitating human conversations internally can be uncomfortable–but it's only from this level of engagement internally that real, values-aligned passion can be unlocked.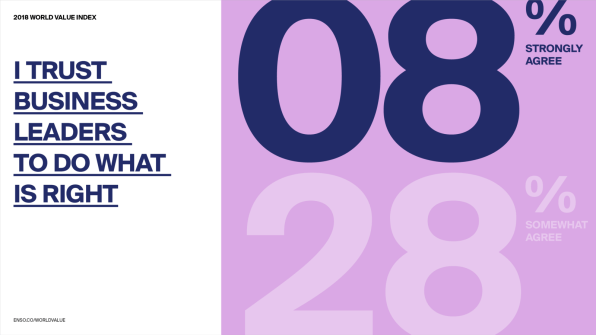 In our World Value Index research, we also asked everyday Americans the extent to which they trust business leaders. The results are bleak: while 81% of people believe business can be a force for positive environmental and societal change only 36% agree they can trust business leaders to do what's right, and only 8% strongly agree. Turning this situation around doesn't require importing masterful new technologies or competitive strategies; it requires turning inwards and beginning the conversation about what matters to us as people, and then how we can live up to that through the principles and practices we operate every day.