Facebook shares are sliding after the company published its most recent quarterly earnings report. A lot has been riding on the company's financials as it continues to take a beating in the press over myriad issues, including Cambridge Analytica's improper use of Facebook data and Facebook's refusal to ban offensive and dangerous content from sites like InfoWars.
Still, the company's stock had been on a roll despite these public relations headaches. But today's earnings show that the company did not hit key metrics this past quarter, which could be a wakeup call for some investors. Now the stock is taking a huge hit.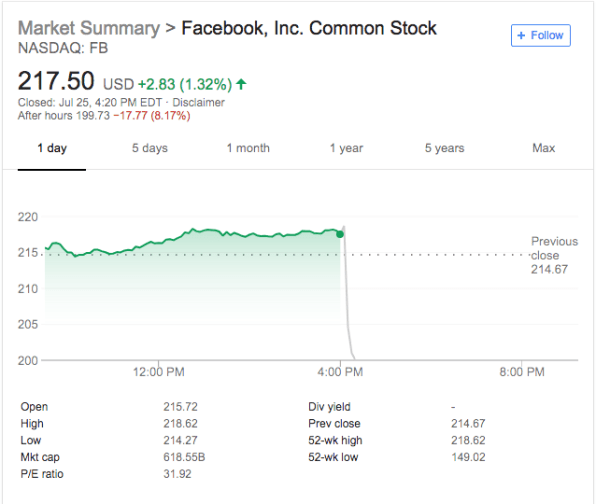 This company did exceed earnings per share, hitting $1.74, compared to estimates of $1.71. Revenue this past quarter, however, missed analyst expectations, hitting $13.23 billion compared to the $13.34 billion expected. It's still a healthy improvement from revenue during this quarter last year, which was $9.32 billion.
Active user growth was also a huge miss. Facebook reported 2.23 billion monthly active users, when Wall Street expected 2.25 billion. Daily active users hit 1.47 billion compared to the 1.49 billion expectation.
A lot of this stagnation stems from home. According to the company's report, user growth in the U.S., Canada, and Europe has been pretty much flat for the last year. In fact, DAUs in Europe saw a dip this past quarter, from 282 million to 279 million. The region's new GDPR privacy regulations likely have something to do with it. Similarly, U.S. and Canadian DAUs are at 185 million, which is what the company hit three quarters ago.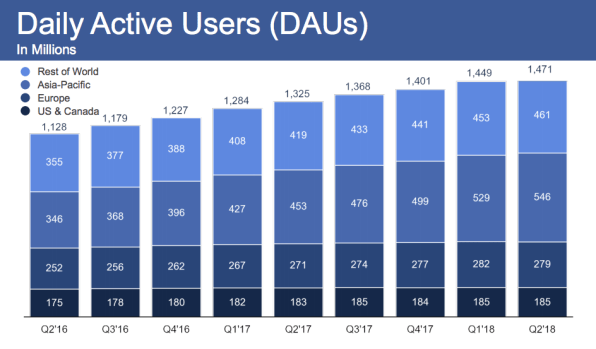 This user miss is probably the biggest red flag for investors. Despite multiple scandals, Wall Street has remained bullish on the company. This latest report shows that user growth may be stagnating, which should give investors pause. With the Cambridge Analytica fiasco now in full view–along with the company attempting to show it's prepared for the upcoming midterm elections–bad user growth could indicate that Facebook is becoming less popular around the world.
Facebook stock is sliding. It's currently down over 8% in after-hours trading, after closing a little over 1% up. All eyes will be on Mark Zuckerberg and his executive team to see how they explain away this latest quarter.