When Starbucks starts serving cold drinks with a sippy-cup-like lid instead of plastic straws–a lid that it currently only uses with its "Nitro" cold brew drinks–it may be even less likely that the lids can be recycled than it is today.
For Starbucks, the change came in response to growing pressure to ditch plastic straws, which can end up as waste in the ocean and eventually turn into microplastic in the food chain. Lightweight straws can't make it through recycling equipment. But the new lids, which the company plans to phase in by 2020, may not be much of an improvement.
"We can't solve the plastic pollution crisis by substituting one kind of unnecessary single-use plastic with another," says John Hocevar, the ocean campaigns director for Greenpeace.
First, there's the problem that few lids may make it into recycling bins, since someone drinking iced tea or coffee on the street may only have a trash can nearby. But even if someone tries to recycle the lid, it may not actually happen. The material is polypropylene, or #5 plastic. The U.S. used to send old #5 plastic to China, but China no longer wants our plastic; as recyclers struggle to figure out what to do with the waste, some no longer take it. In Sacramento, California, Waste Management recently announced that it would no longer take #5 plastic. Other cities have already banned the material, and more cities may follow.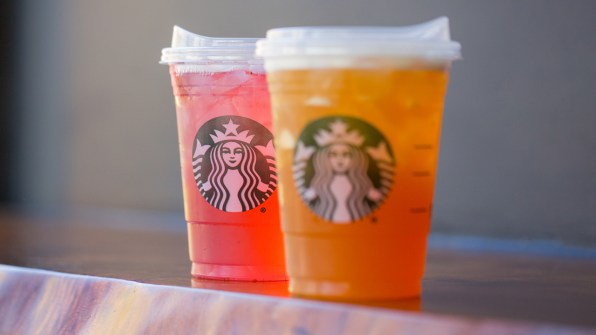 "It comes down to economics," says Hocevar. "It's not cost-effective. There isn't enough demand relative to the cost of actually trying to turn it into another product."
Some plastic waste is now sent to landfills or incinerated, and other plastic waste has been sent to countries in Southeast Asia. In the first quarter of 2018, after China's ban took effect, the U.S. sent 6,895% more plastic waste to Thailand than it had the year before. It also sent 611% more plastic to Malaysia, and 82% more to Vietnam–all countries that have inadequate infrastructure to actually recycle the waste, and places where plastic is particularly likely to end up in the ocean. (A 2017 report found that China, Indonesia, Philippines, Thailand, and Vietnam were responsible for more plastic in the ocean than the rest of the world combined.)
In May, as it dealt with an onslaught of plastic trash from the U.S. and other countries, Vietnam announced a temporary ban on accepting the waste. In July, Thailand also announced a ban on scrap plastics. Malaysia is also considering a ban.
As the number of Starbucks locations in Southeast Asia grows, the new lids will also add to waste there directly. More than half of Starbucks stores are outside the U.S. and Europe, says a movement of 1,300 groups advocating for less plastic, and many of those locations don't have recycling infrastructure that can easily handle the lids–even though Starbucks has touted the lids as more recyclable than straws. "We're debunking the claims that Starbucks is making, because they're not looking at this holistically, systematically, or globally," says Shilpi Chhotray, senior communications officer for the movement, called Break Free From Plastic. The group sent Starbucks CEO Kevin Johnson an open letter inviting him to visit some of its members in Southeast Asia to see, firsthand, what is happening to Starbucks waste.
The solution to the company's trash problem isn't clear. In the case of straws, though some people with disabilities need them, it's arguable that they're unnecessary to offer to anyone else–and by extension, the lids aren't necessary either. Starbucks plans to offer straws made from an alternative material, either paper or a compostable plastic, to those who want them (though disability advocates say these straws aren't functional enough for them to use). In the case of the company's even bigger problem of disposable cups–which Starbucks is still trying to redesign a decade after it started working on the problem–it could do more to end the use of disposable cups for people staying inside the store, and to encourage others to use reusable mugs. (The U.K. coffee chain Boston Tea Party recently banned disposable cups completely, though their take-out coffee sales have also dropped substantially since making the switch in June.)
It's good that Starbucks is getting rid of plastic straws, says Hocevar. "It's just that the conversation can't end there. We need corporations and governments to be thinking about comprehensive plans to phase out single-use plastic, not just tackling the easiest stuff and thinking that that's going to be sufficient." Though there may be hundreds of millions or even billions of straws on coastlines, it's only a tiny fraction of overall plastic pollution. (The American Chemistry Council, a trade group that has lobbied to defend plastic bags against bans, reportedly isn't fighting for straws because they are a relatively minor part of the market.) Around 9 million tons of plastic may enter the ocean every year.
Companies are beginning to realize that they need to address plastic comprehensively; the food service company Aramark, for example, recently announced that it planned to reduce its use of plastic broadly–not just straws and stirrers, but bags, cutlery, plastic water bottles, takeout containers, bags, and packaging from suppliers. "Two years ago I wasn't having these conversations," Hocevar says, adding that he now talks to corporations about plastic use every other day or so. "It's not like no one was aware that this was a problem then, but the scale of the problem and the level of awareness is growing so fast that people finally understand there's real urgency and there's no way to ignore it."