I'm trying to be a responsible mom, so I sometimes attempt to teach my toddler about recycling. But when I explain that we put used yogurt containers and milk bottles in the green bin so that they can be turned into new things, she looks perplexed, her wide eyes glaze over, and she asks if she can have a cookie.
Rothy's, an eco-friendly San Francisco-based shoe brand, has just made my life a bit easier. Today, it launches a version of its wildly popular women's flats for little girls. The $65 shoes come in 10 fun designs, from bright pink to camo to leopard print, and they're sure to be a hit in the schoolyard. But more than cute, practical footwear, the shoes tell a story. When I help my daughter into an early version of the shoes one morning, I say, "Isn't it cool? A big machine turned this old plastic bottle into this pair of shoes!" She seems to get it and proceeds to tell all her friends at daycare about her pink shoes' former life as a sippy cup. (It's the only way she knows how to drink water.)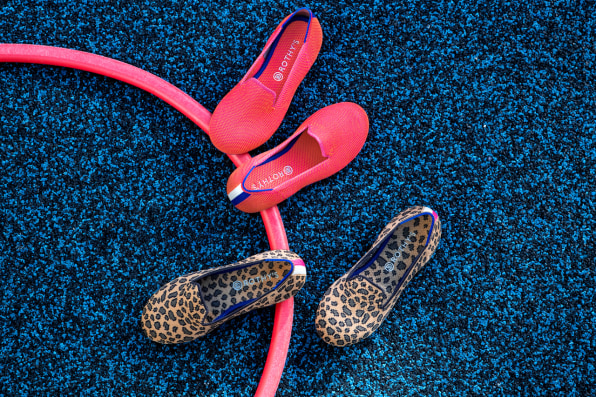 Shoes for the circular economy
The founders of Rothy's, Roth Martin and Stephen Hawthornthwaite, a former gallery owner and investment banker, respectively, never set out to start a fashion trend. They were primarily drawn to the challenge of designing comfortable footwear that also happened to be entirely sustainable. It took them three years to build a supply chain in which they source fibers made from recycled water bottles from a company called Repreve. The fibers are then woven into shoes using 3D knitting machines, which results in virtually no fabric left on the cutting-room floor. Rothy's owns a 65,000-square-foot factory in Guangzhou, China, staffed by more than 300 workers, and full of these machines, which are about the size of a car.
"We've created this system where we're only making what we need, so there is as little waste as possible," says Erin Lowenberg, the brand's creative director. "We aren't making bets on the color purple only to realize nine months later no one wants it. It took us a long time in R&D to get it perfect, and we're continuing to optimize it."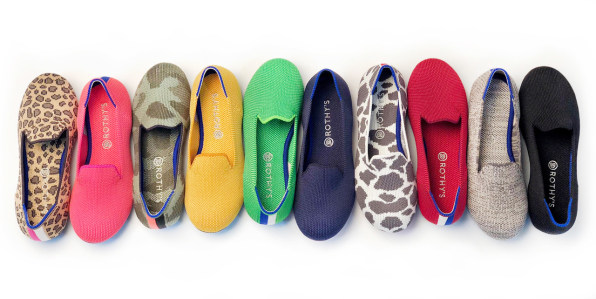 In early 2016, Rothy's launched with a collection of flats made with knit uppers that come in two designs–a pointed toe and a round toe–and 20 different patterns. (A third loafer style was added this spring.) They are sold exclusively through the brand's website for between $125 and $165.
The shoes are incredibly practical. The woven texture means that they are breathable, which is useful for footwear that is designed to be worn without socks. They are machine washable (which is particularly great for the kids' shoes, but also handy for adults), and air dry in 40 minutes. Importantly, you can send them back to Rothy's recycling facility when you're done with them, where they are turned into carpet tiles and yoga mats, rather than ending up in a landfill.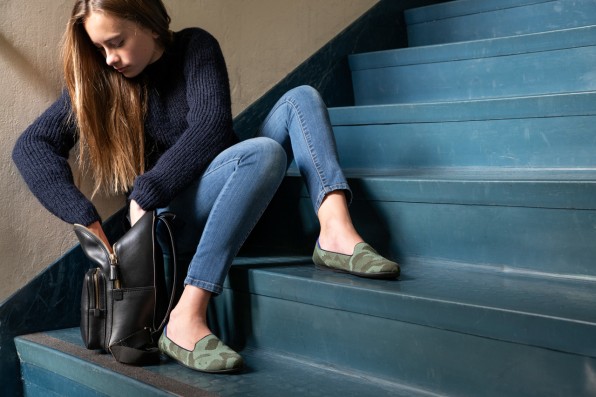 An unexpected fashion sensation
The adult shoes have become something of a sensation on social media. They come in familiar silhouettes, but their woven texture gives them a distinct look that stands out as you're scrolling along on Instagram. Women love posting artistic images of the bright, patterned flats against colorful backdrops. They are the shoes of fashion's latest zeitgeist, where choosing practical, sustainable, and durable clothing is its own status symbol, spurring the growth of brands like Everlane and American Giant. "I think we're in this moment where flats are beginning to replace heels in terms of styling," says Elie Donahue, vice president of marketing. "Women are really prioritizing comfort, and brands like ours are trying to make comfortable fashion stylish."
Lowenberg attributes some of this popularity to Martin, who designed the original shoe based on a little girl's slipper he had found while on a trip to Paris that had a sock upper and a rubber outsole. Martin had also observed the athleisure trend taking over in the U.S., and it occurred to him that there was a gap in the market for a comfortable flat that could be a more elegant alternative to the sneaker. "He was maniacal about the aesthetic," Lowenberg recalls. "This shoe is about a woman who has a lot of action in her day, and these shoes are meant to fit a range of occasions."
The brand has been growing in popularity around the globe, but they certainly seem to have developed cult status in San Francisco. On my recent trip to that city, I spotted Rothy's everywhere I looked from the minute I stepped off the plane at SFO. When popular styles like the black pointy flat sell out, they've resulted in 20,000-person waitlists, which has prompted the company to introduce more knitting machines into its factory.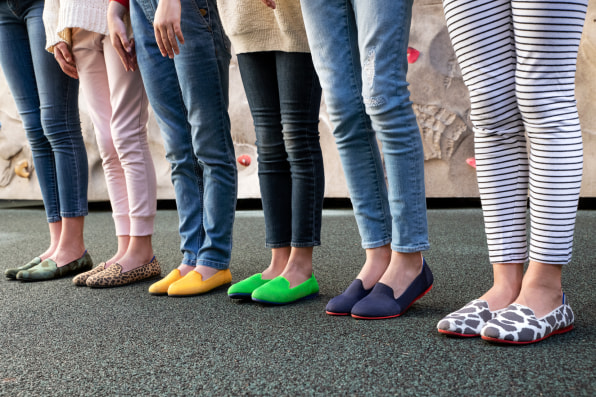 Mommy and me
With the new girls' line, Rothys is capitalizing on the fact that many of its customers are moms with young kids. Many of these women had been asking for the brand to make matching shoes for girls, because they loved the idea of having a "mommy and me" moment.
The kids' line has been in development for a year, although Martin himself has been testing different styles on his daughters since before the brand launched. It took a while for the brand to perfect the fit for smaller, growing feet. Kids' Rothy's are in the loafer silhouette. "It's got the most coverage, it's easiest to fit a range of feet, and can be styled in many ways," says Lowenberg. "One of my daughters wears the leopard loafer with shinguards and soccer outfit, and the my other daughter wears hers in a clean, pretty dressed-up way."
While there are plenty of options for children's shoes on the market, few brands focus on durability and comfort. Since kids' feet grow so quickly that many parents don't want to spend much money on them. So kids' shoes are made using cheap materials and sold for a low price. At $65, Rothy's are on the higher end of the kids' shoe price point, but on par with brands like Stride Rite, which is known for creating well-designed shoes for kids' growing feet. "We hope these shoes will last longer than the child can fit into them, so they can hand them down to another girl," says Donahue. "It's another way to cut down waste in your child's closet."
Which takes us back to the fact that these loafers are about more than just comfy feet. Rothy's wants to make its shoes a vehicle for telling a larger story. As Rothy's launches the girls' flat, it will continue to explain its eco-friendly manufacturing process, but it is also entrusting some of this storytelling to parents, many of whom are drawn to the brand specifically for its commitment to sustainability.
The shoes are a great way to give girls a tangible example of how recycling works. They can help explain the circular economy, where products never end up in a landfill but are constantly transformed into new things when they reach the end of their natural life cycle. These are lessons moms like me are trying to teach our children, and doing so with fun, colorful shoes helps the concepts stick. "It's a great way to start talking about ocean pollution and how we can each do our own little things to help move the needle forward," says Donahue.
Take it from my daughter. Yesterday, she told me to make sure I properly recycle my disposable water bottle in case she ever needed another pair of shoes. Not a bad idea, coming from a 2-year-old.