Facebook has agreed to take steps within 90 days to limit what the Washington state attorney general's office said was "unlawful discrimination," by ending the ability of advertisers to exclude certain ethnic and other identity groups from seeing certain ads.
The deal came after investigators with the attorney general's office were allegedly able to place 20 fake ads on the site excluding various ethnic groups from seeing postings for jobs, apartment rentals, insurance, lending, restaurants, and nightclubs.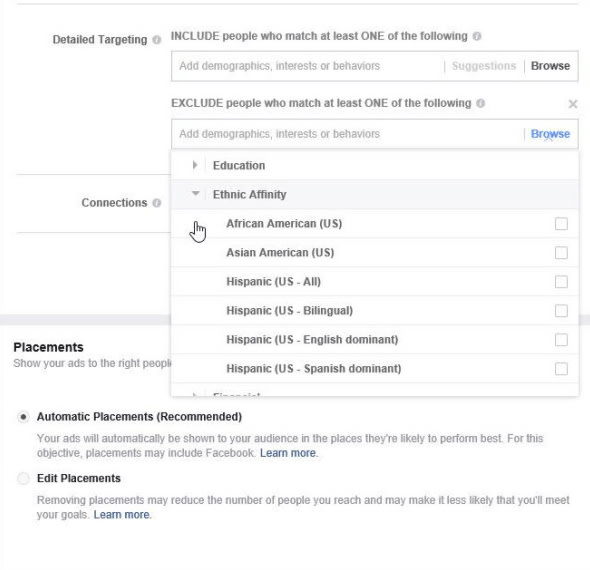 One restaurant ad, for example, was able to exclude viewers from African-American, Asian-American, and Latinx "ethnic affinity groups," according to the attorney general's office.
The investigation was begun in November 2016, shortly after a ProPublica article pointed out how Facebook advertisers could exclude users by race. Currently the platform's built-in ad tools allow advertisers to build audiences that include or exclude not only racial categories but a wide range of demographic, interest, or behavior groups, all derived from users' activity on the platform. (The platform does not offer a white or Caucasian category.)
"Facebook's advertising platform allowed unlawful discrimination on the basis of race, sexual orientation, disability, and religion," said Washington Attorney General Bob Ferguson in a statement Tuesday. "That's wrong, illegal, and unfair."
Roughly a year after its initial reporting, ProPublica reported it could still post housing ads excluding protected classes under federal law, including "African Americans, mothers of high school kids, people interested in wheelchair ramps, Jews, expats from Argentina and Spanish speakers," all of which the investigative reporting nonprofit said were protected by federal law. At the time, Facebook said a "technical failure" prevented the ads from triggering additional review.
$90,000 and restrictions on certain kinds of ads
In the Washington deal, Facebook has denied violating the law, according to an agreement called an assurance of discontinuance filed in Washington court. Still, the company agreed not to let advertisers use categories such as race, creed, color, national origin, or veteran status to limit who can see ads for insurance, employment, housing, credit, or "business open to the public," such as restaurants, hospitals, and beauty salons. Additionally, the company will pay the attorney general's office $90,000 in costs and fees.
"For the sake of clarity and by way of example, Facebook would not allow the option within the Exclusion Targeting Tool to limit audiences based on a targeting category for 'Chinese people' or 'Wheelchair users' because these categories, on their face, act as direct descriptors of Protected Characteristics," according to the agreement. "However, Facebook would not remove targeting categories such as 'Chinese literature' or 'Disability rights' as those categories identify interests and do not describe Protected Characteristics."
The new restrictions will apply nationwide. It isn't clear if Facebook intends to roll out similar limits on ads beyond the U.S. The agreement also did not mention Facebook's Instagram platform, where the company's ad business is now seeing its fastest growth.
Facebook, which held a conference call Tuesday with reporters about its efforts to counter fake news and election interference, didn't immediately respond to an inquiry from Fast Company.
During the 2016 elections, ads reportedly placed on Facebook by the controversial data firm Cambridge Analytica were used by the Trump campaign to dissuade users of certain backgrounds from voting. Facebook hasn't spoken publicly about the "voter suppression" ads. A company spokesperson told Fast Company in November that he "can't comment on this type of speculation."
Facebook says it has already taken some steps to curb discrimination: In April, the company said it had removed thousands of categories from potential exclusion lists, focusing "mainly on topics that relate to potentially sensitive personal attributes, such as race, ethnicity, sexual orientation, and religion."