Last week I wrote about bitcoin's most recent price surge. At the time, the price was at around $7,500–a $1,000 bump from a few days prior. And it seemed like the momentum would continue.
Indeed, early this morning the price surge continued, with the cryptocurrency hitting a high of $8,342.62, according to Coindesk. It's since gone down slightly to about $8,239, but is still up over 6%.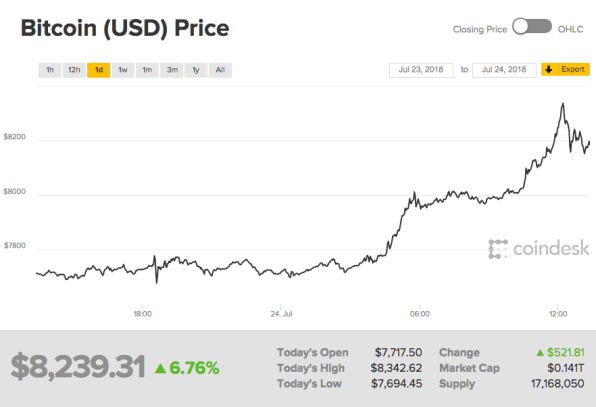 There are a few factors at play that could be contributing to this surge:
Institutional interest: As I wrote about last week, financial organizations like Blackrock and Mastercard have recently made their interest in bitcoin known.
Hopes for a bitcoin ETF: Similarly, the possibility of a bitcoin-based exchange-traded fund has seemed more likely of late. While the SEC has been reticent to allow for a crypto-based ETF, two organizations have resubmitted proposals that are giving hope to many bitcoin evangelists.
While this price boom is nowhere near the level where bitcoin was performing at last year, it does give investors some hope that the cryptocurrency will rebound. The next big milestone will be if it can exceed $10,000 again.