Google's Waymo has been stepping on the gas, logging more and more road testing miles to get ready for the launch of an autonomous ride hail service later this year. The company hit a new milestone, it said on Friday: 8 million miles driven on public roads, up from 5 million in February.
CEO John Krafcik made the annoucement during an interview with Nevada Gov. Brian Sandoval at the National Governors Association in Santa Fe, New Mexico. The company has also "driven" a total of 5 billion miles in simulation, he said, gathering valuable training data that helps train the company's self-driving software.
Those numbers place Waymo—which boasts it is building "the world's most experienced driver"—far ahead of its nearest competitors in terms of real-world testing. "The addition of 3 million real-world miles in just five months represents a significant step change in Waymo's pace of testing," Morgan Stanley analysts said in an investor brief Monday, "since it took eight years to drive its first 3 million miles and nine months to drive another 2 million."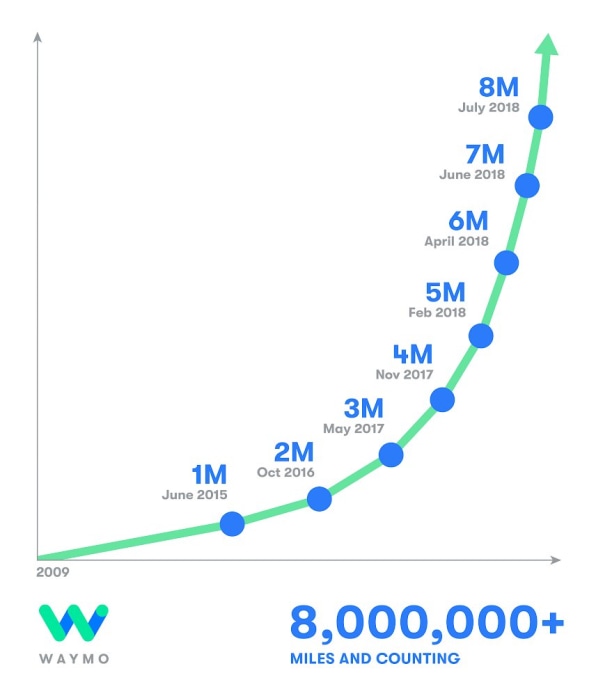 Waymo has a fleet of 600 Chrysler Pacificas, which together are putting in 25,000 testing miles a day in 25 U.S. cities. The company said in May that it plans to add up to 62,000 more Pacificas to the fleet over the next few years. It's now preparing to launch its commercial autonomous ride hailing service in Arizona later this year. Already, 400 users in Chandler, Arizona are signed up to trial the service there.
"Waymo's algorithm is industry leading, and in our view its ability to gather real-world miles driven (to continue to improve and refine the algorithm and product) is likely to lead to further differentiation and a potential winner-take-most environment," the Morgan Stanley analysts write.
Still, robot taxis aside, Krafcik sought to temper expectations about the rollout of autonomous cars. During the interview on Friday, he said that for the mass adoption of robot vehicles, the "time period will be longer than you think."
---
Related: Here's How To Avoid More Self-Driving Car Deaths, Says Uber's Former AI Chief
---
And with accidents like Uber's fatal self-driving incident in the rear-view mirror, the Waymo CEO warned that the adoption wouldn't be easy.
"I think it's a recognition too that as as we roll out this technology more broadly that there are going to be speed bumps on the way," he said. "I mean, it's not going to be an easy rollout, there are going to be incidents in a Waymo service and other services from from other players."
Waymo's parent, Alphabet, announced earnings after the bell today.
Correction: An earlier version of this story stated that Waymo plans to add up to 62,000 Pacificas to its fleet later this year. Not so fast! Actually, the company will add the new vehicles over the next several years.