In what shouldn't come as a shock to anyone, President Donald Trump has once again tweeted something bizarre. This morning, Trump sent a barrage of tweets covering a lot of ground (North Korea, Putin, Hillary Clinton, etc). Two of the messages were focused on Amazon and the Washington Post–both of which are owned by Jeff Bezos.
In the first tweet, Trump wrote that Amazon "has gone crazy" with the recent Supreme Court ruling about internet tax. He went on to say that the government (I assume?) would go after Amazon's use of the U.S. Postal Service next. This is something Trump often talks about; he repeatedly claims that the Post Office is getting a bad deal through Amazon, even though the truth is a little more nuanced than that.
The Amazon Washington Post has gone crazy against me ever since they lost the Internet Tax Case in the U.S. Supreme Court two months ago. Next up is the U.S. Post Office which they use, at a fraction of real cost, as their "delivery boy" for a BIG percentage of their packages….

— Donald J. Trump (@realDonaldTrump) July 23, 2018
Following this tweet, Trump wrote another that focused on the Washington Post, claiming it's an expensive lobbying arm for Amazon and that the paper is losing money. (The Washington Post, by the way, has been profitable for the past two years.)
….In my opinion the Washington Post is nothing more than an expensive (the paper loses a fortune) lobbyist for Amazon. Is it used as protection against antitrust claims which many feel should be brought?

— Donald J. Trump (@realDonaldTrump) July 23, 2018
Even though these seemed like early-morning rant-y throwaway tweets, the market is always listening, and hints of antitrust action will always make investors nervous. Right after the opening bell today, Amazon stock quickly dropped–going down as much as 1.5%. It's gone up a little since, but is still down over 1.15%.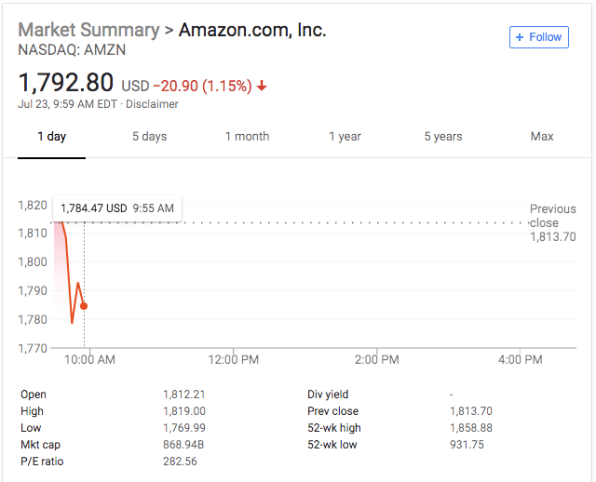 Of course, these fluctuations will likely correct themselves as the day and week go on, but the president's tweets continue to have an impact on everything orbiting around them.
Later this week, Amazon will report its quarterly earnings report, which will surely have an even bigger impact on its stock.