There are about 500 million parking spaces in America for our 326 million citizens. Parking infrastructure occupies over 3.5 million square miles, an area larger than Delaware and Rhode Island combined. And yet, despite our sea of parking garages and lots, visions of a car-less future are gaining momentum. This may be inconceivable for adults who have spent a sizable chunk of their lives behind the wheel, searching for that perfect spot. But if car ownership does indeed drop, parking structures would be cast into the same graveyard as fax machines and video cassettes–or would they?
As an architect who has studied and participated in 15 years' worth of urban development projects at Arcturis, my hunch is that our cultural shift to ride sharing, autonomous vehicles, and alternative transportation will result in a permanent paradigm shift in urban planning.
Businesses need to park thousands of cars in 2018, but if they're planning to build new office buildings that last 50 years into a potentially car-less future, the advantage lies in building "future-proof" parking structures which can be repurposed when the time comes.
But what exactly does that entail?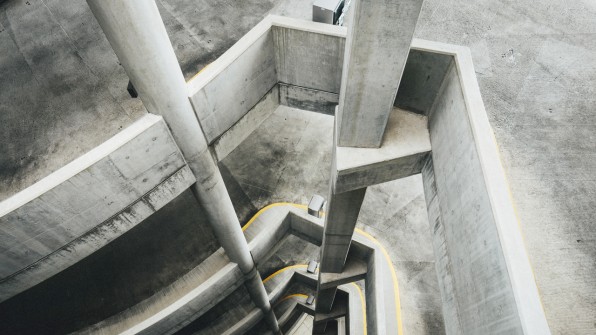 As parking demands decrease, future-proof parking structures would be constructed in a way that each floor could be converted into offices, recreational areas, or even a forest of tiny houses. Specifically, the most important design strategies for such structures are flat plates and adequate space between floors. Adaptive reuse requires a level base rather than the steep slopes that many garages have, so designing flat floors on every level is critical.
In terms of converting a garage into a residential structure, like an apartment complex, there are key design elements which must be integrated from day one to support adaptive reuse. This includes adequate floor-to-floor height for living space and the associated mechanical and/or electrical infrastructure. And in the event that a city would need more parking in the short term, those high ceilings could be converted into a double-stacked parking floor.
The impact of a car-less future may be negligible in the suburbs, but there are strong implications for dense urban areas where land is at a premium. This leads to the big question: how deep could these projects dig into the pockets of taxpayers?
A common misconception is that future-proof structures are an expensive gamble. However, the up-front cost is virtually the same as traditional parking garages because they aren't as expensive to build as an actual office or apartment building. The easiest way to think of a future-proof structure is as an insurance policy: it ensures that the business won't have a structure that could potentially be obsolete in 10 years if cars start disappearing. It can be converted into another use in the fraction of the time and cost that would be required to build something from scratch.
Such structures are also aligned with architects' social responsibility to build sustainable cities that tread lightly on the environment. In terms of minimizing a building's carbon footprint and environmental impact, it's always more beneficial to renovate an existing structure as opposed to starting from scratch.
Denver has earned a reputation as a pioneering city for future-proof parking, specifically with its World Trade Center, which is set to open next year. The project's first phase included more than 700 above-ground parking spaces, all of which were designed to convert into office, residential or retail space as needed. And as interest in autonomous ride-sharing increases, that need could come sooner rather than later.
As with any substantial change within cities, urban planners and architects do not have free reign to implement future-proof parking structures–cities tightly control parking minimums and regulations. That means developers and clients have to make money-conscious choices about structured parking. But this is the last of my concerns when it comes to building the cities of the future.
A true city of the future should not be afraid to eschew what's already been 'proven', but instead embrace what could be. How can we fulfill our social responsibility to make cities more sustainable, more resilient, and more receptive to change?
Future-proof parking goes beyond prestige and beyond our cultural obsession with the next "big thing." This is only a microcosm of the obligation for architects worldwide to think beyond the present moment when mapping out their projects. All glamour aside, there's a need to maximize every city's potential in order to shape a future that's worth living in for the next generation.
---
Megan Ridgeway, has spent 15+ years at Arcturis, leading the firm's most notable projects including the St. Louis Science Center GROW Pavilion and currently the reimagination of the Armory building and surrounding District. She is a recent recipient of St. Louis Business Journal's 40 under 40 and the Boys & Girls Club National Service to Youth award.