"Chandeliers are an icon of opulence," says Courtney Song, a designer at international design firm Ideo.
Indeed, hanging from the ceilings of noble palaces and McMansions, chandeliers feel today like a symbol of yesteryear riches. But Song and her team believe that Infinite Aura–a tech-enabled reinvention of the chandelier for famed manufacturer of glass bling Swarovski–will change that idea.
"We wanted to push beyond the common assumption that chandelier owners are motivated solely by status and displays of wealth," Song tells me via email, "and perhaps get to something deeper."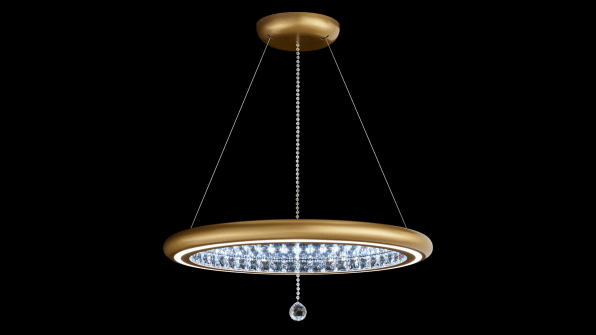 According to Song, while researching the classical chandelier, her team learned that many people don't buy chandeliers as a status symbol, but because they simply like how they reflect light and become a focal point in a room. "Moreover, people's stories associated with the chandelier were emotional," she says, "stories of being in utter awe and entranced by the quality of light."
The design team's objective, then, was to make the Infinite Aura as magical as the chandeliers of yore but also more intimate, smaller, and contained, as the lamp had to fit in the casual and diverse housing styles that are popular today.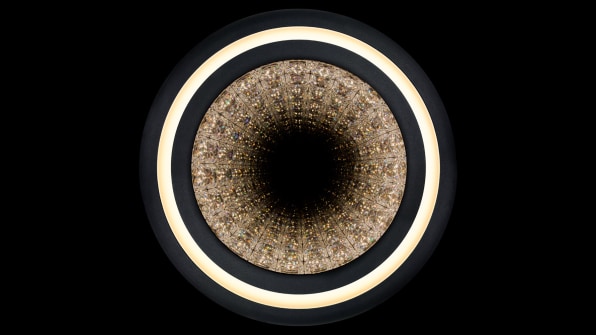 A portal to a new infinite dimension
The key is in what Song calls "an infinite tunnel of crystal." The designers flattened the chandelier into a ring. According to Roger Carthew, global SVP at Swarovski Lighting, "the final proportion of the Infinite Aura pendant relates to the proportions found in many classic chandelier designs," but the chandelier itself is nothing like those classic designs.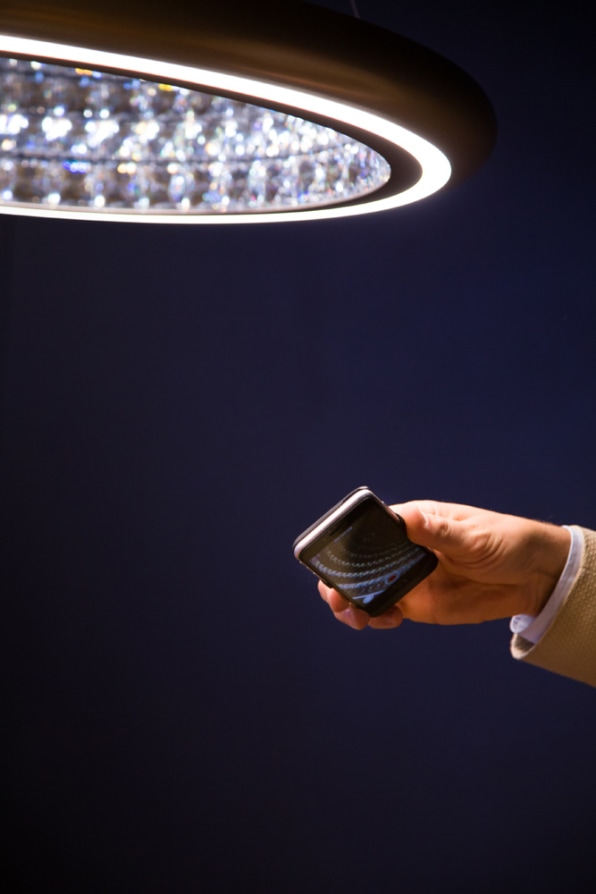 Lining the inside of the minimalistic metal ring at the end of the pendant are Swarovski crystals that reflect the light of LEDs placed inside the disc. In the space inside the ring, there's a disc made of two circular flat glass sheets. That double glass acts like an infinite mirror, reflecting Swarovski crystals inside the ring in a way that that seems to go on forever. From the distance you only see a disc floating in space. Up close, looking inside the ring, you are looking at a never-ending light show that feels like a portal to another dimension.
There are more tricks up the Infinite Aura's sleeve. The lamp connects to an app that allows you to control the LEDs that create the light in the chandelier: the ones inside the ring, that get reflected inside the "infinite tunnel," and then a line of light that divides the ring. The former provides the sparkle, the latter provides functional room lighting.
Using tech to enhance, not overwhelm, the experience
Elger Oberwelz, Ideo's executive design director, tells me that Swarovski Lighting asked them to come up with a way to modernize the traditional chandelier in "surprising ways." However, rather than piling up tech features, the Ideo team asked first how a person's life is affected by light: "How can light contribute to a person's self-expression or the daily well-being?"
According to Song, their research concluded that "individuals were often overwhelmed by having to make decisions on every aspect of their connected home." So instead of developing another connected light fixture that gives users a billion combinations of color and intensity, the team decided to carefully develop and curate presets tailored to basic needs and desires.
"This process of designing the actual app started with identifying use cases that were more situational versus functional," she says. Using prototypes, the Ideo team tested various lighting scenarios, recording how people reacted to assorted combinations of light color and intensity. That research resulted in an app that is meant to serve everyday situations, like a setting for an easygoing dinner with friends, another one for relaxing after a long day at work, another to read a book on a summer evening, and so on.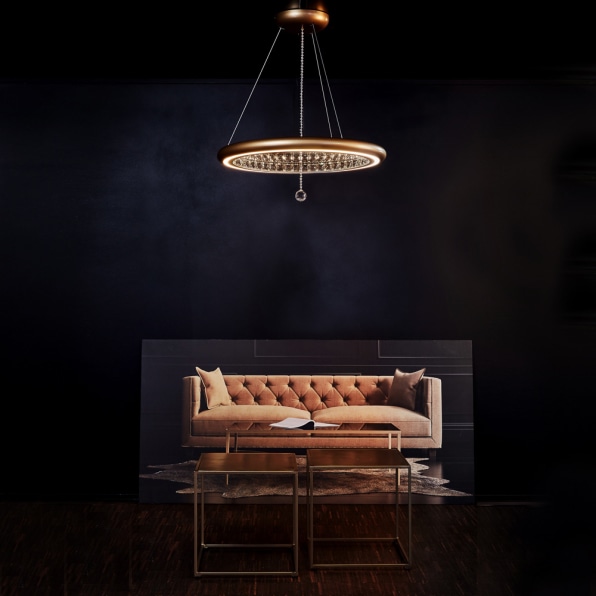 This is part of the broader mission at Swarovski–which has been making glass in Tyrol, Austria, since Daniel Swarovski invented a machine to cut crystal with incredible precision in 1895–to not be perceived as a technology brand. According to Oberwelz, competing brands like Nest and Phillips Hue Lights tend to market their technological prowess; Swarovski, for its part, wants to emphasize art and craftsmanship. "We wanted to honor that heritage by using technology to enhance what the brand already stands for," he says.
For Oberwelz, there's a compelling personal connection. "When I was a child, I still remember very vividly being captivated by our 150-year-old chandelier at our kitchen table," he says. "It was beautiful and the centerpiece of our otherwise pretty basic dining room, Imagine a heavily ornamented cast-iron disk with hundreds of long elegant glass crystals that reflected and refracted the light beautifully. I still recall staring at its very mysterious light for hours after dinner time with my family."
Now you can augment that feeling with a bit of technology–but it will cost you. According to Swarovski, the Infinite Aura collection will be available through their authorized lighting retailers network for $5,000 for the large pendant lamp and $2,000 for the small wall sconce version this fall.